Homelessness
Jumaane Williams proposes 'Homeless Bill of Rights'
The New York City public advocate wants to codify protections for unhoused people.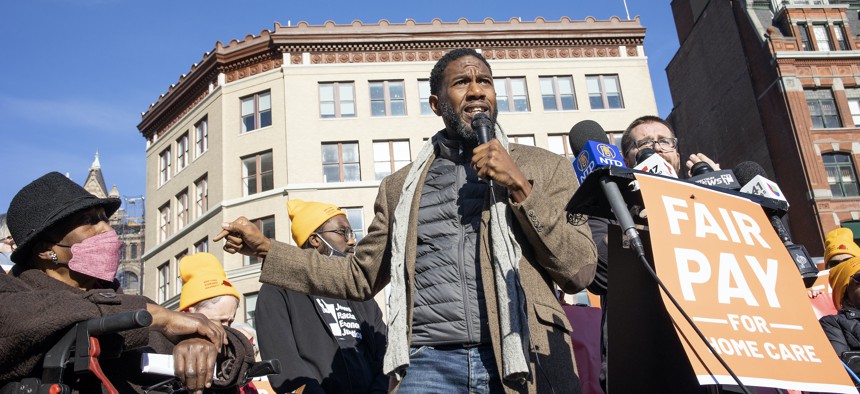 New York City Public Advocate Jumaane Williams plans to introduce a bill Thursday that would establish a declaration of homeless New Yorkers' rights, creating a single, succinct document to empower unhoused people.
The legislation before the City Council would allow homeless people to "self advocate if these rights are violated," Williams' office said in a press release. It would also require the so-called Homeless Bill of Rights to be posted at each Department of Homeless Services office, in shelters and on the agency's website. 
Williams called the rights – which included protections against discrimination and access to legal services – "a base standard, a moral and legal obligation." The proposal comes as New York City Mayor Eric Adams has ordered sweeps to remove homeless individuals from the city's subway system and dismantle makeshift encampments.
"We're in a moment when the homelessness crisis is worsening, a wave of pending evictions threatens to worsen it, and homeless individuals are being targeted, demonized, and dehumanized," Williams told City & State. "Both inside and outside of shelters, unhoused people feel like they're left without support, without options, without rights or recourse, amid a system that has failed for so long, and has left people feeling abandoned and powerless."
The legislation also would create standards for New Yorkers living in the shelter system, including families having access to private rooms with locks, access to washing machines and dryers, and the right to be placed in a room with a person who identifies as the same gender.
The bill would establish clear guidelines so that homeless New Yorkers who believe their rights have been violated could seek recourse through city agencies. For example, if an individual is not given access to an interpreter, they could file a complaint with the city Commission on Human Rights.
Homelessness Case Studies
Powered By
NEXT STORY: New 'highly contagious' omicron BA.2.12 and BA.2.12.1 subvariants detected in NY