NYPD
New York City will double up on subway police amid search for shooter
Mayor Eric Adams said the city will deploy twice the number of transit officers into the subways Tuesday night, following the shooting at a Sunset Park station.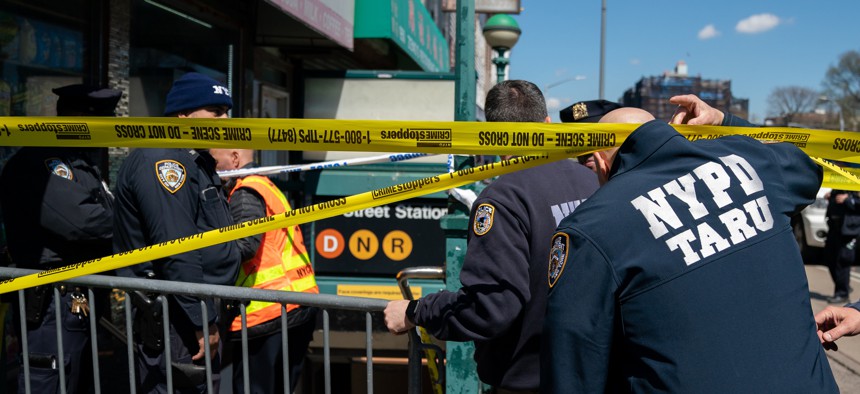 New York City Mayor Eric Adams said the city will double the number of police officers patrolling the transit system, at least temporarily, following a shooting at a Brooklyn subway station on Tuesday morning that left at least 16 people injured.
"I will say to New Yorkers we're going to hold the day tour of the transit police officers to double the number of officers that are traditionally patrolling the system," Adams, himself a former transit cop, said in an interview with CNN on Tuesday afternoon. Adams tested positive for COVID-19 on Sunday and gave interviews remotely as he is expected to isolate at Gracie Mansion for the remainder of the week.
A City Hall spokesperson said the day shift officers would continue to work throughout the night "so New Yorkers will see an omnipresence of transit police on subway platforms," Press Secretary Fabien Levy said in an email. It's unclear how long the additional deployments will continue. 
Officials said 10 people were shot on a Manhattan-bound N train during Tuesday morning rush hour when a man wearing a gas mask detonated a smoke device and opened fire, officials said. Six additional people were transported to local hospitals with injuries, New York City Police Department officials said. Police are still searching for the suspect.
A security camera at the station appeared to have malfunctioned, the mayor said on WCBS 880 radio, adding a challenge to the investigation.
Adams said he spoke with White House officials on Tuesday morning, and the city is coordinating with federal partners in the investigation. 
"This was a senseless act of violence that was inflicted on our passengers in our subway system, and details are still unfolding, and we are going to release the details as they come forward," Adams said on CNN.
Later, in an interview on MSNBC, he said the still-unnamed suspect wanted to terrorize the subway system. "One thing is clear, they wanted to bring terror to our city and they wanted to terrorize men and women on the sytem, innocent New Yorkers."
Adams also credited emergency services officials and other passengers with tending to the wounds of the injured passengers. "I believe lives were saved based on the actions that we witnessed in some of the amateur video that was released," he said. "You saw passengers coming to the aid of each other, and I just can not thank New Yorkers enough for how we responded."
Adams reiterated remarks from NYPD officials made in an earlier press conference that little information is available about the suspect, and the investigation is ongoing. 
"We're going to make sure that we actively and aggressively identify the person to go after the person who was responsible," Adams told CNN. "And then we're asking New Yorkers, if they see something, please say something, and also do something by calling your local officials."
In the wake of the death of subway rider Michelle Go, who was fatally pushed onto the tracks in January, the city deployed more than 1,000 additional officers, reportedly bringing the total to a record 3,500 transit officers.