New York City
Hochul warns of 'active shooter situation' after 10 shot on subway, suspect at large
New York City Mayor Eric Adams' security detail will be bolstered after videos of "concern" may have been posted by a person of interest in the case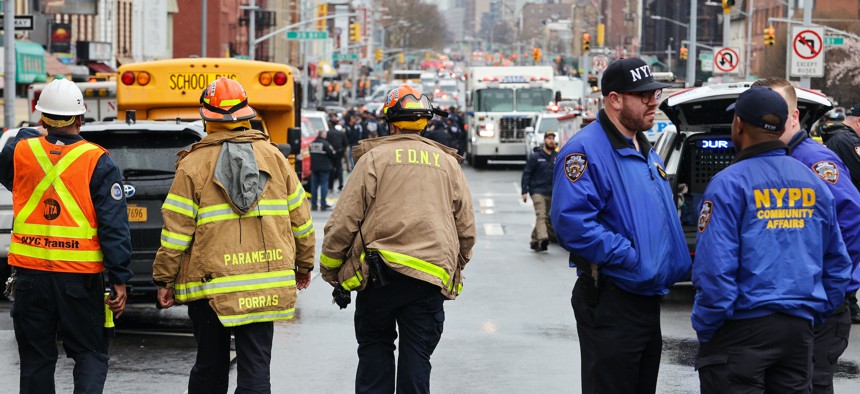 The New York City Police Department still does not have a suspect in custody nearly 12 hours after a mass shooting in a subway car Tuesday morning in Sunset Park, Brooklyn. Details on the crime were still thin as city officials gave an update Tuesday night at NYPD headquarters. "At this time, we still do not know the suspect's motivation," NYPD Commissioner Keechant Sewell said. 
However, New York City Mayor Eric Adams' security detail will be temporarily bolstered after the NYPD reviewed videos that were apparently posted by Frank R. James, a person of interest in the case. Sewell said the videos did not contain direct threats against the mayor but "general topics of concern…complaints about homelessness, complaints about New York." It wasn't immediately clear what such bolstering would look like, since the mayor is currently sheltering in place at Gracie Mansion after testing positive for COVID-19 on Sunday. 
The NYPD named 62-year-old Frank James as a person of interest, saying that he was the person who rented a U-Haul van that may be connected to the shooting. 
Earlier in the day, at a press conference at the scene. Gov. Kathy Hochul classified it as "an active shooter situation right now in the city of New York," 
"The people of the entire state of New York stand with the people of this city, this community, and we say no more. No more mass shootings. No more disrupting lives. No more recreating heartbreak for people just trying to live their lives as normal New Yorkers. It has to end and it ends now," Hochul said Tuesday, alongside Metropolitan Transit Authority and New York City Police Department leaders.
The violence unfolded just before 8:30 a.m. on a Manhattan-bound train car between the 59th Street and 36th Street stations when a man wearing what appeared to be a gas mask detonated a smoke device and opened fire, Sewell said Tuesday. A total of 23 people were injured, including 10 from gunshot wounds, officials said. Five victims are in critical but stable condition, according to the New York City Fire Department, which transported the individuals to local hospitals. Others were injured by flying shrapnel and from smoke inhalation. No one is currently experiencing life-threatening injuries, officials said. 
Sewell said police believe the suspect is a dark-skinned male. Officials said he was wearing a neon orange and green vest and a neon-green construction helmet at the time of the shooting, Sewell said. The NYPD has asked for anyone with information about the suspect to contact the Crime Stoppers hotline at 1-800-577-TIPS.
While officials have yet to determine a motive, the incident is not being investigated as an act of terrorism, and Sewell said there are "currently no known explosive devices on our subway trains."
Standing in for Adams at the scene was First Deputy Mayor Lorraine Grillo, who said she has been in contact with the mayor all morning. Hochul also said she spoke to Adams and said that he is "recovering well, he is monitoring, he is actively engaged in the situation."
Adams said in a statement released following the press conference that the city "will not allow New Yorkers to be terrorized even by a single individual. The NYPD is searching for the suspect at large, and we will find him, but we ask the public to come forward with any information that may help us in this investigation."
Federal law enforcement partners, including the Bureau of Alcohol, Tobacco, Firearms and Explosives and FBI are also assisting in the investigation. 
Disturbing videos taken by riders show smoke pouring from a train car as panicked passengers fled, some of whom appeared to be visibly injured. Photos of the chaos show multiple people lying on the platform and bleeding from their limbs as others tend to their wounds. 
A number of incidents of violence have also unfolded on the trains during Adams' first three months in office – amid a push to bring passengers back to the subway after a dip in ridership since the start of the coronavirus pandemic. Less than three weeks into Adams' tenure, a 40-year-old woman named Michelle Go was pushed to her death onto the subway tracks in Times Square by a homeless man with a history of mental illness. 
Adams released a "Subway Safety Plan" in February that aims to tackle homelessness by beefing up NYPD presence, along with mental health experts, to make contact with unhoused individuals and attempt to encourage them to seek shelter. 
This is a developing story. It has been updated to reflect the number of people injured, and identify the person of interest being sought by authorities.
Powered By
NEXT STORY: Lt. Gov. Brian Benjamin arrested