Politics
Lt. Gov. Brian Benjamin arrested
Prosecutors say he was involved in a bribery conspiracy as a state senator.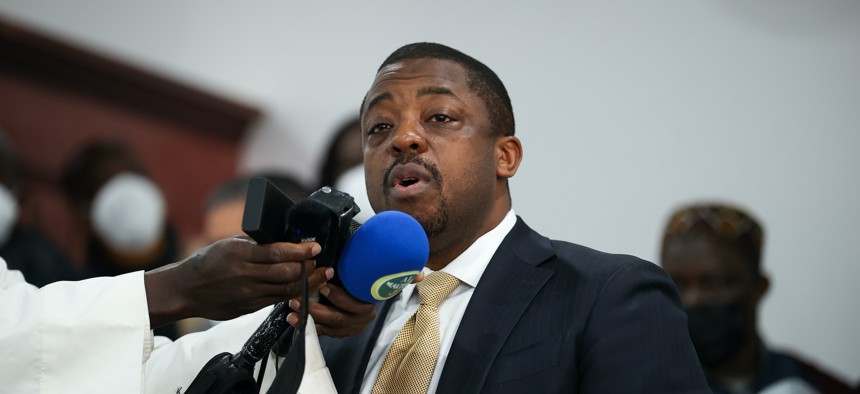 Lt. Gov. Brian Benjamin has joined the ranks of New York politicians arrested for alleged corruption, creating a campaign crisis for Gov. Kathy Hochul on the same day as a mass shooting in the New York City subway system. 
Prosecutors say Benjamin, while still serving as a state senator representing Harlem, was involved in a bribery conspiracy that involved using state money to indirectly benefit his unsuccessful 2021 campaign for New York City comptroller. Benjamin has surrendered to authorities after being indicted on a federal charge. A spokesperson did not respond to a request for comment.
Benjamin pleaded not guilty at a court appearance Tuesday afternoon where he posted a $250,000 bond that restricts his travel, according to Inner City Press.
"This is a simple story of corruption," U.S. Attorney Damian Williams of the Southern District of New York, which oversees federal prosecutions in Manhattan, said at a Tuesday press conference. "Taxpayer money for campaign contributions ... That's bribery plain and simple."
The federal charge represents a turning point for Benjamin, who has been accused of numerous ethical misdeeds over the years – none of which involved a criminal charge up to today. Republican legislative leaders are now calling him to resign, and his continued presence on the ballot in the Democratic Primary could weigh heavily on the governor's own chances this fall.
The governor vowed to increase state efforts to combat gun violence at a Tuesday press conference in Brooklyn following the deadly subway attack that injured at least 16 people. "The best, smartest thing she could do was get to Brooklyn, which she did, and get in front of those cameras, which she did," political consultant Hank Sheinkopf said Tuesday. Hochul told reporters in Brooklyn that she would comment directly on the charges against Benjamin later in the day. 
An indictment released by the Southern District of New York states that Benjamin falsified campaign donor forms, misled city regulators and gave false information on vetting forms while Hochul considered appointing him as lieutenant governor last year. The New York Times reported Tuesday morning that Benjamin had surrendered to authorities and was expected to appear in court later in the day. 
The governor recently expressed confidence in Benjamin following revelations, first reported by the Daily News, that the lieutenant governor had not informed her of subpoenas from Manhattan prosecutors prior to his appointment as lieutenant governor. Replacing him as her running mate in the June Democratic primary would be difficult though a spokesperson for the state Board of Elections said it would not be entirely impossible. 
The City first reported on shady donations allegedly involved in that scheme last year. A real estate developer who backed Benjamin's 2021 bid for New York City comptroller has already been arrested in relation to the alleged scheme. Republicans have seized on such reports while claiming that they would offer New York voters a necessary alternative given ongoing revelations about Benjamin. "Proof that Kathy Hochul picked a dirty politician as her running mate," state GOP Chair Nick Langworthy said in a tweet about the arrest.
This is a developing story.