New York State
Brian Benjamin's ethics problems are the last thing Hochul 2022 needs
The lieutenant governor is attracting controversy just as things start to get serious in the gubernatorial primary.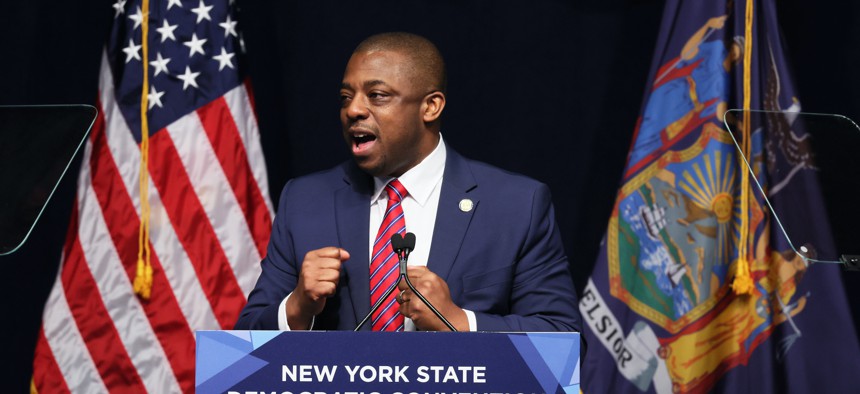 Recent weeks have not been easy for Gov. Kathy Hochul. The budget is late. State lawmakers have resisted some of her top spending proposals. Recent polling shows political rivals gaining ground as she continues running for a full term in office. 
Another major headache has been a series of investigations into illegal fundraising surrounding her running mate, Lt. Gov. Brian Benjamin. 
The Daily News recently revealed that Manhattan prosecutors issued subpoenas sometime before he was named lieutenant governor last August concerning fundraising practices to Benjamin's campaign for New York City comptroller. Benjamin, then a state senator, did not disclose the subpoenas while getting vetted to become lieutenant governor. A spokesperson for his campaign declined to say whether Benjamin was personally aware of the subpoenas at the time and, if so, why he did not inform the governor before she appointed him last summer. 
Hochul has claimed ignorance. "I was not aware," Hochul said Tuesday. The revelation was the latest in a string of ethics problems involving the lieutenant governor, the last thing Hochul needs as she gears up for a competitive June primary to keep her seat. Benjamin has not been criminally charged in regards to the matter, but his political ally Gerald Migdol was indicted last year for faking donations to Benjamin's campaign to qualify for public matching funds.
In the Democratic primary in New York, gubernatorial hopefuls and candidates for lieutenant governor appear on the ballot separately, though they campaign together and party nominees for both positions will run under one banner in the general election. Hochul and Benjamin are the Democratic Party nominees, and each faces multiple primary opponents. 
Political analysts say Hochul's options are limited. Benjamin already has a spot on the ballot for the June primary – and distancing herself from him could raise questions about her own judgment in choosing him as her running mate. The prevailing wisdom is that Hochul is stuck with him despite the peril ahead running alongside Benjamin, who has not appeared in public in more than a week. 
Hochul, who is a white woman from Western New York, reportedly chose Benjamin, a Black man and then a state senator representing Harlem, as lieutenant governor to help her appeal to Black voters downstate, a crucial constituency in statewide Democratic primaries. Any effort to distance herself from him now could risk any progress she has made thus far on that front. 
Benjamin's campaign spokesperson confirmed he is staying in the race for lieutenant governor. His opponents in the race have not wasted time in criticizing him and Hochul. "Kathy Hochul is the person who picked Brian Benjamin and as governor, she should know better," Diana Reyna, running mate of centrist gubernatorial candidate Tom Suozzi, said Tuesday. 
The fact that the subpoenas concern a landlord later charged with organizing fake donations to Benjamin's comptroller campaign are providing fodder to the left as well. "What all these investigations show is the extent to which some donors, in this case, a real estate developer, will go to have influence on their elected officials," Ana Maria Archila – the running mate of gubernatorial candidate and New York City Public Advocate Jumaane Williams – said Tuesday.
Not everyone thinks Benjamin is really that big of a liability for Hochul despite the outstanding ethics issues, especially considering his ties to the Black community and the Manhattan party establishment. "Today, I think he's still a strong partner for her on the campaign trail," political consultant Basil Smikle, a former executive director of the state Democratic Party, said Tuesday. "He really needs to lean on the party infrastructure that's solidly behind Kathy" to fend off challenges in what Smikle said will be a competitive primary. Benjamin notably finished fourth in the 2021 Democratic primary for city comptroller. 
If Benjamin loses the primary, Hochul could get a new running mate in the general election. Reyna and Archila would bring their own advantages and disadvantages, but both of them do have the virtue of never being subpoenaed about their campaign fundraising in the past, they confirmed to City & State on Tuesday. 
The same cannot be said for the sitting lieutenant governor in an administration that has vowed to remake state government along more ethical lines. That simple fact will likely continue to shadow Hochul on the campaign trail. "Best solution today?" political consultant Hank Sheinkopf said in a text. "Prayer."
With reporting by Rebecca C. Lewis.
Powered By
NEXT STORY: Eric Adams' press controls raise questions about constitutionality, practicality