New York State
Cuomo closely trails Hochul in hypothetical matchup: poll
The former governor has just 10 days to decide whether he will run for his old seat again – and most voters don't want him to.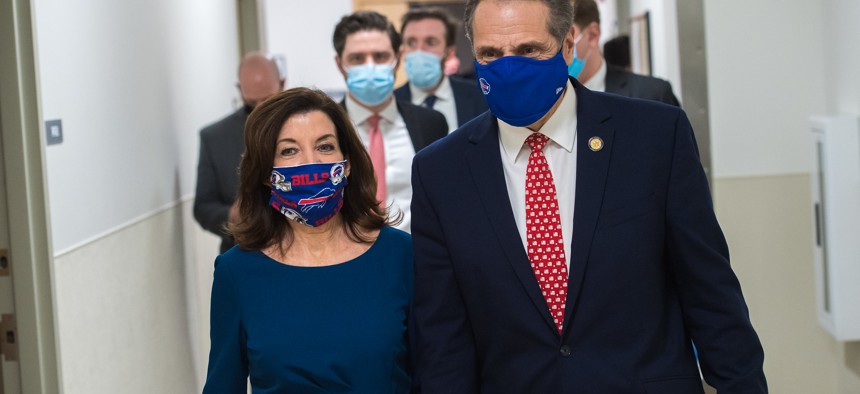 Gov. Kathy Hochul has a significant advantage ahead of the June Democratic primary, according to a new poll, but her former boss, ex-Gov. Andrew Cuomo, is not far behind. 
In a three-way Democratic primary race, Hochul leads by 29 points in New York City, 28 points in the downstate suburbs and 56 points upstate, according to a Siena College poll out Monday. While Cuomo – who has not declared any type of candidacy but has been on a redemption tour in recent weeks – is her closest competitor, she appears to have gained some ground over him during the past month. In a poll by Emerson College/The Hill released March 10, Cuomo trailed Hochul by just four points among Democratic primary voters. Monday's Siena poll shows him trailing her by eight points, 30% to 38%. 
Cuomo has just 10 days left to declare his candidacy before the petitioning deadline, and the vast majority of the 804 registered voters surveyed by Siena between March 20 and 24 – 67% – do not want him to enter the race.
A spokesperson for Cuomo touted what he said was a growth in support for the former governor, when compared to a previous Siena poll in October that found 17% of voters supported Cuomo in a five-way hypothetical race that included former New York City Mayor Bill de Blasio and state Attorney General Letitia James.
 "There are now two polls showing similar results in the last few weeks and with today's Siena survey, Governor Cuomo's support effectively doubled in a few months – demonstrating that when New Yorkers have the facts, they realize the politicalization and the corruption of the process that was used to force from office a governor with a real record of results that improved people's lives," Rich Azzopardi said in a statement. "This was after only two recent speeches where he gave his thoughts on the problems facing this state, nation, and the Democratic Party as a whole."
Hochul's overall favorability rating among voters stands at 45% and 67% among Democrats. Gubernatorial candidate and New York City Public Advocate Jumaane Williams has an overall favorability rating of 24%, while 20% of voters have a favorable opinion of Democratic primary candidate, Rep. Tom Suozzi. Cuomo has a 32% favorability rating and 50% among Democrats. 
Hochul and Cuomo "are tied in New York City, likely home to a majority of Democratic primary voters. Hochul leads by eight points in the downstate suburbs and 25 points upstate. Cuomo has a two-to-one lead with Black Democrats and Hochul has a comparable lead among white Democrats, while Latinos are closely divided," Siena pollster Steven Greenberg said in a press release. "Interestingly, while Hochul leads among men by 15 points, she only leads with women by four points."
Among Republicans running for governor, Andrew Giuliani leads the four-way race with a 25% favorability rating among all voters, followed by former Westchester County Executive Rob Astorino with 21%, Rep. Lee Zeldin with 20% and finance executive Harry Wilson with 13%.
The poll also touches on a number of issues before the state legislature, namely bail reform. 
The majority of voters believe that bail reform has been bad for New York and support rollbacks to the controversial 2019 bill. More than half – 56% – of voters surveyed have a negative opinion of the new law, while 64% said they believe the changes have led to an increase in crime. And while 82% support giving judges more discretion in setting bail – something New York City Mayor Eric Adams and Hochul are also in favor of – 56% are also concerned that the additional leeway would result in more defendants being jailed unfairly simply because they can not afford bail. 
"Nearly two-thirds of New Yorkers – including at least 60% of Republicans, independents, voters from every region, and white and Latino voters, as well as majorities of Democratic and Black voters – say the bail law has resulted in an increase in crime," Greenberg said. "And an overwhelming majority of New Yorkers, including at least 72% of voters of every party, region and race, say the law should be amended to give judges more discretion to set bail."
The legislation prohibits judges from setting bail for most misdemeanor offenses and non-violent felonies. As New York City has experienced a surge in some crime categories during the pandemic, including non-bail eligible offenses such as some forms of burglary, conservatives have seized on the new law and blamed it for the rise in crime. Statistics, however, paint a different picture. According to a report released this month by New York City Comptroller Brad Lander, "pretrial rearrest rates remained nearly identical pre- and post-bail reform," and 99% of defendants were not rearrested on a violent felony charge in January 2019, January 2020, and December 2021, after bail reform went into effect, Lander's office found. 
Siena also reported that suspension of the state's gas tax – something state legislators on both sides of the aisle have proposed to combat rising inflation – has bipartisan support. Among Republicans, 75% are in favor of freezing the 16 cents per gallon tax, while 70% of Democrats and 66% of independent voters support the move. 
About half of voters surveyed support the legalization of to-go cocktails, a proposal backed by Hochul, down from 55% in January.