Politics
Andrew Cuomo has learned nothing about sexual harassment
The former governor still doesn't seem overly familiar with harassment law in New York.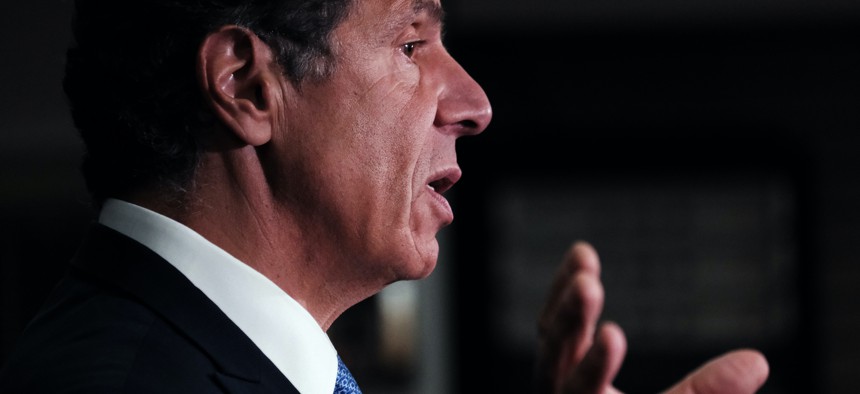 Half a year after his resignation amid multiple sexual harassment allegations, former Gov. Andrew Cuomo has come to rely on a single fact he claims vindicates him. Five different district attorneys weighed bringing sexual misconduct charges against him, but ultimately none did. He repeated the line on Thursday when he spoke to clergy and congregants at a South Bronx church. "How can you have a report that says 11 cases (of sexual harassment), and then it goes through law enforcement and they find no cases?" Cuomo asked attendees. "It was a fraud."
But sexual harassment is not a criminal offense. So Cuomo's claim that the lack of criminal charges against him proves he didn't harass anyone rings false – and is besides the point anway. Yet when confronted with this fact on Thursday, the former governor – who has a habit of mischaracterizing sexual harassment laws he signed into law – incorrectly asserted that sexual harassment is both criminal and civil, evidence that Cuomo still misunderstands laws he signed. 
In New York – and across the country – sexual harassment represents a civil offense that requires the alleged victim to pursue damages. In 2019, Cuomo signed landmark legislation making it easier to prove harassment, changing the standard from behavior that is "severe or pervasive" to more than a "petty slight or inconvenience." Under the old standard, even conduct that one could easily consider harassment often did not qualify.
Multiple women have accused Cuomo of harassment under that new standard, and many have said they plan to sue him over the alleged behavior and retaliation. Aside from the report from the state attorney general and the Assembly impeachment probe – both which Cuomo disregards as political hits – that found he sexually harassed women, independent harassment law experts have concluded also that his behavior constitutes harassment under the very law he signed. 
The most serious criminal offense the former governor potentially committed was forcible touching, a misdemeanor sexual assault charge the Albany district attorney ultimately dropped. Although he and four other county district attorneys did not bring Cuomo to court, that does not preclude women still bringing civil lawsuits and the former governor facing civil penalties. And the prosecutors Cuomo claims vindicated him all said they found the allegations made against him credible even if they couldn't bring charges.
Although New York has made strides in recent years with regards to strengthening its sexual harassment laws, bills that would criminalize the behavior have never passed. One piece of legislation from Assembly Member Rebecca Seawright would make sexual harassment a Class A misdemeanor, although the change would only apply to state lawmakers and would not have impacted Cuomo had it become law. The bill keeps the definition of harassment in line with the civil definition.
Another bill, sponsored by state Sen. Alessandra Biaggi and Assembly Member Yuh-Line Niou, would create a crminal charge of sexual harassment as well that would apply to everyone. But it's more restrictive in that it focuses on physical contact like slapping, kicking or shoving someone for sexual gratification. This particular bill came about in the wake of allegations of intimate partner violence against former state Attorney General Eric Schneiderman.
It's possible that the former governor conflated the potential criminal charges with others that could come from alleged sexual harassment if the behavior rises to the level of a criminal offense rather than simply not knowing state law. But it's not the first time the Cuomo got sexual harassment law wrong. Before he resigned, he seemed to contradict the law he signed that changed the definition of harassment to make it less restrictive when pressed about apologies he made for making women ``uncomfortable." A spokesperson for Cuomo did not immediately return a request for clarification about the legal mistake he made, though an explanation wouldn't change much for many politicians and New Yorkers who would prefer Cuomo fade out of public view. 
"Serial abusers should have no place in New York politics,"  lieutenant governor candidate Ana Maria Archila said in a statement after the former governor's church appearance. "Cuomo has refused to accept an ounce of responsibility for his action."