New York City
Mayor Eric Adams has COVID-19, but it's unclear how many other New Yorkers do
The growing prevalence of at-home tests has created data gaps in coronavirus case counts recorded by the city.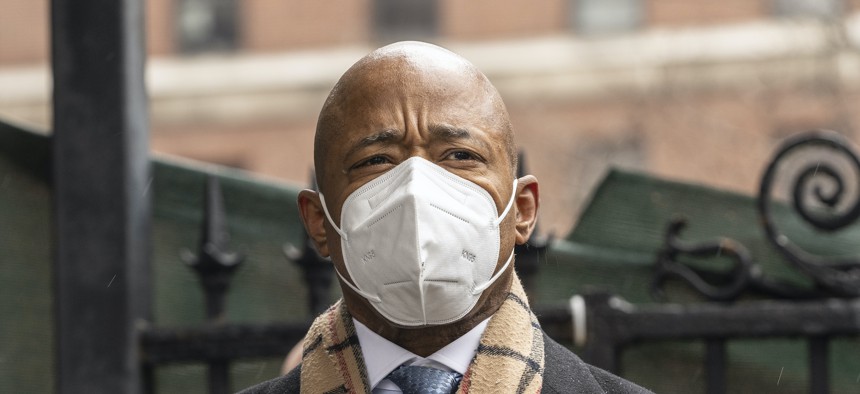 New York City Mayor Eric Adams' COVID-19 diagnosis comes as the city is experiencing an uptick in cases, but with the growing prevalence of at-home tests, it's unclear exactly how many New Yorkers are sick with the virus. New York City Department of Health and Mental Hygiene statistics show an average of about 2,000 confirmed and probable cases per day, as of Friday, a 211% increase from the number of cases recorded a month prior. 
Though hospitalizations are actually on the decline in New York City, indicating infections caused by the omicron BA.2 subvariant are less severe, doctors have expressed concern about the lack of available data on positive tests. 
"I can promise you a huge chunk (almost certainly the majority) of cases still aren't recorded," Director of Global Health in Emergency Medicine at New York-Presbyterian/Columbia University Medical Center Craig Spencer tweeted Saturday. "Lots of testing sites have closed. There's more access to rapids. We're not getting a full picture."
City Hall announced on Sunday, Adams' 100th day in office, that he had tested positive for the coronavirus. "This morning, Mayor Adams woke up with a raspy voice and, out of an abundance of caution, took a PCR test that has now come back positive," spokesperson Fabien Levy said in a statement. Levy said the mayor will continue isolating at Gracie Mansion throughout the week while working remotely. "Thankfully I'm vaccinated and boosted so symptoms are minimal," Adams tweeted Sunday. 
Speaking in a virtual press conference about federal efforts to combat ghost guns on Monday, the mayor appeared in good spirits and said he feels "fine." 
"Outside of the raspy voice, I feel fine. No fevers. I'm not tired. No aches or pains at all," he said, accrediting his mild symptoms to his vaccination status. "The mere fact that I'm able to, I believe, fight this virus with just a raspy voice is because I took the necessary steps of getting boostered and vaccinated."
The mayor is also taking antiviral medication offered by the city for free to New Yorkers who are at a higher risk of severe illness from COVID-19, he said. The city began offering the antiviral pills through Alto telehealth pharmacy, which provides free same-day delivery, in January. Two treatments are currently being offered: Paxlovid, a Pfizer drug, and Molnupiravir, developed by Merck pharmaceutical company. The Food and Drug Administration granted emergency use authorization for both drugs in December. 
Adams said he qualified because of preexisting conditions, including prediabetes and a history of high blood pressure, he said during the virtual briefing. 
The Paxlovid treatment, which must be taken within five days of developing symptoms, consists of a three-pill dosage every day for five days. According to a clinical trial conducted by Pfizer, the treatment decreases the chances of developing severe illness from COVID-19 by 89% by preventing reproduction of the SARS-CoV-2 protein.
"I think it is the beginning of a 'game-changer,'" Yale Medicine infectious disease specialist Jeffrey Topal said in a Yale Medicine news article. "It's really our first efficacious oral antiviral pill for this virus. It shows clear benefit, and it really can prevent hospitalization and death in people who are at high risk."
Molnupiravir also must be taken within five days of developing symptoms and consists of four pills, twice daily, for five days. 
Paxlovid, however, is the preferred treatment. It is authorized for people 12 years and older who weigh at least 88 pounds. Molnupiravir is available to those 18 years and older.
As of last Monday, Alto had administered 5,200 Paxlovid treatment courses, and 1,700 were on hand for distribution, according to DOHMH.
Research suggests both drugs are effective against the Omicron variant, including the BA.2 subvariant that is said to account for 72% of new cases nationwide as of last week, according to the Centers for Disease Control and Prevention.