Policy
New York health officials say they aren't alarmed by BA.2 – but should they be?
Gov. Kathy Hochul and Health Commissioner Mary Bassett said Monday BA.2 cases aren't rising as fast as they are in Europe and the UK. It's not entirely clear why.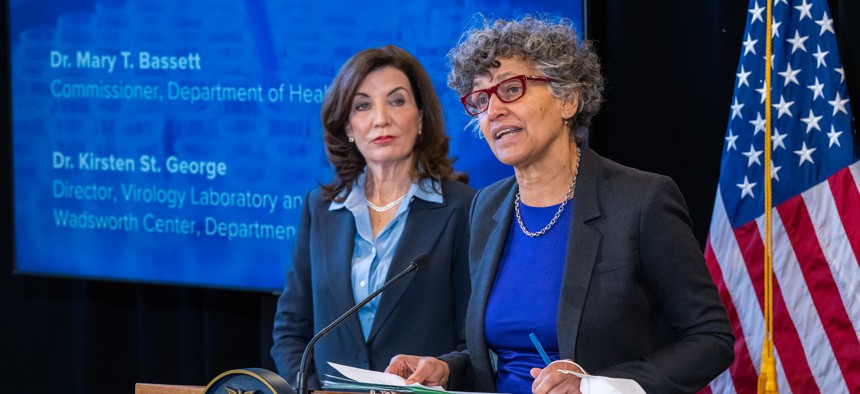 New York state health officials painted an optimistic picture of the progression of the BA.2 subvariant on Monday, amid a slight uptick in COVID-19 positivity and a rising share of cases attributable to the new subvariant. 
"We never had a high-five moment that (the pandemic is) over," Gov. Kathy Hochul said Monday during a press conference at the Wadsworth Center public health lab in Albany. "We've been adapting to the circumstances and reopening in a way that I still believe should continue."
Globally, BA.2 now accounts for the majority of cases, and many countries have recorded steep upticks in recent weeks. In the UK, case counts have more than doubled in the past month – climbing from 27,779 on Feb. 25 to 66,900 on March 11, according to public health data. The UK Health Security in January said BA.2 is growing at a faster rate than the initial omicron strain in all regions where there were enough cases to measure the spread.
BA.2 now accounts for 42% of cases in New York, officials said, up from about 8% a month ago, according to data from the Centers for Disease Control and Prevention. In New York City, the seven-day average number of COVID-19 cases has risen from 8 in 100,000 to 11 in 100,000, what Health Commissioner Mary Bassett called "very low numbers" when compared to record-breaking case counts in December and January amid the initial omicron wave. 
Hochul said the state is "not in an alarmist mode" over BA.2 but will "stay on top of this."
"We've learned a lot. We know how to handle this," she said. 
The rosy tone mirrors that of the federal government. Chief White House Medical Adviser Anthony Fauci said Sunday that "we won't see a surge," though he expects the subvariant to spread in the United States as it has in Europe and other countries. 
New York health officials insisted that BA.2 does not appear to be spreading as quickly in New York and the U.S. as in other countries, but offered little explanation as to why. "I can't tell you exactly what might account for that. As you know, the patterns of transmission are related to people's vaccination coverage, to their behavior and to the virus itself," Bassett said. "I don't want to promise you that it won't change. I can't do that obviously."
It's also unclear how the state will monitor the spread given the increased availability of at-home testing. During the previous wave, self-administered tests were scarce, and most infected people relied on public testing sites or private providers who were required to send testing data to the state. Bassett acknowledged the data gap and said the state was relying on the number of confirmed lab tests and hospitalizations, along with the rate of spread, to measure prevalence. "We no longer are capturing all the people who test positive," she said. "That's why we shifted to a focus on hospitalizations."
When asked by a reporter about the potential for renewed restrictions, she pivoted to urging more boosters and treatment, the latter of which was not widely available during the initial omicron wave that began in December. "A lever that has not really been fully utilized is the access to treatment," she said. "We have effective therapeutics now."
Health officials say the new subvariant is about 1.5% more transmissible than the initial omicron variant, dubbed BA.1, which was about four times as contagious as the delta variant. Both BA.1 and BA.2 cause less severe cases of COVID-19 than delta, experts have said. They have cautioned that the rate of spread could increase as people's antibody levels from recent infections or vaccination begin to wear off. 
Dr. Jay Varma, former senior adviser for public health to then-Mayor Bill de Blasio, is urging a more cautious approach, including the return of the city's vaccine mandate for public spaces.
"I've seen this film before. And I didn't like the ending," he tweeted on Friday.
In late December, when omicron began to take hold in the U.S., cases increased four-fold in just one week. On Dec. 20, the state logged its fourth consecutive day of record-high case counts. But hospitalizations remained far lower than they were during the onslaught of the pandemic – 4,020 as of Dec. 20, less than two-thirds what they were a year prior.
As of Monday, 900 New Yorkers were hospitalized with COVID-19, Hochul said. Six people died on Sunday from the virus. 
About 56% of adults and 73% of nursing home residents in the state who are eligible for a booster have received the additional shot, Hochul said. Comparatively, on Dec. 20, 40% of New Yorkers who were eligible for a booster had received the extra shot.
"January was a bad nightmare," Hochul said Monday. "We expect the numbers to fluctuate. Just be prepared for that. We're not sounding any alarms here. People continue on with your lives. Be careful about those we've identified as being most vulnerable."