New York State
NY Dems' party chair wants to create … a new party
Jay Jacobs says Hochul should have two lines on the ballot – and he doesn't seem to be counting on the WFP.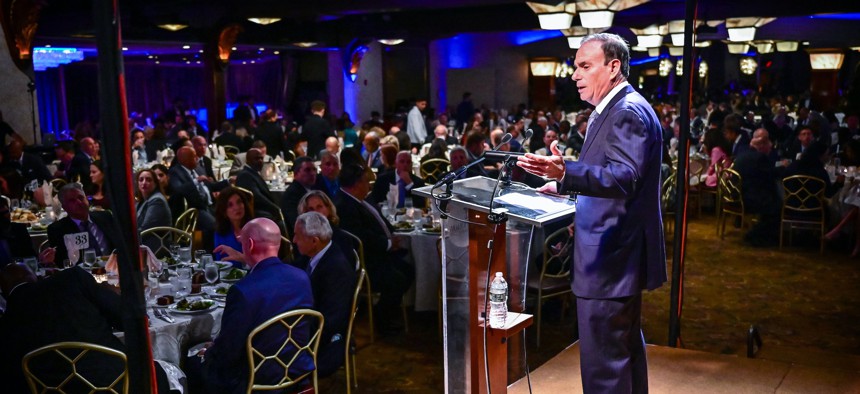 Third party discourse has officially entered the chat for the 2022 statewide election cycle. And like always, it's messy. 
State Democratic Party Chair Jay Jacobs is looking to create a new third party to help give Gov. Kathy Hochul – and reportedly some vulnerable incumbents – an extra boost in November. Thanks to New York's somewhat archaic fusion voting laws, candidates can run on multiple party lines in a single election, allowing their name to appear more than once on the same ballot.
Republicans have reliably depended on the Conservative Party to offer its line to GOP candidates, and this year is no different. In the gubernatorial race, the Conservative Party has already designated Rep. Lee Zeldin, the presumptive GOP nominee, as their candidate. If Zeldin wins the Republican primary, he will appear at least twice on the ballot. 
Right now, Hochul is guaranteed only one party line if she wins the Democratic primary because the Working Families Party is backing New York City Public Advocate Jumaane Williams. As of now, if Williams loses the primary, he still has a spot on the ballot on the WFP line, though that line has traditionally been offered to whoever wins the Democratic primary. "It is only smart tactically for us to consider using an Independent Nominating Committee to ensure that the governor's position on the ballot matches her Republican opponent," Jacobs said in a statement.
Jacobs told City & State that the idea has support from some county leaders, but the idea has not been well received by some Democrats. "I put that in the category of shenanigans," state Senate Deputy Majority Leader Michael Gianaris told reporters on Tuesday. "People know who the Democratic candidates are, people know who the Republican candidates are, and they're going to vote accordingly." He called it "peculiar" that the leader of one party would suggest creating a new one.
But at least one of Jacobs' predecessors said he could see himself taking similar action if he had found himself in a comparable political situation. "Just in case there were people who are of a mind not to want to vote on the Democratic line, that you open up a separate line for them, I guess that's okay," former Gov. David Paterson, who chaired the state party for a year after his tenure, told City & State. "In a similar situation, yes, I could have seen myself doing that." Paterson said that he doesn't consider providing a Democrat with another line to be "wrong or unethical" as it would ultimately serve to help the party.
Whether or not Williams will retain the WFP line if he loses the June primary remains a question, though recent history suggests that won't happen. In 2014, when the party backed Fordham Law professor Zephyr Teachout, it later removed her from its line to instead offer it to former Gov. Andrew Cuomo. The WFP did the same thing in 2018, when it initially endorsed actress Cynthia Nixon. 
Neither happened without controversy, however. Cuomo famously created the Women's Equality Party (with the very similar initials of WEP) in 2014 in what political observers widely regarded as a dig against the WFP for backing his primary opponent. In 2018, it took some cajoling for Cuomo to accept the Working Families Party line, important to help the WFP maintain its automatic ballot access. At the time, it needed at least 50,000 votes on its line to stay on the ballot in future elections. Backing the Democratic candidate was a surefire way to secure those votes without a risk of playing spoiler. 
Then in 2019, the Democratic party with Jacobs at its head sought to raise that ballot access threshold to at least 250,000 votes, a level that would have all but guaranteed the WFP would dissolve. Most viewed it as retaliation from Cuomo against the WFP for opposing him in the past two primaries, something both he and Jacbos denied. Ultimately, the state did raise the vote threshold, though not quite as high as the initial proposals. It led to the destruction of several third parties – but not the Conservative Party and the WFP.
Although the WFP has not said one way or another what it plans to do after the Democratic primary, Jacobs' third party decision does not sit well with WFP leaders. "Jay Jacobs knows that the party has never played the role of spoiler," WFP Deputy Director Sharon Cromwell said in a statement to City & State. "He's looking for an excuse to spend hundreds of thousands (of dollars) to create a party that won't mobilize voters, but only function to pull Democrats further to the right and alienate the growing bloc of progressive voters."
Jacobs' move to create an independent third party this year through independent petitioning and gathering 45,000 signatures does not guarantee that the party will become permanent – it must meet the same vote threshold of 2% of votes cast for governor or 130,000 votes, whichever is higher, just like any other party. Nor is their proof that it will have the intended effect of helping the governor or other Democratic incumbents. Such a move didn't help former Nassau County Executive Laura Curran, who had created the Common Sense Party as she suffered from backlash against Democrats for rising crime and bail reform. But at the very least, it does mark yet another chapter in New York's messy third party politics.