NYPD
NYPD's Neighborhood Safety Teams are mostly making low-level arrests, data shows
Mayor Eric Adams promised the reimagined anti-crime units would crack down on illegal guns, but statistics obtained exclusively by City & State tell a different story.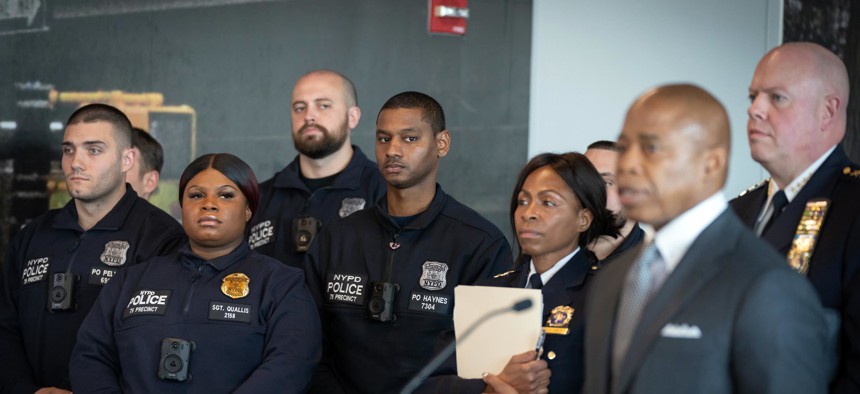 Most of the arrests made by the New York City Police Department's reimagined anti-crime units have been for non-violent crimes such as drug possession and driving with a suspended license, data obtained exclusively by City & State shows – despite Mayor Eric Adams' repeated promises that the units are designed to target illegal firearms.
In addition to the 26 arrests for illegal gun possession touted by the department, the most frequent arrest made by the Neighborhood Safety Teams is for criminal possession of a forged instrument, such as a fake ID. The teams have made 27 such arrests since they were deployed on March 14 through April 5, of 135 total, according to the NYPD. The third most-frequent charge, after criminal possession of a firearm, is drug possession, with 24 arrests. The Neighborhood Safety teams have arrested 11 people for driving with a suspended or revoked license – a misdemeanor traffic violation, and the fourth most-frequent arrest type made by the units.
Adams, who reinstated the controversial units under the new moniker after his predecessor dismantled them over concerns of racial profiling and police brutality, has defended their work by saying they are necessary to crack down on the city's escalating gun violence problem. "I don't have an anti-crime unit, I have an anti-gun unit," Adams said in a radio interview on 77 WABC's Bernie & Sid in The Morning show Friday. "They're doing their job, and they're doing a great job." But the data shows the majority of the arrests resulted in charges that have nothing to do with guns.
The NYPD has released selective statistics to the public on the unit's results, casting gun arrests as a success story, and highlighting the number of arrestees with prior charges. Considering the unit's troubling past, advocates say the department should be especially transparent about the results of their work.
"The NYPD has a clear obligation to the public to be more transparent around the operations of these new units," senior policy counsel at the New York Civil Liberties Union Michael Sisitzky told City & State. "If these are units that were justified in the mayor's eyes as fulfilling a role in combating gun violence specifically, but they're actually being deployed for general low-level policing purposes, the public should know that."
City Hall, when asked about the findings, reiterated Adams' commitment to the policing approach.
"Public safety is Mayor Adams' top priority, and the Neighborhood Safety Teams will help stem the tide of gun violence we're seeing across the city," a spokesperson said in a statement. "In a matter of weeks, these teams have rid our streets of more than 25 guns — guns that can no longer murder a child or any other innocent New Yorker. We are confident that their enhanced vetting and improved training will help keep our streets safe."
Once referred to as the "anti-crime unit" made up of undercover officers, Adams' has rebranded the army of approximately 200-some cops as "Neighborhood Safety Teams." Instead of street clothes, Adams has said the officers will wear clothing that clearly identifies them as NYPD, but are less conspicuous than the traditional uniforms. The teams of five officers and one sergeant have been deployed to 30 precincts and four housing police service areas where 80% of the city's gun violence occurs, Adams has said. 
The stats obtained by City & State show the units have made arrests for the following charges:
Criminal Possession of a Forged Instrument: 27
Criminal Possession of a Firearm: 26 
Criminal Possession of a Controlled Substance: 24 
Driving with a Suspended or Revoked license: 11 
Criminal Possession of a Weapon (Knife/baton/imitation pistol): 7
Grand Larceny of a Vehicle: 7
Criminal Possession and Sale of a Controlled Substance: 6
Criminal Possession of Stolen property: 5
Unauthorized Use of a Vehicle: 4
Reckless Endangerment: 4
Grand Larceny: 4
Felony Assault: 2
Resisting Arrest: 2
Criminal Trespass: 1
Criminal Mischief: 1
Tampering with Evidence: 1
Out of state warrant: 1
Criminal Impersonation: 1
Petit Larceny: 1
The mayor has repeatedly declared his top priority is to tamp down on gun violence that has surged during the pandemic. But shootings have become even more frequent during his first three months in office. The NYPD has logged 296 shootings this year through April 3, a 14% increase from the same timeframe last year, the department said Wednesday during Commissioner Keechant Sewell's first monthly crime briefing since she was sworn in on Jan. 1. Overall serious crime is up 44%. 
Quality-of-life concerns – often referred to as "broken windows policing" – is another priority for Adams. In an apparent effort to justify the approach, NYPD brass on Wednesday linked quality-of-life complaints to shootings, and highlighted examples of quality-of-life arrests that resulted in gun recoveries. 
In one instance where Neighborhood Safety Team officers stopped a person for drinking in public – what Chief of Department Kenneth Corey referred to during Wednesday's briefing as one of the "precursors of violence" – police also discovered an illegal firearm in his waistband, Corey said. He noted the arrest occurred in "a location experiencing increased levels of shots fired and other indicators that something is brewing there."
Elias Silverman, John Jay College of Criminal Justice professor emeritus and author of the book, "The Crime Numbers Game: Management by Manipulation," noted the "pattern of selectively releasing information" is nothing new for the NYPD and "can yield a distortion in its meaning if you don't have the full picture," he told City & State.
What would be even more telling than the number of people the units have managed to bust for alleged illegal activity, is the total number of stops the units have made, the demographics of those stopped, the reasons for making the stops and the frequency and success rate of stop-and-frisk, experts said. 
New York City Public Advocate Jumaane Williams is among the many progressives who have expressed concern about the units. He told City & State on Wednesday that while "police were already making record gun arrests and taking record guns off streets in recent months, it's unclear how Neighborhood Safety Teams are uniquely contributing to that effort."
Powered By
NEXT STORY: A timeline of Andrew Cuomo's comeback attempt