New York State
In the redistricting chaos, will Hochul see an opening?
Legislative changes to petitioning are reportedly on the table – and with them could come Albany "sausage-making."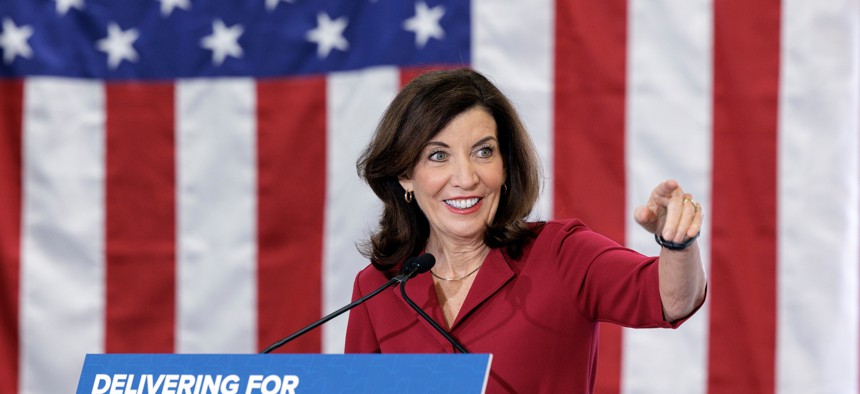 The fate of New York's congressional, state Senate, Assembly and gubernatorial primaries is murky to say the least. While the elections for the state Senate and New York's congressional delegation will likely be moved to August – per Wednesday's Court of Appeals ruling that the new lines were drawn in violation of the state constitution – the Assembly and gubernatorial primary dates, which were not part of the landmark decision, could also be in question. 
A special master has been tasked with drawing new district lines for the state Senate and Congress by May 20. The Appeals Court charged the Supreme Court with setting a new election schedule, but state lawmakers could have to pass legislation to comply with any court order, including, but not limited to, establishing new guidelines for petitioning. And if the Legislature is involved, Albany's time-honored tradition of horse-trading is likely to ensue. 
For Gov. Kathy Hochul – who is at odds with Democratic legislative leaders over budget negotiations and the resignation of Lt. Gov. Brian Benjamin – one big ask could be getting him off the ballot. "Albany loves to make sausage when it comes to legislation," Blair Horner, executive director of the New York Public Interest Group, told City & State. "The obvious thing that the governor wants is to jettison Benjamin from the ticket and allow her to pick a replacement. So who knows, we are still in the fog of war phase on how this is all going to play out. But it would not surprise me one bit, and it is certainly deep in Albany's DNA, to try to cobble together a bunch of issues to come up with the support any plan needs to get legislative approval."
Disagreements about nearly every remaining question have already emerged. "Multiple party sources" told Newsday "that a consensus is nearing to combine the June 28 primary for statewide offices and Assembly seats with a new, late-August date for the congressional and Senate races" – something party leadership denies. "There has been no discussions and certainly no consensus on moving the (Assembly and gubernatorial) primaries," Senate Majority Spokesperson Mike Murphy told City & State. The sentiment was echoed by New York State Democratic Committee Chair Jay Jacobs, who also told us there is no push to consolidate the primaries. And the State Board of Elections, which sets regulatory guidelines for the election processes, said it's unlikely the other primaries could be moved. "We do not foresee the June 28th primary changing for our statewide offices, the State Assembly, Judicial Delegates and Alternates and any local offices that are scheduled to be on the primary ballot," it said in a statement issued Wednesday. 
Horner noted that there is some precedent for the Legislature's involvement in changing the petitioning process. In 2021, lawmakers passed a bill to reduce the number of signatures required to get on the ballot in an effort to avoid close contact during the COVID-19 pandemic, along with another bill preventing last-minute petitioning.
Meanwhile, Democratic leaders have offered little to no insight on their plans moving forward to address the Appeals Court decision. But prior to Wednesday's ruling, legislative leaders were vocal about their distaste for changing laws to remove Benjamin from the ballot, with Senate Majority Leader Andrea Stewart-Cousins reportedly telling subordinates not to formally introduce legislation that could accomplish this. That's likely, in part, a punishment for Hochul over messy budget negotiations, and part of another historical practice in Albany: a tug-of-war between legislative leaders and the governor. "They gave her the Buffalo stadium, and she forced bail reform on them, which they didn't want," veteran Democratic political consultant Hank Sheinkopf told City & State. "The Legislature and the leaders have decided that they are never going to be in a Cuomo-like situation again . . . No governor's going to muscle the Legislature." 
What's more, the redistricting ruling has thrown the remainder of the legislative session into turmoil. "It sucked the oxygen out of the policymaking room in Albany, because lawmakers are now totally distracted. It's going to be very hard to get controversial pieces of legislation done in this environment. Unless they're cobbled together," Horner said.
But the hesitation to remove Benjamin is also about optics in that it would be an easy target for the GOP to claim Democrats are unfairly changing the rules at the last minute. And as some Albany insiders point out, it's sort of a moot point. Since there is already one moderate in the running – Diana Reyna – and Hochul would likely choose another, it would split voters and give leftist candidate Ana María Archila a clearer path to victory. "And if the mythical person somehow wins," said one Democratic Albany insider who requested anonymity to speak candidly, "what makes them so immensely valuable to the ticket that it's worth another month talking about what a bad choice Hochul made in Benjamin and how her solution was a back room Albany deal?" 
With reporting by Rebecca C. Lewis.