New York State
Benjamin pledges to remove himself from the ballot
The former lieutenant governor offered his first public comments since his arrest on corruption charges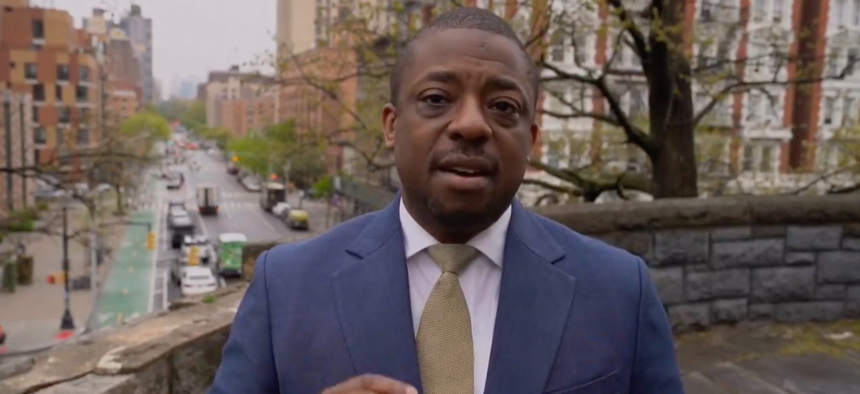 Former Lt. Gov. Brian Benjamin, while asserting his innocence on charges of corruption, said that he would "sign the necessary paperwork" to remove himself from the June 28 primary ballot. The comments, his first since his arrest and resignation, came as the state Legislature moved to approve a bill that would enable him to do just that.
In a short video posted to Twitter, Benjamin called his indictment "unfounded" and expressed confidence that the evidence will bear that out. "I fully expect to be exonerated of these false charges, and look forward to serving my community again when that time happens," Benjamin said, speaking with a street in Harlem as a backdrop to the video. Benjamin lives in the neighborhood and represented it in the state Senate from 2017 to 2021.
However, Benjamin acknowledged that he cannot continue to serve his community or the state while the court case against him plays out. For that reason, he said it would be "unfair to the voters of this great state for me to remain on the ballot." He added that since federal prosecutors brought the charges "for some reason so close to the election" – apparently insinuating  potential political motivation for an indictment so close to the election - that removing himself from the ballot is "the right thing to do." Benjamin said that he would sign whatever is necessary to withdraw from the ballot. 
As of Monday afternoon, state law does not permit Benjamin to withdraw from the ballot at this time. Despite his indictment, he would either need to leave the state or get nominated for another office after failing to decline the state Democratic Party's designation for lieutenant governor back in February. However, state lawmakers were expected to approve a bill that would add indictment or conviction of a crime as a reason to get off the ballot, which would take effect immediately and apply to Benjamin. Gov. Kathy Hochul had intensely lobbied the legislative leaders to bring the bill to a vote, which will also allow her to select a replacement for her wayward running mate on the primary ballot. Hochul on Monday said that the body officially responsible for approving a replacement for Benjamin will consider someone new to put on the ballot, but gave no indication about who that might be.
Aside from Benjamin, Diana Reyna and Ana Maria Archila are the two major candidates still running for lieutenant governor. Both have expressed opposition to the new legislation, arguing that lawmakers should allow voters to choose between them rather than allow Hochul to pick a new running mate.