News & Politics
City & State event highlights efforts to help MWBEs
The annual Diversity Summit gathered stakeholders to discuss how to improve the competitive procurement process.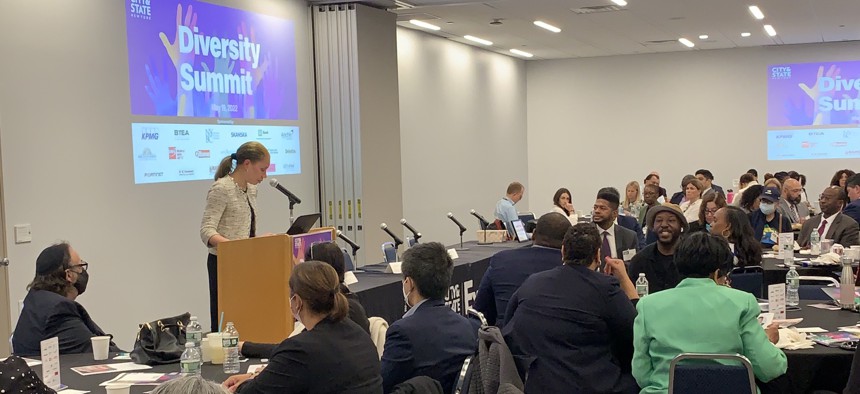 Local and state government leaders gathered in Manhattan on Thursday to discuss how owners of New York's minority- and women-owned business enterprises could better navigate the competitive procurement process, especially after the coronavirus pandemic.
Hope Knight – the president, CEO and commissioner of Empire State Development, which is the state's economic development agency – highlighted how New York state set aside $800 million for its Pandemic Small Business Recovery Grant Program. Those grants helped more than 33,000 recipients, including over 80% who were MWBEs, Knight told attendees during a keynote speech at City & State's 2022 Diversity Summit.
"This funding had often made the difference between recipients being able to move forward in their businesses during the pandemic," said Knight, the first Black leader of Empire State Development.
It was welcome news for many at the event held at Hebrew Union College. The summit, returning as an in-person event for the first time since the onset of the COVID-19 pandemic, also included insights from industry leaders, contractors and academics on ways to improve how MWBEs access contract work.
Knight said 99% of the loans coming from its small business revolving loan program went to MWBEs, and that the same group benefited from 60% of the funding from New York Ventures, its direct investment arm that provides capital to startups and entrepreneurs.
"But there's more to do to promote a fair and equitable economy in New York, particularly one that expands opportunities for all New Yorkers," Knight told attendees. "Wherever I go, I hear from businesses that they're struggling to fill roles, jobs in their firms. There's a mismatch between jobs available and the skills needed to be successful. Some of the companies here may be experiencing the same phenomenon."
Looking to expand on the state's support for MWBEs, Knight said a new state Office of Strategic Workforce Development would leverage ESD's "history, association and standing" with larger businesses to offer more help.
"It will focus on identifying employer workforce needs, and then train New Yorkers for those higher-skilled jobs," she said. "We will engage local stakeholders to help shape this approach: business industry associations, workforce trainers, educational institutions and wraparound service providers."
The new office will be coordinating its efforts through the state's Regional Economic Development Councils, Knight said, and work with the Department of Labor, SUNY, CUNY and other state agencies.
"Through this employer-driven strategy, we can extend opportunities for sustainable careers for more New Yorkers," she said. "And we can provide businesses with a talent pipeline that encourages growth and investments."
Coming up later this year will be the state's MWBE 2022 Forum, the largest of its kind in the U.S., said Jerome Duval, executive vice president and executive director of the ESD's Division of Minority and Women's Business Development.
"This is a really exciting opportunity to really bring together MWBEs from all sectors and industries, and really provide education, outreach and networking with (New York's) 97 agencies and authorities to really help connect some of those dots," he told City & State. "It's ensuring that we're positioning MWBEs for real opportunities in terms of connecting information from our contract reporter and making sure that our agencies and authorities who grant out those funds really are in a position to not only identify, but connect and ensure that MWBEs are prepared to go after those opportunities."
Duval, who served on a panel titled, "How to elevate your business into the next level," touted more than $11 million allocated by Gov. Kathy Hochul to support the state's MWBE program and added that the state has recognized it needs to improve its business processes and build more transparency and trust around their work.
Louis Coletti, president and CEO of the Building Trades Employers' Association, called for a mechanism that helps improve how businesses connect with MWBEs.
"My members have the work. They're looking for MWBEs. Here, we have all these MWBE organizations out there, advocating, coming to conferences like this, but we're not connecting in a way that's going to lead to business," he said. "That's one of the things the BTEA is committed to in the next year, finding a way to do this. We've got to link these MWBEs in a way that the government can't. This has to be led by the private sector. It can be a public-private partnership. We can be involved. But that's where we could do more."
Lorna Stark, national sector leader for government and lead partner for the city of New York at KPMG, noted that her firm recently began conducting survey of MWBEs, to learn more about them and strengthen relationships. "We ask where they've done work in the city, and what kinds of work they do. We also started doing networking events with them. We did a speed networking event with them so that they could get to know our team and our team could get to know them and their capabilities. It was like speed dating." 
Stark said KPMG also began inviting MWBEs to its regular meetings, to detail their skills and what kind of work they've done with the city. "And then things like today," she said of City & State's Diversity Summit. KPMG, along with BTEA, were the lead sponsors of the event.
"This was very intentional of us to sponsor this particular City & State event, because we wanted to be here and expand our network once again."