New York State
Hochul taps upstate Rep. Antonio Delgado as LG
Delgado will serve the remainder of Brian Benjamin's term and replace him on the primary ballot.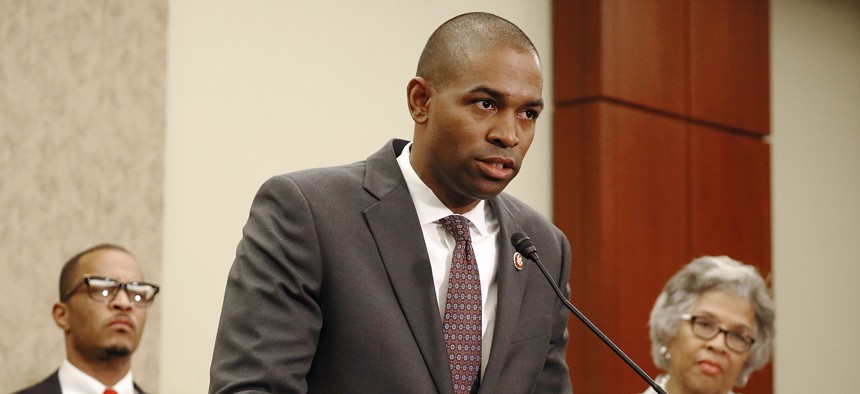 Gov. Kathy Hochul announced Tuesday morning that Rep. Antonio Delgado will serve as the state's new lieutenant governor. He will serve out the rest of former Lt. Gov. Brian Benjamin's term and will replace him on the June primary ballot as well. Hochul is expected to call a special election to fill Delgado's empty upstate swing seat, where he had been expected to face a tough reelection.
Hochul praised Delgado, an Afro-Latino who is the first person of color to represent upstate in Congress, in a press release announcing the pick. "We share a belief in working together to get things done for New Yorkers, and Representative Delgado has an incredible record of doing just that in Congress," Hochul said in the statement. "With Antonio Delgado by my side serving as Lieutenant Governor, we will both make history – and make a difference."
Delgado would be the first Latino to hold statewide office in New York. 
A moderate who has largely stayed under the radar since his election, Delgado's politics would compliment Hochul's while racially and geographically balancing out her ticket. During his time in office, Delgado has prided himself in visiting every corner of his sprawling district. He has had 18 bills signed into law by presidents from both parties, which he has touted as proof of his bipartisan bonafides, with his most prominent accomplishments focused on aid to rural farmers, veterans and localities. Delgado has also focused on issues related to rural farmers, expanding broadband and green energy.
From a political standpoint, Delgado has a strong congressional fundraising apparatus that will allow him to raise significant amounts of cash quickly despite his late entry into the race. As a Latino candidate, he also will compete with the two other Latinas running for lieutenant governor – Diana Reyna and Ana María Archila – an advantage to Hochul as well with him as her running mate. Though a risk, getting elected lieutenant governor would also ensure that Delgado would continue serving in government at a time when his reelection to Congress is far from assured.
Delgado was first elected to Congress in 2018, defeating former Rep. John Faso in a contentious race for the 19th District in the mid-Hudson Valley. He was reelected in 2020 without a strong challenge from a Republican.
But 2022 promised to be a very different year, with Dutchess County Executive Marc Molinaro running a serious campaign to unseat Delgado and flip the seat back to red. A congressional map that a state judge has since tossed due unconstitutional gerrymandering would have helped fortify the district against GOP challenges. But with congressional lines now in limbo and a seat left empty, Republicans will likely jump on the opportunity to win back one of its few seats in New York. 
The vacancy comes at a time when Democrats have only a tenuous hold on the House majority ahead of an election cycle expected to benefit Republicans. Delgado's departure leaves the fate of the battleground district even more uncertain as Democrats are desperate to hold onto every seat they can.
Hochul must declare a special election within 10 days of Delgado's official swearing in as lieutenant governor, with a date likely in mid-to-late July. Molinaro confirmed to City & State that he would be the GOP pick for that special election and said he is feeling "very good" about his race. State Democratic Party Chair Jay Jacobs said that the party has some candidates in mind already, but declined to offer any specific names.
A source close to Ulster County Executive Pat Ryan, a Democrat, said he was interested in running for the seat. A representative for Zephyr Teachout, who lost a race for the 19th District in 2016, said she was not interested in running again.
With reporting by Jeff Coltin
Correction: Marc Molinaro is currently Dutchess County Executive. An earlier version of this misstated that he was no longer serving in the position. 
Correction: This story has been updated to accurately reflect Delgado's heritage.
Powered By
NEXT STORY: Carolyn Maloney skips Met Gala to focus on politics