New LG and new redistricting maps
Rounding up the week's political news.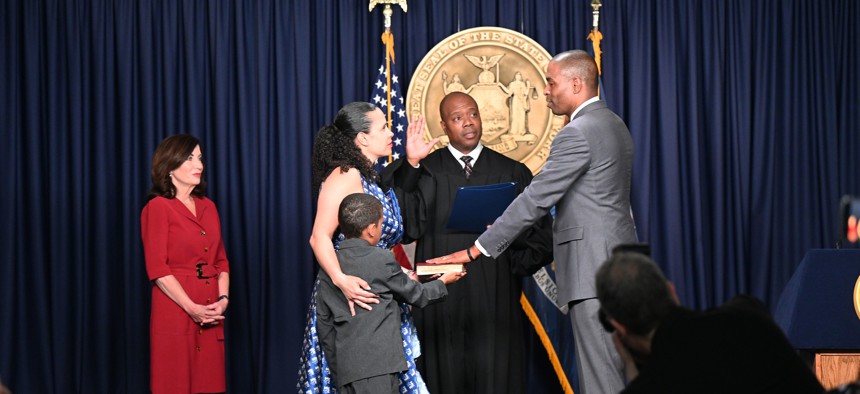 It is truly the end of an era. New York City said good-bye to its last working public payphone. The once ubiquitous boxes have now all officially been retired, replaced with LinkNYC kiosks around the city. Gone are the days of making anonymous phone calls from the corner outside your apartment or receiving mysterious calls from someone dialing into the payphone. Using the kiosks just won't have the same effect in thriller movies. But in the era of COVID, communal phones probably aren't so popular anymore. For the rest of this week's news, keep reading.
Delgado sworn in
New York once again has a lieutenant governor after the official swearing in of Antonio Delgado and he resigned from Congress. Delgado is the third lieutenant governor the state has had in less than a year, replacing Brian Benjamin after he resigned amid an indictment on federal corruption charges. Gov. Kathy Hochul announced that the special election to replace him will take place on Aug. 23, the same day as the primaries for Congress and state Senate.
More gun proposals on the agenda
Following a horrific mass shooting at a Texas elementary school that left 19 children and two teachers dead, Gov. Kathy Hochul said she would work with the state Legislature to approve legislation to raise the age to purchase an AR-15. Currently, a buyer only needs to be 18 years old, but Hochul wants to raise it to 21. But she will likely face an uphill challenge considering that California's semiautomatic weapons ban for people under the age of 21 was recently struck down by a federal appeals court. New York did, however, gain a victory on its gun laws. A federal judge upheld a state law that makes it easier to sue gun manufacturers when violence is committed with their weapons.
Redistricting (finally) finalized
After commissions and lawsuits and so many draft maps, New York finally has new district lines for the state Senate and Congress. The lines came after a long process that saw the maps drawn by Democrats in the state Legislature thrown out by a judge – the congressional lines were tossed due to gerrymandering and the state Senate lines on procedural grounds. So the process went to a court-appointed special master to draw new maps, the final versions of which came out after he heard from New Yorkers about his original drafts. The new districts will shake up a number of races, including by pitting Reps. Jerry Nadler and Carolyn Maloney against each other and creating a new open seat in lower Manhattan and parts of Brooklyn. That 10th District race has already attracted some high-profile candidates, including Rep. Mondaire Jones from the Hudson Valley, former New York City Mayor Bill de Blasio and Assembly Member Yuh-Line Niou. In the state Senate, a number of incumbents found themselves drawn out of their districts, with several already announcing their plans to move to a nearby district without an incumbent to avoid primarying their colleagues.
Assembly race a blow to Adams
A special election to fill the former seat of N. Nick Perry, who left the Assembly to serve as the U.S. ambassador to Jamaica, ended with the loss of New York City Mayor Eric Adams' preferred candidate Hercules Reid, whom Adams endorsed over the choice of the Brooklyn Democratic Party, Monique Chandler-Waterman. She handily won the seat by over 60 percentage points. Chandler-Waterman and Reid will face off again in the June 28 Democratic primary.
Adult Survivors Act signed
After it stalled in the Assembly last year, the chamber approved the Adult Survivors Act, which Hochul quickly signed into law at an event attended by advocates and survivors of sexual abuse. The new law is similar to the 2019 Child Victims Act, opening up a one-year lookback window for people who experienced abuse as adults to bring civil lawsuits against their alleged abusers. The bill signing was the culmination of years of activism to get it enacted.
Rikers gets a reprieve
New York City officials got a little more time to come up with a plan to solve the myriad problems at the Rikers Island jail complex, long plagued by violence and now exasperated by staffing shortages. A judge granted Adams and his Correction Department commissioner two more weeks to figure out how they will address the issues at Rikers before the federal government potentially takes away control of the jails. The prospect was raised several weeks ago because violence at Rikers has increased in recent months, despite years of attempts to solve the issues. If the city can't quickly show that it has a workable plan, a federal monitor will take control of the jails away from city officials, which Adams is working to prevent.