Campaigns & Elections
Antonio Delgado's swearing in sets up a messy election schedule
The special election to fill his seat representing the 19th Congressional District will likely be held on Aug. 23.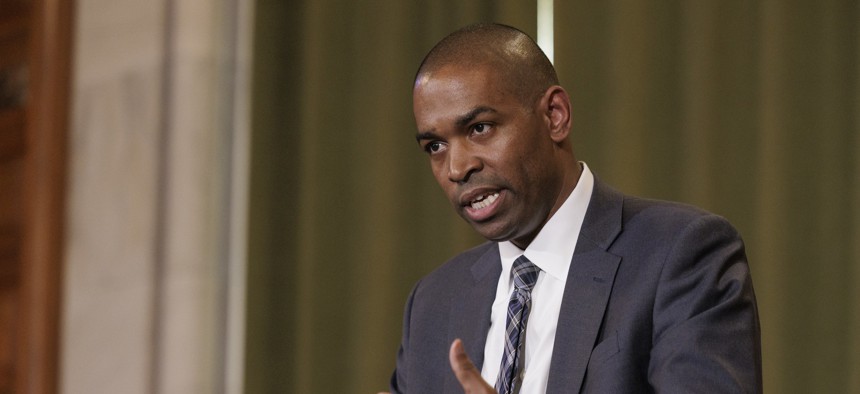 Rep. Antonio Delgado's swearing in on Wednesday as lieutenant governor will likely prompt a special election to fill his seat on Aug. 23, coinciding with the rescheduled state Senate and congressional primaries. The delayed election has sparked allegations of election engineering by Democrats from the Republican candidate in the race, along with a dual candidacy from the leading Democratic candidate. 
Ulster County Executive Pat Ryan will appear on the ticket for both the special election in the 19th Congressional District and the primary for the 18th Congressional District, which is currently represented by Rep. Sean Patrick Maloney, who is now running for the 17th District. The winner of the special election for Delgado's seat will serve only four months for the remainder of his term. When new lines take effect in January, neither Ryan, nor his Republican opponent, Dutchess County Executive Marc Molinaro, will live in District 19, though that does not legally prevent either from representing it. If Ryan wins the primary for District 18, he will then appear on the general election ballot in November for a term beginning in January.
Molinaro has accused Gov. Kathy Hochul of purposely delaying Delgado's swearing in – which comes more than three weeks after she announced he would replace Lt. Gov Brian Benjamin – in order to improve voter turnout in the August election and give Democrats a leg up in the race.
"It now appears, after they cooked up an insider deal with Pat Ryan, that the Democrats are finally poised to fulfill their responsibility and appoint Antonio Delgado as (lieutenant governor)," Molinaro reportedly said in a statement.
Ryan's campaign, along with a spokesperson for Gov. Hochul, have denied the allegation. 
"There has been no coordination from us saying we want this date or we recommend this date or anything like that," Ryan's campaign manager, Chris Walsh, told The New York Post.
Hochul must issue a proclamation within 10 days following Delgado's swearing in to confirm the date of the special election, which must be held 70 to 80 days later, meaning Aug. 23 would be the last possible date on which the election could take place.