Politics
The race for New York's 10th Congressional District begins
Six top candidates met in person for the first forum in the Empire State's hottest race.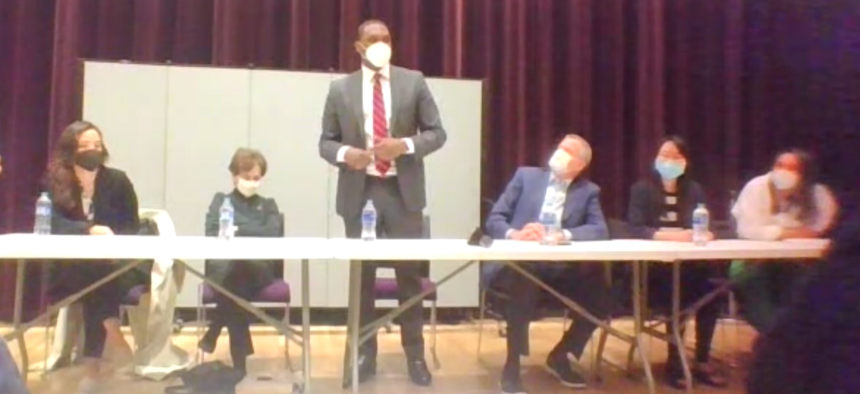 At the first candidate forum for the newly redrawn 10th Congressional District, six contenders for the open seat in Manhattan and Brooklyn discussed a wide range of issues, with a particular focus on the LGBTQ community in New York City. Hosted by the Stonewall Democratic Club of New York City at The LGBT Center in the West Village, the forum on Wednesday night was attended by Rep. Mondaire Jones, former New York City Mayor Bill de Blasio, Assembly Member Yuh-Line Niou, New York City Council Member Carlina Rivera, former New York City Comptroller Elizabeth Holtzman and Elizabeth Kim.
The event's moderator began by asking each candidate to introduce themselves.
Jones said the district, which includes Greenwich Village, helped him become who he is today as a "poor, Black and gay" man. He added that his track record in Congress, which included supporting the extension of the pandemic-related eviction moratorium and the introducing legislation to add four more seats to the U.S. Supreme Court, demonstrated his ability to represent the district most effectively.
Rivera, a lifelong resident of the Lower East Side, said she was "uniquely positioned" to run for the seat. She added that she has taken her "lifelong experiences and turned them into lifelong advocacy."
Another lifelong resident of New York City, Holtzman said she was running because "these are very dark times." She cited threats to democracy, women's rights and minority rights as issues that pushed her to run for the seat.
De Blasio said he learned to become an activist from movements in lower Manhattan. "What I learned out of movements that succeeded was that by organizing entirely new politics, we can do things we're told that we cannot," he said.
Kim, who began her opening speech by saying she understood that some people in the crowd may have been wondering who she was, said her experience as a social scientist has helped her understand what underserved people in the district need to be more supported by their local and federal governments.
Niou began her introduction with an emotional plea for understanding that the country is experiencing a gun violence epidemic, referring to the mass shooting at an elementary school in Uvalde, Texas, that left at least 19 children and two adults dead. "Right now, we have a lot of people close to the pain that's happening," she said. "The hatred towards our communities, it's not new. It's written into law. It's the way our country was born."
Homelessness in New York City was the next topic addressed. All six participants acknowledged that not enough was being done to address mental health outreach and affordable housing crises – both citywide and in the 10th District. Jones mentioned that LGBTQ youth experience homelessness at a higher rate than other demographics in the city, and said that a "holistic approach" was needed to remedy the issue.
De Blasio explained that even if the federal government refused to act to fund homelessness outreach and the creation of more affordable housing, it was especially pertinent that the city keeps homeless and runaway youth safe.
"Kids have been horribly and wrongly rejected by their families in too many cases. … We have had no help to speak of from the federal government," de Blasio said.
One member of the crowd asked about affordable housing, or lack thereof, in lower Manhattan and what the candidates would do to address the issue.
While mentioning her experience as a council member, Rivera said she has directly funded projects related to infrastructure, parks and repairs for constituents in their homes, and she said that affordable housing was a "public health" issue.
"We need to increase generational wealth opportunities that Black and brown residents have not had access to neighborhoods that are transportation dense, every neighborhood needs to play their part. When we think about the affordable housing that can be produced, in the end, it's the right decision," said Rivera, referring to the creation of more affordable housing in higher-income Manhattan neighborhoods like with the SoHo/NoHo rezoning.
According to Niou, the city and state need to take more responsibility in making affordable housing more accessible, but that the housing needs to be affordable for those actually living in the district.
"The question we aren't asking is, affordable for who?," Niou said.
Kim said that, in her work as a social scientist, she had seen research that showed housing vouchers that allow residents to choose where they want to live as opposed to having to go through other systems currently in place like lotteries would save "hundreds of millions of dollars" for the city.
The final question of the night pertained to what the forum participants would do as members of Congress if Democrats, as many pundits are predicting, lose their majority in the House this November.
De Blasio said that reaching younger people that have been "lost to Republicans who actually share a lot of the values that we do" is important. The former mayor added that the district needs a candidate who engages with them and "gets things done for people."
Niou echoed many of the sentiments made by de Blasio, adding, "It's really about making sure that we have someone that helps build a bridge (in Congress)."
Kim addressed the need for more funding in case of other future emergencies, like another pandemic, so that the city's residents are not stifled financially or with their housing stability.
"I think this is a great list of candidates. I think what's ultimately important is, how are we going to deliver for the people we are going to represent," said Rivera, when making her closing argument and speaking about what is at stake if the Democrats lose their House majority.
"I would like to continue that call to public service, and I'd like to continue that with you all by my side," Rivera said.
Emphasizing her experience in both New York and on the federal level, Holtzman said about her time representing the 16th Congressional District in the '70s and early '80s: "I got my favorite award, 'Workhorse of the Year.' So I'm not giving up that energy yet."
She added: "We have a Supreme Court that wants to take us backwards. It's a dangerous situation. We can't give up, we have to fight with every tool we've got. We need someone in the House of Representatives, representing this district, who's going to take on (Republican Rep. Paul) Gosar and the rest of them and not be afraid. And that's where I've been."
About what's at stake for the next wave of legislators in the House, Jones said, "We cannot afford to lose the majority in Congress. The alternative is too dire. These people are threatening to not certify our elections. These people are perpetuating the theory of white replacement theory." Jones said that given his experience with representing queer communities and communities of color in New York, he had the ability to continue to do so for the 10th District, even if the Democrats were in the minority.
He added that building an economy that works for lower-income communities was important to build trust with constituents, regardless of what happens in the primary.
He said of the district that includes the Stonewall Inn, the birthplace of the gay rights movement, "I do believe that the district that has so much history, with a history in the queer liberation movement, deserves to have it's first queer person representative in Congress."