New York State
With redistricting chaos, support grows for consolidating all New York primary elections in August
Some lawmakers say one election, not two, is the best thing for voters, but the governor disagrees.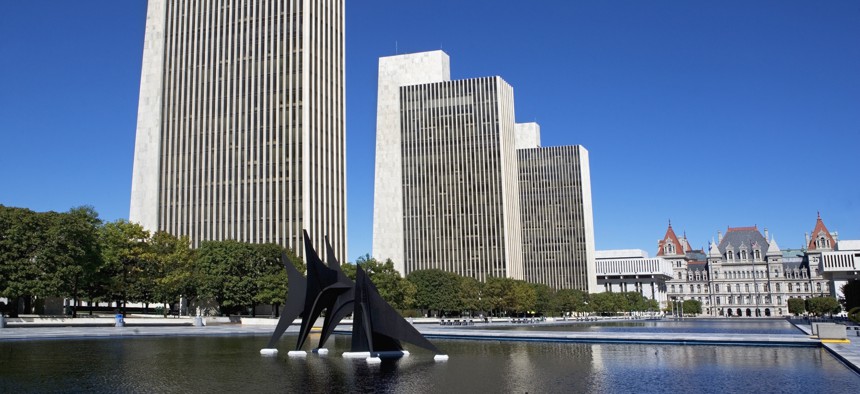 Things are looking bleak for Democrats when it comes to redistricting in New York, but they are nothing if not persistent. 
After the courts ruled their congressional district lines to be unconstitutionally gerrymandered, Democrats sued the Board of Elections to keep their lines in place for now – and make sure voters still go to the polls on June 28. Attorneys for the Democratic Congressional Campaign Committee argued that the state does not have enough time to redraw lines and mail ballots to service members overseas before the new, court-ordered primary date of August 23. But a federal judge on Wednesday bluntly rejected their last-ditch request for a temporary restraining order while the case is heard. 
Judge Lewis Kaplan – who listened to arguments Wednesday – will be part of a three-judge panel to hear the case and instructed the state Board of Elections to petition Judge Gary Sharpe in the Northern District of New York to approve the August 23 election day. Sharpe issued an order in 2012 federally mandating a June congressional primary date in New York to ensure timely mailing of ballots to service members. If Sharpe gives election officials the thumbs up, Democrats' case before the three-judge panel falls apart. 
This "Hail Mary" by Democrats, as the federal judge described the complaint at the Wednesday hearing, is the latest attempt by the party to save new district lines they drew. Despite their longshot efforts, the state is set to have two different primary dates, one for statewide elections and the Assembly and another for Congress and state Senate. Some lawmakers are beginning to support moving all the primaries back to August – but so far, Gov. Kathy Hochul hasn't publicly supported the idea. 
As of right now, primaries for Congress and state Senate will take place on August 23 within new districts drawn by a court-appointed expert. Despite the new federal case brought by Democrats, the state Board of Elections has maintained that it can conduct an August election that adheres to federal law, submitting a letter to Judge Kaplan on Wednesday explaining as much. The federal court will most likely allow the August congressional election day to take place. 
The Assembly district lines have also been called into question with a separate complaint – this one at the state level – with a GOP plaintiff requesting the court to toss that map on the same grounds as the state Senate map. If the Assembly lines get redrawn, that would leave just statewide and U.S. Senate primaries taking place on June 28. 
Assembly Member Latrice Walker, chair of the Election Law Committee, expressed support for the idea of consolidating all of the 2022 primaries on August 23. "I'm always about voters being able to show up and having the most information possible and available to them," Walker told City & State, saying that having two elections would only serve to confuse voters. But she said that her conference has not discussed the prospect yet, and likely won't until a ruling on the Assembly lines comes down. 
State Sen. Zellnor Myrie, chair of his chamber's Elections Committee, wouldn't commit to the idea with all the pending court cases, but broadly said that consolidated primaries benefit the voters. "I think it's important that we center voters in this process," Myrie said. He referenced the 2019 law that moved the state primaries from September to June in order to coincide with the federal primaries, a move to comply with federal law, but also one meant to increase voter turnout and decrease election confusion. "I think that all of that will be subject to conversation, whatever we get out of the courts," Myrie said.
Moving all the primaries to August may even have support from state Senate Majority Leader Andrea Stewart-Cousins, who offered cautious comments on the idea without actually rejecting it. "Our general policy has been to combine where we could, and that's what we've done," Stewart-Cousins told reporters on Tuesday. "Obviously, we're in a different set of circumstances, so we'll deal with the circumstances." 
Good government groups have also come out in support of a single August primary date. "Consolidating the 2022 primary elections would minimize the impact of the Court's ruling on voters, candidates and election officials and would provide some stability to the current electoral cycle," the heads of Citizens Union and the League of Women Voters of New York wrote in a recent letter to state leaders. 
But consolidation may have a powerful enemy – the governor. Gov. Kathy Hochul on Tuesday indicated that she has no intention or desire to move any remaining June primaries to coincide with the court-ordered August date. "I think there'll still be statewide primaries still in June," Hochul told reporters, arguing that keeping statewide elections in June will minimize disruption to voters as they expect to vote on June 28. "I don't know why we would continue to disrupt the process," she said.
Correction: This story has been corrected to reflect that Judge Lewis Kaplan did not appoint a three-judge panel, but is a part of it.
Powered By
NEXT STORY: The intriguing guest list at the Manhattan Institute's 'springtime conservative prom'