Heard Around Town
The intriguing guest list at the Manhattan Institute's 'springtime conservative prom'
What do the NYPD commissioner and a certain Democratic gubernatorial candidate have in common? An appreciation for the conservative think tank.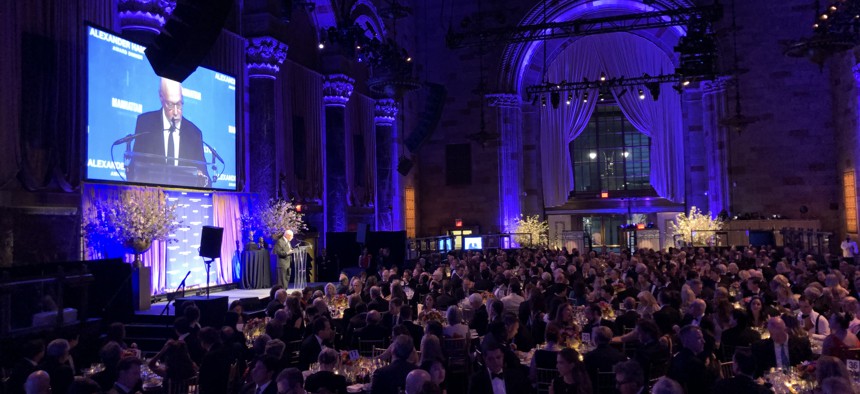 There was an undeniably celebratory mood at Tuesday night's Manhattan Institute Alexander Hamilton Award Dinner – dubbed "springtime conservative prom" by 2013 GOP New York City mayoral nominee Joe Lhota. 
The U.S. Supreme Court draft opinion overturning Roe v. Wade went unmentioned on stage, even though some of those in the room at Cipriani 42nd Street – including Rep. Andrew Garbarino, gubernatorial candidate Rob Astorino and honoree Wall Street Journal Editorial Page Editor Paul Gigot – may agree with the conservative majority on the court. 
That only made Democratic Rep. Tom Suozzi's appearance at the gala more surprising, as many of his fellow Democrats were downtown at Foley Square, rallying against the impending decision against legal abortion.  
"This was a pre-planned event for me to stop by, because the editor of the Wall Street Journal was being honored, and I wanted to say hello," Suozzi explained to City & State Wednesday. But Suozzi insisted his attendance at the conservative think tank's event didn't send a conflicting message as he runs in the gubernatorial primary for governor. "Lifelong Democrat. Solid, lifelong, Democratic record," he said, listing his bona fides. "Environmentalist of the year by the New York League of Conservation Voters (in 2008). Person of the year by the New York Immigration Coalition (in 2011). 100% rating from Planned Parenthood. 100% rating from the Human Rights Campaign. (Co–)Chairman of the Labor Caucus in Congress. F rating from the NRA."
There were differing politics on the stage, where one speaker after another eagerly predicted that the country and the city were on the cusp of a conservative revolution, as crime and inflation, among other factors, pushed voters to the right. Right now, New York's conservative cabal is small. "The entire right-of-center population of the greatest city in the world is right here tonight," Manhattan Institute Chair Paul Singer joked in his remarks. But it is growing. "We have new friends, refugees from the left, yearning to breathe free." Others in attendance included NYPD Commissioner Keechant Sewell, and two of her predecessors, Dermot Shea and Ray Kelly.
New York City Mayor Eric Adams himself was thousands of miles away in Los Angeles, ahead of his appearance at a conference for a different thinktank, the Milken Institute. Despite his police commissioner's presence, Adams wasn't exactly discussed kindly – a Manhattan Institute sizzle reel included the line "in New York, we're holding Mayor Adams accountable amid a surge in crime." But the newly elected mayor had his fans, including hedge finder Ken Griffin, another honoree for the evening and megadonor to a pro-Adams super PAC. The Manhattan Institute focuses on economic stability, growth and public safety," he said. "I am pleased that Mayor Adams has successfully run on an agenda that also focuses on these areas, and I wish him and all of New York success in changing the trajectory of the city."
Astorino summed up the feelings of the room on Adams. "I think it's a wait and see. People out there trust in him because he did talk about the issue of the moment, which was crime," the Republican former Westchester County executive said. "He's going to be held accountable to that though. The numbers are getting worse." 
Astorino also expanded on his public statement Tuesday downplaying abortion as an issue in the elections this year. The Assembly will still have a near supermajority of Democrats no matter what, and abortion rights aren't going to be repealed in the state – even if they appear to be in serious danger in other states.  "It's the bogeyman that they're using to scare everyone, like they always do," the pro-life pol said.