New York City
Wanting to be a deputy mayor, Peter Koo ends up a senior advisor
New York City Mayor Eric Adams gave former Council Member Peter Koo a job in his administration, just as he's done for others who endorsed his campaign.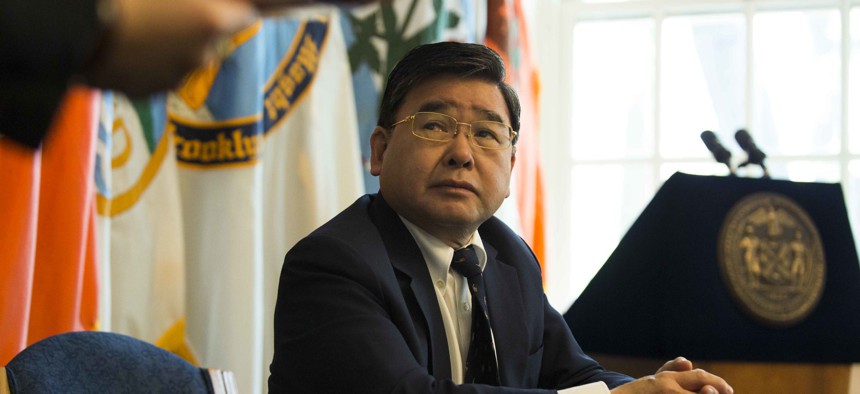 Peter Koo didn't end up becoming a deputy mayor – but he's pretty close. The former New York City Council member, who was term-limited out of office at the end of 2021, is now working in City Hall as a senior advisor to Deputy Mayor for Public Safety Phil Banks. 
Koo made waves early in 2021 when The New York Times reported that the Queens Democrat enticed friends to attend a fundraiser for Eric Adams' mayoral campaign with a text message that said, in part, "If elected, he said he will appoint me as one of the deputy mayors."
Koo and the Adams campaign went into damage control mode when the Times asked about the apparent horse trading. Team Adams said it wasn't true, and Koo agreed, saying that, at 68-years-old at the time, he was "at retirement age." "I don't need a job," he added.
Now 69, Koo is getting a job after all. A City Hall spokesperson said as a senior advisor, Koo "will have a focus on engaging with different communities regarding crime and public safety."
That presumably includes the Asian-American community, which has seen an increase in reported hate crimes. The 109th Precinct, which covers Queens neighborhoods with high Asian-American populations, has also seen an overall spike in major crime so far this year, led by a huge reported increase in grand larceny, according to NYPD statistics. Koo is Chinese, and represented an area of eastern Queens, including Flushing, from 2009 through 2021. 
City Hall did not respond when asked for Koo's salary, and when he started. Koo likewise didn't respond to a request for comment. The appointment has not yet been recorded in the City Record, which suggests it happened recently. The Daily News and US China Press first reported Koo's hiring.
Koo, like Adams, was once a registered Republican, and actually won his first City Council election in 2009 on the Republican line. He registered as a Democrat in 2012. 
Adams has been quite kind to elected officials who endorsed his campaign, and many of those angling for jobs have received them. On Tuesday, Adams elevated former Council Member Eric Ulrich from senior advisor in the mayor's office to buildings commissioner, where he'll oversee a $226 million agency, despite having little to no experience in the area. Adams has also appointed former Council members: Ydanis Rodriguez as transportation commissioner, Laurie Cumbo as cultural affairs commissioner (which got her a ticket to the Met Gala – and a wedding ring), Fernando Cabrera as senior advisor in the Office of Faith Based and Community Partnerships and Mark Treyger as senior education advisor to the mayor. Former Council Member Paul Vallone, who never formally endorsed Adams for mayor, is also ​​deputy commissioner for external affairs in the city's Department of Veterans' Services.