New York City
What New York City Mayor Eric Adams missed while on his extended trip to Los Angeles
The mayor had a packed day of press events that were abruptly canceled on Thursday morning after his flight out of LAX was delayed.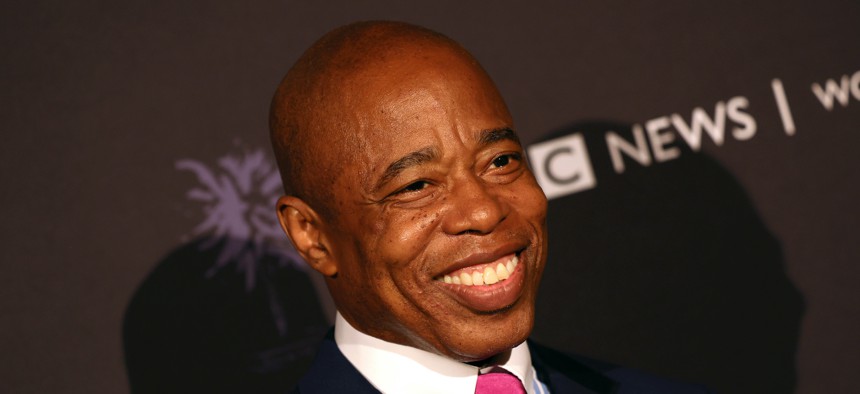 New York City Mayor Eric Adams spent some extra time in Los Angeles this week on a campaign-funded trip that was abruptly extended due to a delayed flight out of Los Angeles International Airport, his team informed reporters Thursday morning – ahead of what was supposed to be a full day of public appearances in New York. Nearly his entire public schedule was nixed as a result of the apparent travel difficulties. 
City Hall explained that the mayor's original flight was postponed hours and he would instead return sometime Thursday afternoon.
The mayor initially had an 11-hour day planned, starting at 10 a.m. with a hurricane awareness tour at John F. Kennedy Airport, followed by a clergy breakfast and an announcement at the NYC Greenways Summit. At 2:30 p.m. he was scheduled to lead a rally in support of mayoral accountability – among his top asks to state legislators regarding city control of both schools and traffic enforcement mechanisms. 
Adams' team said he will, however, make his last two Thursday appearances and attend a Cinco de Mayo celebration at Gracie Mansion before heading to Lincoln Center for the New York City Ballet's 2022 Spring Gala.
Adams flew to LA on Tuesday. Meanwhile, back in New York, fellow lawmakers protested the Supreme Court's pending overturning of Roe v. Wade, while Adams apparently hung out with Dave Chappelle following the comedian's performance at the Hollywood Bowl. Adams' First Deputy Mayor Lorraine Grillo spoke at a Foley Square rally on behalf of the administration, though videos show she was greeted with a chant of "fuck Eric Adams," from the crowd largely made up of progressives activists.  
The stated governmental  purpose of Adams' LA jaunt was to participate in a panel at the Milken Institute for economic policy and research. During his time in LA, the mayor discussed his hangout with Chappelle, who was allegedly tackled onstage by a 23-year-old man carrying a replica handgun with a folding blade in the barrel earlier that evening. "Violence is unacceptable. Thank God there was a response to make sure that he wasn't injured seriously . . . it was horrific to have someone come on stage and attack in that manner," the mayor said, according to NBC 4C, adding that Chappelle was in good spirits later that evening: "He was just telling jokes, you know Dave."
At least one of the mayor's adversaries, former Republican mayoral candidate Curtis Sliwa, was quick to criticize the mayor's absence. "Eric Adams once again avoids doing any work.  He didn't come back to NYC so he could be at Dave Chappelle's side in his time of need.  You can't make this stuff up," Sliwa tweeted.
Council Speaker Adrienne Adams also expressed tepid skepticism of the mayor's travels during a press conference on Thursday afternoon ahead of the Council's stated meeting. 
"I get a lot of questions about the mayor and his movements and his behavior. I still say I can't speak for the mayor, I can only for the way that we move in the Council," she said. "What I will say is that it's budget season, we know that, and we are focused in the Council (on) making the best moves that we can make for the people. The mayor's schedule is what it is."
While Adams was soaking up the spotlight in Los Angeles, a new poll released Wednesday showed voters are losing patience with the mayor's handling of crime. Quinnipiac University found his approval rating on the issue dipped from 49% in February to 37% in the survey conducted at the end of April. 
And as the mayor was presumably in the air on Thursday afternoon, a New York City Police Department officer was reportedly stabbed just before 1 p.m. in Coney Island and the suspect shot in the leg, according to ABC 7. 
The LA jaunt is part of a particularly glitzy week for the mayor. On Monday, he attended the Met Gala, where he wore a custom suit promoting an end to gun violence. The trip is also another sign that the mayor, who has referred to himself as the Biden of Brooklyn, is focused on raising his national profile. The Daily News reported that the mayor held at least one campaign fundraiser while in California. 
Adams has fundraised on at least one other of his trips out of state. When he met with Chicago Mayor Lori Lightfoot in March, he told reporters there that he was attending a fundraiser. The mayor's press team repeatedly declined to answer any questions about the mayor's ongoing fundraising for his 2025 reelection campaign.
With reporting by Jeff Coltin
Powered By
NEXT STORY: Where are your old council members now?