New York State
Carl Paladino isn't the first fringe Republican endorsed by Elise Stefanik
The Republican "rising star" has thrown her support behind candidates who push conspiracy theories and racist views.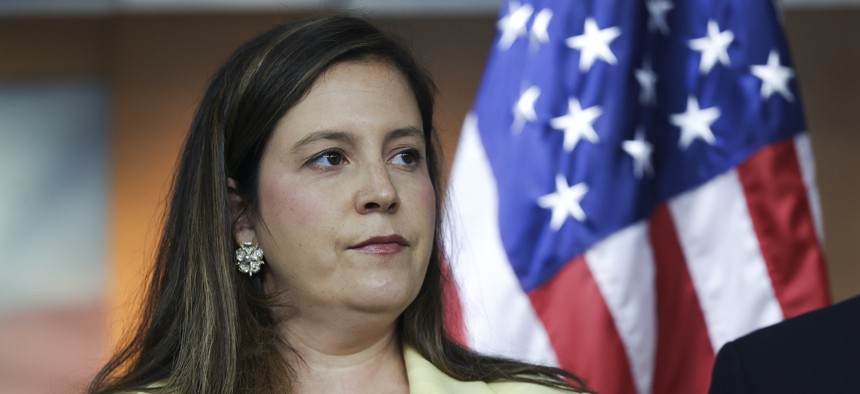 Rep. Elise Stefanik's immediate and polarizing endorsement of congressional candidate Carl Paladino has caused an intra-party feud for New York Republicans. Paladino is running in the 23rd District, an open seat in western New York. The 2010 GOP gubernatorial standard bearer is infamous for offensive and racist comments that have rankled his party for years. Now, the "Paladino factor" threatens to divide Republicans at a time when observers believe the party has the best shot of winning a statewide office in a decade.
Paladino has long been a controversial figure, but newly unearthed comments have furthered his image as a fringe candidate. In a February 2021 interview he praised Adolf Hitler as the "kind of leader we need today. We need somebody inspirational." Previously, while a member of the Buffalo Board of Education, he made racist comments about President Barack Obama and first lady Michelle Obama that prompted outrage. 
Paladino's return to electoral infamy was made possible by Rep. Chris Jacobs' decision to retire and drop out of the race for the newly forged 23rd District. Jacobs made the announcement after intense backlash for supporting gun control efforts. Stefanik endorsed Paladino the day Jacobs announced his plans. A week later, current GOP state party chair Nick Langworthy also threw his hat into the ring for the seat. The move has pitted Stefanik and Langworthy against each other and fractured Republicans, forcing many allies to choose sides.
According to a report from Politico, tension between Langworthy and Stefanik escalated earlier this year when Langworthy moved to endorse Lee Zeldin for governor – Stefanik had been mulling her own bid for governor. The feud has seeped into gubernatorial politics. At Monday's GOP governor's debate, every candidate aside from Rep. Lee Zeldin said Langworthy should resign as party chair. 
Internal Republican politics aside, how anomalous is it for Stefanik to endorse someone who shares Paladino's bombast? Not as strange as one might think. And Stefanik herself has become more comfortable with embracing extreme rhetoric. The four-term representative is the third highest ranking Republican in the House, and her support for Paladino seemed to signal the continued rightward movement of mainstream conservative politics. 
While focused on recruiting women and nonwhite candidates, Stefanik and her Elevate-PAC have not shied away from endorsing those extreme right views. This includes candidates who deny Joe Biden won the 2020 presidential election, others who echo support for the so-called great replacement theory that posits that politicians are trying to replace white Americans or use anti-trans rhetoric. Stefanik's team did not comment for this story.
Here's a look at three of Stefanik's more controversial endorsements in the midterm cycle.
Sarah Palin
Alaska at-large
The former Alaska governor and 2008 vice-presidential candidate is running for an at-large seat to represent Alaska in Congress. Palin has been a frequent pusher of conspiracy theories and, along with Donald Trump, an early adopter of the "birther" conspiracy – falsely claiming Barack Obama was not a U.S. citizen. And she has been considered on the vanguard of the post-truth era claiming Barack Obama supported medical "death panels."
More recently Palin has been echoing Donald Trump's claims that the 2020 election was stolen and suggesting that the January 6th mob was due to plants. Stefanik's PAC endorsed Palin in May, stating Palin was a "national leader for the America First movement" and that Stefanik was "thrilled to join President Trump" in supporting Palin's campaign. The former governor is now in a runoff with two other candidates for an August special election. 
Karoline Leavitt
New Hampshire 1st District
Karoline Leavitt – Stefanik's 25-year-old former communications director – is running in a swing New Hampshire district. The Gen Z campaigner was endorsed by and campaigned with far-right firebrand Madison Cawthorn. She's comfortably echoed fringe ideas.
Leavitt has parroted her old boss's embrace of the"great replacement theory" stating in a tweet that Democrats are allowing an "invasion of our country for political gain because you are LOSING with the AMERICAN people." She also believes the "2020 election was stolen away from us. I really do. I think there were widespread irregularities that occurred."
She's referred to Anthony Fauci as a "deep state" doctor, retweeted Stefanik's 
statements that Joe Biden is "compromised" and said Democrats used big tech to interfere in the 2020 elections. In her November 2021 endorsement of Leavitt, Stefanik said she was a "rising star" and she won't "back down in the face of opposition".
Carolina Serrano
Nevada 1st District
Carolina Serrano, a former Trump campaign staffer, recently lost a bid to represent Nevada in Congress. Serrano ran an unabashed far-right campaign. In a concession post on Twitter, Serrano said "LET'S CRUSH THE GROOMER DEMS IN NOV."
Serrano has retweeted articles with the headline "Great Replacement Update: Biden Still Dumping Illegals Into Heartland America," stated that conservatives only reserve the groomer label for  "people who take it upon themselves to sexually indoctrinate our children behind our backs!" And she's called for the impeachment of the "illegitimate" Biden regime.On May 31st ahead of the Nevada primary, Stefanik tweeted her support of Serrano. 
Lauren Boebert
Colorado 3rd District
Campaigning in 2020, Lauren Boebert was part of a crop of candidates openly dabbling in Q-Anon. During an interview Boebert had said "Everything that I've heard of Q, I hope that this is real because it only means that America is getting stronger and better, and people are returning to conservative values." In her fall 2020 endorsement of Boebert Stefanik said "Lauren is a true conservative and a great fighter for our 2nd amendment rights!" 
Now in Congress, Rep. Boebert has continued making a name for herself. She's said LGBT civil rights legislation was a "supremacy of gays" and joined in on the "great replacement theory" chorus. In May, a Colorado television station dug up a video of Boebert saying "guess there is definitely a replacement theory that's going on right now." Boebert continued "We are killing American jobs and bringing in illegal aliens from all over the world to replace them if Americans will not comply." The first-termer has also been linked to organizers of the January 6th riots.