Hochul and Delgado hit Upper Manhattan
The duo spent their last hours of the primary campaign in Harlem and Washington Heights.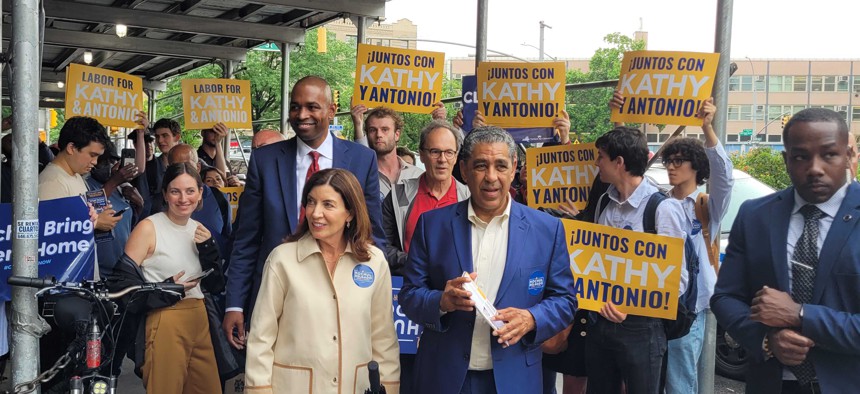 It's primary eve in New York, and candidates for statewide office made their final pitches to voters. Gov. Kathy Hochul and Lt. Gov. Antonio Delgado were no exception, making stops in Washington Heights and Harlem in Manhattan to chat with voters. The neighborhood choices offer insight into where the pair are focusing their last push: with Black and Latino voters in New York City. Hochul has received some criticism for her apparent lack of groundwork in Black communities, and losing former Lt. Gov. Brian Benjamin to a fundraising scandal (he denies wrongdoing) meant she lost his ties to Harlem. On the lieutenant governor side, Delgado finds himself pitted against two city-based Latinas in Ana Maria Archila and Diana Reyna. Debates on ethnicity aside, Delgado doesn't have an extensive base of support in those communities for himself or for Hochul to benefit from. The governor seemed well received by people in Washington Heights, making small-talk in Spanish and with pedestrians stopping on the street to offer their thoughts. The immediate neighborhood didn't have any Hochul campaign signage aside from those held by supporters. Feet away from where the governor greeted potential voters, however, hung a Diana Reyna sign.