New York State
Hochul on the defensive, but largely unscathed in her first debate
The governor fought off attacks from her opponents while highlighting the achievements from her short time in office.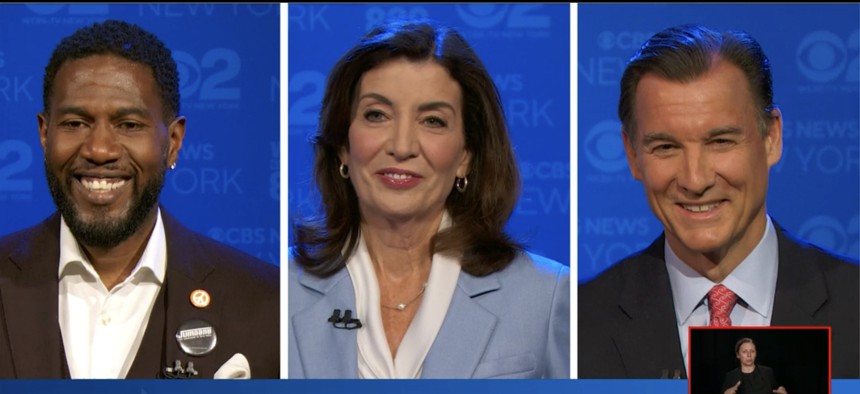 In her first debate as governor, Kathy Hochul was on the receiving end of nearly all the attacks from her two opponents: Rep. Tom Suozzi and New York City Public Advocate Jumaane Williams. But by the end of the night, despite her competitors staying on message, Hochul had achieved the goal of any incumbent with a lead in the polls: maintaining the status quo.
Suozzi and Williams largely went after Hochul on two fronts: the $850 million deal to build a new Buffalo Bills stadium, and gun violence/crime. In the first question about gun violence, both candidates brought up Hochul's past "A" rating from the National Rifle Association during her time in Congress. "There's a big difference between making a speech and passing legislation, and actually getting stuff done," Suozzi said, touting his own consistent "F" rating from the NRA. "I can do it because I've done it." Williams, meanwhile, faulted Hochul for failing to fight for gun control a decade ago, when she had the NRA's support. "Ten years ago, I wrote my first report on how to deal with gun violence while the governor touted her 'A 'rating from the NRA," Williams said.
But Hochul's success in helping to shepherd through a package of gun control bills that she signed into law on Monday offered her a strong defense against the attacks, with the recent action fresh in voters' minds. "No governor has done more in less time to address gun violence than I have," Hochul said, a line she has repeated often in recent days. Gun violence was at the heart of Williams' messaging throughout the debate, as he managed to mention his own work on the issue in his answers to most of the questions.
Suozzi, on the other hand, zeroed in on ethics and transparency complaints about the Hochul administration, particularly with the Buffalo Bills deal. "This was nothing compared to the Buffalo Bills deal, which was a secret deal that (did not go) through any public hearings," Suozzi said when asked about a congressional ethics probe into his late filing of stock transaction disclosures. He even managed to take a question about where downstate casinos should be located and spin his response to revolve around the governor's husband, Bill Hochul, who works for the company that runs concessions at the Buffalo Bills stadium.
But the debate did not feature any significantly contentious moments nor any truly stand-out lines from any candidate. And that's good for Hochul, who simply needed not to make a mistake for the debate to be a success. "If I'm Kathy Hochul, I was looking for a no frills debate and that's exactly what she got," Jake Dilemani, a Democratic consultant with Mercury, told City & State. "A mild-mannered, nothing-burger debate is what an incumbent dreams of." Hochul highlighted her accomplishments from the past year without criticizing the other two candidates, with the one exception being her critique of Suozzi's past support for the Hyde Amendment, which limits the use of federal dollars for abortion care. And that came in response to Suozzi's criticism of her track record this past year on abortion, a tricky line of attack against the state's first female governor who had already made a point of campaigning on reproductive rights.
Democratic consultant Camille Rivera, who generally works on progressive issues, said both Hochul and Williams had good showings. "(If) Kathy Hochul's goal was to keep the status quo, she did well," Rivera told City & State. "If Jumaane's goal was to define himself on issues, he did well." She pointed to Williams' focus on his own policy ideas and priorities in contrast to Suozzi's larger focus on lobbing criticisms at the incumbent. "Boy, if (Williams) had a least a million and a half dollars, he might actually give people a run for their money," Rivera said, acknowledging that he didn't "shine" and that Hochul performed well when speaking on abortion rights and making her own positions clear.
Powered By
NEXT STORY: Republican lawsuit against noncitizen voting law begins