Hochul, Delgado look ahead to general election after primary victory
They'll take on Lee Zeldin and Alison Esposito in an election sure to be dominated by national issues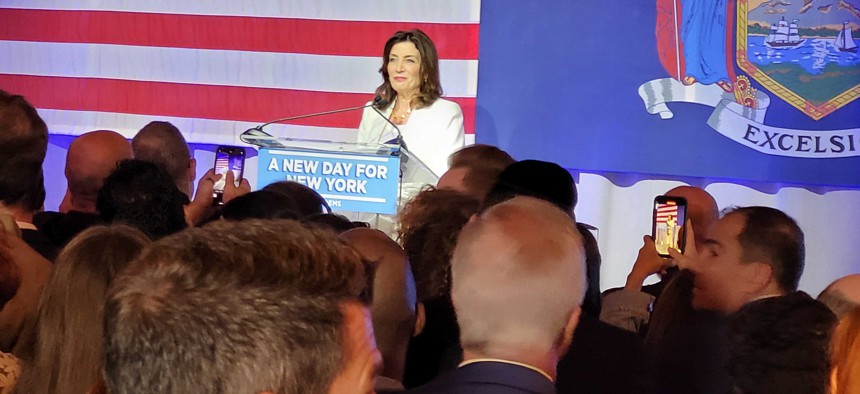 In a largely expected outcome, Gov. Kathy Hochul and newly appointed Lt. Gov. Antonio Delgado emerged victorious in the Democratic primary for their respective offices. With her commanding victory, Hochul could be on the way to becoming the first female governor elected in New York. Hochul became the first woman to lead the state after taking over upon former Gov. Andrew Cuomo's resignation last August. She and Delgado will face Republican gubernatorial nominee, Rep. Lee Zeldin and his running mate, former New York City Police Department Deputy Inspector Alison Esposito, in the November general election after Zeldin won the four-way GOP primary.
At their election night party, Hochul and Delgado looked ahead to the fight in November in the wake of gun control and abortion rights rollbacks on the national level. Registered Democrats outnumber Republicans by more than two to one in New York, where a Republican hasn't won statewide in 20 years – but this midterm election year is expected to be tough for Democrats across the country. "We cannot, and will not, let rightwing extremists set us backwards on all the decades of progress we've made right here," Hochul said to the crowd gathered in the Manhattan neighborhood of Tribeca. "Our rights are at stake," she said of recent U.S. Supreme Court rulings overturning New York City's century-old concealed-carry gun laws and the rolling back of federal abortion protections. "I know what I'm going to do, I'm fighting back … No matter what Supreme Court decisions come through, New Yorkers, you are protected."
Delgado struck a similar tone. "This is the fight of our lives," Delgado said, speaking before Hochul took the stage. "It's a generational fight … And all people, regardless of race, gender, sexual orientation or economic status must stand together." He applauded Hochul as the leader who will see New York "hold the line" against nationwide attempts to rollback historical rights.
Hochul handily won the nomination, as expected, on Tuesday, securing nearly 66% of the vote with 86% of election districts reporting as of midnight. New York City Public Advocate Jumaane Williams followed with 19%. Rep. Tom Suozzi received 12%.
Delgado won about 57% of votes, according to preliminary results. Ana María Archila, a progressive nonprofit leader won 24%, and Diana Reyna, a former New York City Council member, had 13%. 
The success of Hochul and Delgado speaks to the massive influence big campaign bucks have in elections. Hochul kept up an impressive fundraising pace, raising over $34 million ahead of the primary. Delgado, despite his late entrance into the lieutenant governor race, raised more than $6.4 million himself, with much of that transfers from his already flush congressional campaign account. That proved to be an enormous leg up over his two opponents. In the weeks leading up to the election, Delgado was able to spend big on television ads across the state, getting his name out among voters in spite of his low profile before ascending to statewide office.
In his acceptance speech, Delgado acknowledged both Archila and Reyna, saying that they entered the race for the "right reasons," adding that New York is "fortunate to have them in public life." Hochul mentioned Williams in her acceptance speech, although notably made no reference to Suozzi. Speaking to reporters afterwards, she said that she would work together with Williams as a partner. As for Suozzi? "He will no longer be in office," Hochul bluntly said.
The governor also had strong words for her general election opponent. "There's so much to work with," Hochul said of Zeldin when asked about whether his vote against certifying the 2020 election results would come up in her campaign. "We'll be able to demonstrate a strong contrast between New York values and what Zeldin has done in Congress." She specifically mentioned his "support of insurrectionists," his opposition to "women's rights" and stance on guns.
Zeldin, for his part, did not seem intimidated after his own primary victory. "Kathy Hochul is in over her head," he told supporters at his election night party on Long Island. "She's a walking identity crisis."
Zeldin, was the state Republican Party's choice, and led most polls in ahead of the primary. The Long Islander won 41% of votes, according to preliminary results from the New York State Board of Elections, beating out three other candidates in the first statewide GOP primary in more than a decade. Andrew Giuliani, son of former New York City Mayor Rudy Giuliani, came in second, securing 24% of votes, followed by former Westchester County Executive Rob Astorino, 18%, and businessman Harry Wilson with 16%, according to the results as of about 11:30 p.m. 
Williams and Archila both tried to remain optimistic at their joint primary night party at a bar in Bushwick, Brooklyn. Williams alluded to the health issues facing his family members that contributed to his lackluster campaign, which far underperformed his 2018 lieutenant governor campaign against Hochul, where he lost by less than 7 percentage points. Williams' "miracle baby" born in February "is 10.5 pounds now. And my wife is cancer free. So no matter what the numbers say, I've already won," the New York City Public Advocate said to cheers.
Progressive insurgents performed poorly in Assembly primaries across New York City, but some allies weren't eager to draw conclusions. "Who knows what we're seeing," New York City Comptroller Brad Lander, a Working Families Party favorite, told City & State at Williams' and Archila's event Tuesday night. "If you've been in America for the last five years and you think you know what the results of elections are telling you in any long term way…" Lander let the words trail off.
With reporting by Sara Dorn