Politics
New York City judicial races: These are the contested primaries on the ballot
Voters will decide on one Surrogate's Court race, and two countywide Civil Court seats.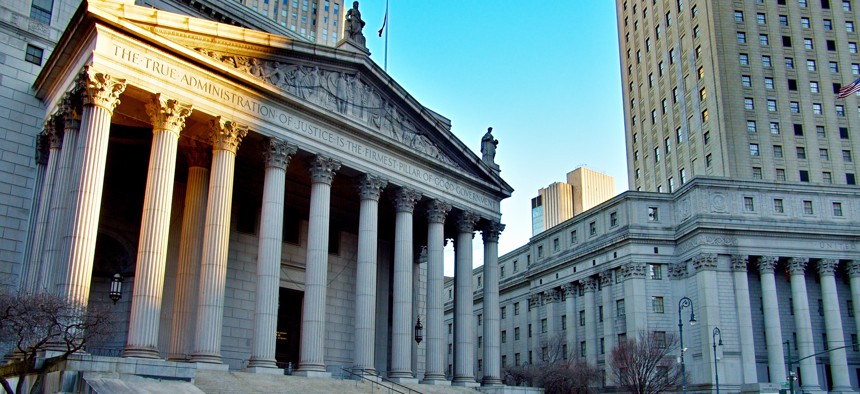 When voters head to the polls on June 28 to cast their ballots for governor, lieutenant governor and the Assembly, a lesser-known slate of judicial candidates will also appear on the ballot. Several primary contests for countywide Civil Court judgeships are underway, along with one competitive race to serve on the Manhattan Surrogate's Court.
Three candidates are running to fill Surrogate Nora Anderson's seat on the Manhattan Surrogate's Court as she retires. The winner of the primary will likely go on to win the general election, as there are currently no Republicans running. The judges, which handle probate and estate proceedings, serve 14-year terms and must retire by age 70. Each county has one surrogate judge, except Brooklyn and Manhattan, which each have two.
There are also a total of 21 Civil Court vacancies, but only two countywide primaries, in Brooklyn and Queens, with more than one candidate running. Civil Court judges serve 10-year terms handling lawsuits seeking damages up to $50,000, along with landlord-tenant issues. Most Civil Court judges, however, are assigned to other courts, such as criminal and family courts.
These are the candidates running in contested primaries.
Manhattan Surrogate's Court
Hilary Gingold
Hilary Gingold promoted her reputation as a problem-solver as a Civil Court judge over the past four years. "I was quickly recognized by administrative judges as the 'go-to troubleshooter,' and most recently, during the pandemic, assigned to resolving 2,200 outstanding cases," according to her campaign website. Prior to her 2018 election to the Civil Court, she worked as an attorney for 25 years handling trusts, estates, guardianships and real estate. She began her career as a social worker, an experience that gave her "a unique blend of public and private experience," her website states.
The Manhattan Democrats' Independent Judicial Screening Panel found Gingold, along with her competitor, attorney Elba Rose Galvan, "highly qualified" for the job. The New York City Bar Association also "approved" Gingold, along with her two competitors (listed below), in its review of judicial candidates. The bar association approves candidates who "have affirmatively demonstrated qualifications necessary for the performance of the duties of the position for which they are being considered," according to a press release.
Elba Rose Galvan 
Since 2017, Elba Rose Galvan has worked as a Surrogate's Court referee under Surrogate Judges Margarita Lopez Torres and Rosemarie Montalbano, according to her campaign website. She was born to immigrant parents, her website says, and is the former president of the Puerto Rican Bar Association and former deputy regional president of the Hispanic Bar Association. Prior to becoming a surrogate referee, Galvan was a law clerk to U.S. District Court Judge Analisa Torres and to New York City Civil Court Judge Laura Johnson.
The Daily News endorsed Galvan on June 20. "She has served with distinction for years as a referee in Brooklyn Surrogate Court under former Surrogate Judge Margarita Lopez Torres, a heroine in fighting political influence and running a court free of corruption and cronyism," the paper's editorial board wrote, noting she was also endorsed by Lopez Torres.
Verley A. Brown
Verley A. Brown has been an attorney in Meltzer Lippe's trusts and estates practice since 2021 and frequently represents clients with cases before Surrogate's Courts. "As a Jamaican-born, former Marine, LGBTQ father of three children (a son and two daughters), I bring a diverse background and perspective to the judiciary. I have lived in Harlem, Washington Heights, Chelsea and now live in Hell's Kitchen, which has further broadened my appreciation for the diversity of New York City and the need for representation of that diversity in the city's court system," his campaign website stated. He began his career as an attorney in 2008. Prior to law school, he worked as a senior clerk in the Bronx County Surrogate's Court.
Brooklyn Civil Court
Patrick Hayes Torres
Patrick Hayes Torres is the founding member of Brooklyn-based community law practice, Hayes Law Practice P.C. He represents clients in grand jury presentations, along with criminal, personal injury, real estate and commercial matters, according to Torres' campaign website. He previously worked as a Brooklyn assistant district attorney. Torres also serves as a board member of the Sunset Park Business Improvement District and Coney Island YMCA, and he is the chair of the Community Re-Entry Center Inc. His mother immigrated from Puerto Rico as a teenager, according to his website. The Bar Association approved Torres, and the Daily News endorsed him.
Philip F. Grant 
Philip F. Grant has been a principal law clerk at the state Supreme Court since January 2019, according to his LinkedIn page. While working as a New York assistant attorney general in Brooklyn from 2001 through 2005, he "prosecuted the largest consumer protection cases ever handled by one of the AG's regional offices," according to his campaign website. Grant, whose father was born in Barbados, authored an "exposé on the disparate racial impact of the foreclosure crisis on black and hispanic communities," according to his campaign website. The New York City Bar Association did not approve Grant.
Queens Civil Court
Karen Lin
A former New York City Housing Court judge, Karen Lin is currently a Brooklyn Surrogate's Court referee, also under Lopez Torres. She previously served as a principal court attorney in the state Supreme Court, and as district counsel and chief of staff for the state Senate, according to her campaign website. She also has experience representing families with child welfare cases from the local to federal levels. She is a former co-chair of the Pro Bono and Community Service Committee of the Asian American Bar Association of New York. 
Lin's website boasts endorsements from a host of elected officials, including Reps. Gregory Meeks, Grace Meng and Nydia Velázquez, along with several local Democratic clubs. She was also endorsed by the Daily News and approved by the New York City Bar Association.
Devian Shondel Daniels
Devian Shondel Daniels, who is running as an independent, works as a lawyer in Jamaica, Queens, representing "a wide array of community members from police abuse victims to employees in unemployment hearings," according to her campaign website. A lawyer since 2007, Daniels previously served as an arbitrator in the New York City Transit's Transit Adjudications Bureau and as a volunteer arbitrator in Queens County Civil Court. She was born in Guyana and immigrated to the Bronx as a child. She was not approved by the New York City Bar Association.
Thomas Medardo Oliva 
Thomas Medardo Oliva's campaign website declares he "is one of the most recognized and awarded attorneys to run for Civil Judge in Queens in years" and lists accolades including being named a New York Super Lawyer every year since 2014, along with sitting on the Board of Editors for the New York Law Journal. He was an attorney with Peña & Kahn and previously worked as a prosecutor in the Bronx district attorney's office. The son of Cuban and Puerto Rican parents, Oliva is president of the Latino Lawyers Association of Queens County and a board member of the Puerto Rican Bar Association. His website also included a long list of endorsements from elected officials, including Meeks, and state Sens. Jessica Ramos and John Liu. The New York City Bar Association also approved Oliva.
Maria T. Gonzalez 
Maria T. Gonzalez "has represented thousands of local Queens residents" in immigration, criminal and bankruptcy cases, according to her campaign website. She is also a cooperating attorney with 32BJ SEIU's Legal Services Fund. The New York City Bar Association did not approve Gonzalez.