New York City
Poll: New Yorkers want metal detectors, more cops on subways as concerns about crime remain high
Though the city maintains historically low crime rates, 70% of respondents said they feel less safe than they did before the pandemic, with a majority fearing hate crimes.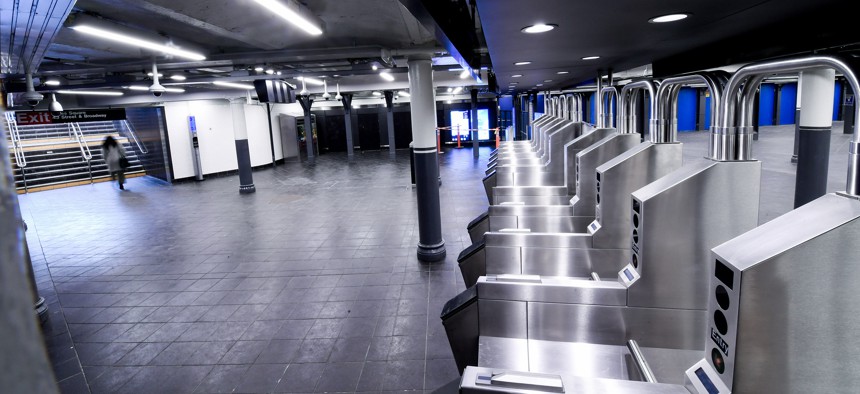 The majority of New Yorkers feel less safe than they did before the pandemic and want more policing initiatives to help curb crime, particularly on the subways, according to a new poll. The sentiment is not new – many polls over the past two years have shown respondents are worried about crime  – and in the latest findings from Spectrum News and Siena College, the majority expressed concerns regarding most policing and crime questions.
While serious crimes in New York City has increased 38% through June 5 from the same time last year, according to NYPD statistics, they are still far below what they were during some of the city's most violent periods. The stats show a 76% decrease from 1993 and an 81% dip from 1990. 
According to the poll, 70% of the 1,000 respondents said they feel less safe in the city than they did before the pandemic, and half said they have changed their daily routines as a result. The poll was conducted between May 22 and June 1 in English and Spanish and has a margin of error of +/- 3.1 percentage points.
Subway safety is a major concern. Eighty-five percent said they support more police on the subways, and 63% said they support "metal detectors" at entrances. Mayor Eric Adams promised "new technologies and software" to reduce gun violence after the Brooklyn subway shooting in April, though it's unclear exactly what that would entail.
The poll showed most respondents are in favor of additional policing measures across the board. About half want the city to increase the New York City Police Department's budget – something Adams has proposed as part of his executive budget, which is subject to city council approval by the end of the month. However, 69% said they are very satisfied or somewhat satisfied with the existing level of police protection specifically in their neighborhood.
Violent crime and shootings are also top of mind. Three-quarters of respondents said they are concerned or very concerned about becoming a victim of violent crime, while 69% said they are worried about shootings in their neighborhoods in which a gunman targets people based on race, religion or gender. Hate crimes in New York are currently up 129% for the week ending June 5, compared to two years ago, and up 13% from the same week last year, according to NYPD statistics. 
Adams received negative ratings on his handling of crime. Forty-five percent said he is doing a poor job at fighting crime, while 29% rated his performance on the issue as "fair." When asked how he is doing at "transforming NYPD into a force that serves and protects all New Yorkers," a combined 64% said "fair" or "poor." On his overall performance, 35% gave him a "fair" rating, while 29% said he is doing a "poor" job. The majority, 56%, also believe the city is headed in the wrong direction generally. 
There were some positive takeaways for the mayor – 72% of people polled said his performance is on par with, or better than, than his predecessor, former Mayor Bill de Blasio. When asked about initiatives championed by the mayor – such as breaking up homeless encampments and keeping the city's gifted and talented program – most respondents said they were supportive.
"New Yorkers are rightly worried about crime, which is why public safety has been Mayor Adams' top priority since day one," Adams' press secretary, Fabien Levy, said in a statement. "While reducing crime in the city won't happen overnight, we are seeing movement and the most recent figures from the NYPD reflect progress, with shootings going down week after week for the last two months. Mayor Adams is laser-focused on reducing gun violence, which is why nearly two-thirds of New Yorkers rated Mayors Adams as excellent, good, or fair in this survey."