Politics
Sparks fly at New York GOP primary debate for governor
Rep. Lee Zeldin and Harry Wilson attacked each other while an unexpected candidate tried to keep the forum on topic.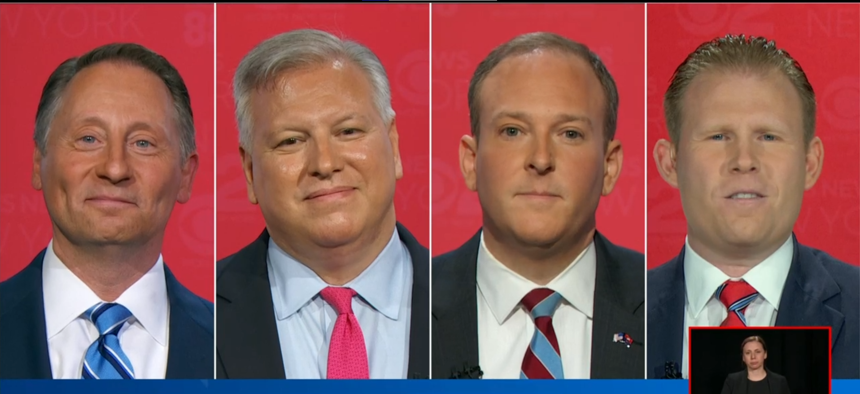 The four Republicans running for governor squared off in their first debate over who had the most conservative bona fides as they denounced congressional hearings into the Jan. 6 insurrection at the U.S. Capitol, spoke about rolling back abortion protections and decried rising crime.
Rep. Lee Zeldin, the presumed front-runner and the state GOP designee, flung the most attacks at the debate, targeting businessman Harry Wilson and to a lesser extent former Westchester County Executive Rob Astorino. Although everyone at the debate – including Andrew Giuliani, who participated remotely due to not being vaccinated – agreed on many topics, they also attacked each other's track records in an attempt to differentiate themselves from the pack.
The debate got off to a heated start with a question about former President Donald Trump's culpability in the Jan. 6 attack on the Capitol that attempted to overturn the 2020 presidential election result. A congressional committee investigating the insurrection recently announced it had enough evidence to indict the former president for purposefully spreading lies about the election. All four Republicans, however, agreed that Trump held no responsibility for how his supporters acted that day. "President Trump told his supporters to go peacefully and patriotically to the Capitol," Zeldin said of the "Stop the Steal" rally that resulted in the deaths of five police officers and four rioters.
But the question also resulted in Zeldin's first attack of the debate aimed at Wilson, who he called a "Never Trumper" for his decision not to vote for Trump in 2020. Zeldin would repeat the title of "Never Trumper" when referring to Wilson throughout the debate. Wilson responded in kind. "He will do anything and say anything to distract from his terrible record as a Cuomo clone, which defines his time in Albany," Wilson said. Astorino offered the same kind of attack at Zeldin as an enabler of former Gov. Andrew Cuomo while he was a member of the state Legislature. Zeldin called them "constant lies from Never Trumper Wilson and Rolex Rob," referring to a bribery scandal that involved Astorino and a Rolex watch.
Although most of the sparks flew between Zeldin and Wilson, such exchanges came to characterize the debate as attacks on past records overshadowed significant policy differences. Asked about a slew of issues from abortion rights to gun control, the four candidates hit similar talking points. State lawmakers were too soft on crime, Gov. Kathy Hochul is punishing law-abiding gun owners, each of them would remove Manhattan District Attorney Alvin Bragg from office if they were governor and the state's abortion laws went too far. Zeldin and Wilson made erroneous claims about New York permitting "partial-birth abortions," which is political term rather than a medical term, while Astorino said the state allows abortion "up until the moment of birth," which is not true. State law permits abortions after 24 weeks if the life of the mother is at risk, or if the fetus is no longer viable.
The candidates also attempted to tie their opponents to Democrats – like Zeldin pointing out Wilson's donations to Bragg, and Wilson and Astorino trying to tie Zeldin to Cuomo. Wilson in particular repeatedly attacked Zeldin for alleged "dishonesty," claiming that the member of Congress had originally asked him to appear on his ticket. This led to the first heated back-and-forth of the debate as Zeldin called his opponent a liar while Wilson claimed to have proof. "I never asked and I wouldn't ask Never Trumper Harry Wilson," Zeldin began before Wilson cut him off by saying, "Jan. 12 you did, I have the notes from the conversation, don't lie."
Following the debate, Wilson's campaign shared with City & State evidence of a conversation between him and Zeldin on Jan. 12, as well as the alleged contemporaneous hand-written notes from that conversation. Although Zeldin referenced his running mate in the debate, Wilson said he was asked if he would run for state comptroller. "In that conversation, he said he was a 'Harry Wilson fan,' called me a 'fantastic candidate' who was 'massively talented' and asked if I would consider running for comptroller on his ticket," Wilson said in a statement. "I politely declined."
The Zeldin campaign said the Jan. 12 call was about Wilson's interest in making a late entry into the race for governor. "The Wilson campaign is getting extra ridiculous now with their new pretzel twisting here," campaign spokesperson Katie Vincentz wrote in a text message. "EVERYONE has taken what Wilson said on the debate stage as being Congressman Zeldin's running mate for lieutenant governor."
In what may have been a surprise to some viewers, Giuliani was perhaps the most composed on the debate stage, largely steering clear of both giving and receiving attacks. When debate moderators attempted to catch Giuliani off-guard by pressing him to explain the technical procedure to get a constitutional amendment approved in New York, he proved his knowledge of state law. "I understand what you're trying to do," Giuliani said when talking about his support to pass an amendment allowing localities to remove their district attorney. "But if you'd let me actually answer the question, rather than trying to trap me into this, this is an actual Assembly and state Senate process, but I would push for this as governor."
In one of several heated exchanges between Wilson and Zeldin, Giuliani actually interjected in an attempt to bring the conversation back, away from ad hominem attacks about political donations and ties to Democrats. "Let's be mature here guys, come on," he said as Wilson and Zeldin went at each other. "Let's talk about the issues that are important to New Yorkers." But at the end of the debate, those exchanges were the ones that stuck out the most during the hourlong affair. "Don't think you're smarter than the Republican voters across the state of New York, they figured you out Never Trumper," Zeldin told Wilson near the start of the debate. "They are seeing right now that you are a child," Wilson responded.