This Week's Headline
City Council approves abortion bills, cannabis rules approved and Adams' secret office
Rounding up the week's political news.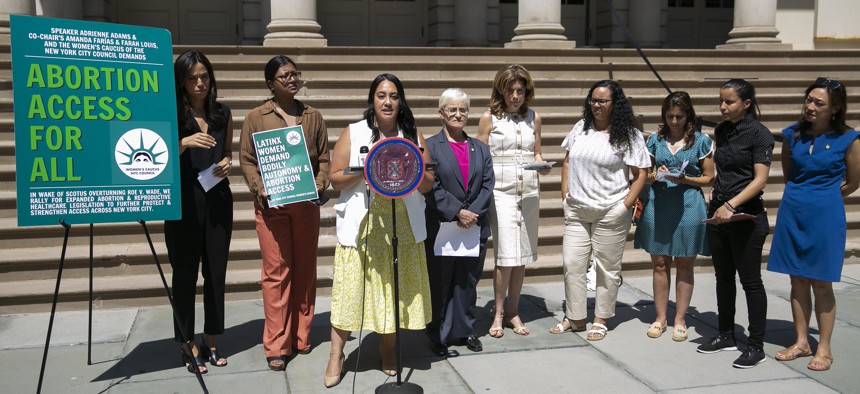 Time for another round of: Where in the World is Eric Adams! This time, players shouldn't look in New Jersey, but they also won't find the famously private New York City mayor at City Hall. Turns out he had a secret office in a high-security Manhattan building where he conducts city business without the prying eyes of council members and reporters that lurk in the halls of the city's official seat of government. Adams' team said he doesn't spend much time there, but we've certainly never seen it on his public schedule. For the rest of the week's news, keep reading.
NYC approves abortion access bills
As the country deals with the fallout of Roe v. Wade being overturned, the New York City Council took steps to improve abortion access for both local residents and out of staters. The newly approved legislation would require some city health clinics to provide free abortion pills and would prevent city resources from going to efforts to enforce out-of-state abortion laws. They would also permit civil lawsuits against people or organizations that attempt to interfere with a person's access to reproductive care. The package was notable also because it was approved by the first City Council in which women are the majority. Meanwhile, at the state level, Gov. Kathy Hochul announced the distribution of the first $10 million in grants to abortion care providers out of the $35 million she had set aside earlier this year for an abortion access fund. And President Joe Biden issued an executive order that health care facilities must perform abortions if the life of the mother is at risk, regardless of any individual state's laws.
Cannabis stores on the horizon
New York took one step closer to legal pot sales after the state Cannabis Control Board voted to approve regulations for conditional retail licenses. First unveiled in March, the rules garnered some 600 public comments in the past few months, including concerns about those with prior pot-related convictions getting first dibs on the licenses. However, the board members reaffirmed their social equity commitment and plan to reserve the first licenses for those impacted by past marijuana enforcement. Over 200 farmers have already received conditional growing licenses to supply the retail stores, which are expected to begin operation later this year or early next year.
Top judge to step down
In a surprise decision, New York Chief Judge Janet DiFiore announced that she would step down from her position leading the Court of Appeals at the end of August. Then-Gov. Andrew Cuomo appointed her to lead the state's top court roughly seven years ago, meaning that she will only end up serving half of her 14-year term. DiFiore did not give a reason for her departure but said in a letter to colleagues that she had achieved what she had hoped to and felt she left the court heading in the right direction. However, after her announcement, reporting revealed that she was facing an ethics probe – though it's unclear whether that factored into her decision. With DiFiore leaving, Hochul will appoint a new chief judge, her second Court of Appeals pick since taking office. Already, Democrats in the state Legislature are urging her to choose a progressive judge with the court's more recent conservative bent.
COVID-19 on the rise again
For those who thought the pandemic was over, think again. COVID-19 cases are once again on the rise, hitting highs the city and state haven't seen in months. In New York City, test positivity rates are back around 15%, a significant spike considering also that past summers saw fewer cases. The culprit is another new highly transmissible omicron variant that has been infecting even fully vaccinated and boosted New Yorkers. Still, New York City Mayor Eric Adams has not announced new restrictions, mandates or precautionary measures in the face of those alarming numbers. At the same time, a judge in western New York ruled that new isolation and quarantine procedures from the state were unconstitutional, a decision that could have lasting impacts not only during the ongoing pandemic but in future health crises.