Policy
New York City's first women-majority council to take on abortion access
The City Council will consider bills to allow people to sue for abortion interference and prohibit city resources for enforcement of other states' restrictions among other actions.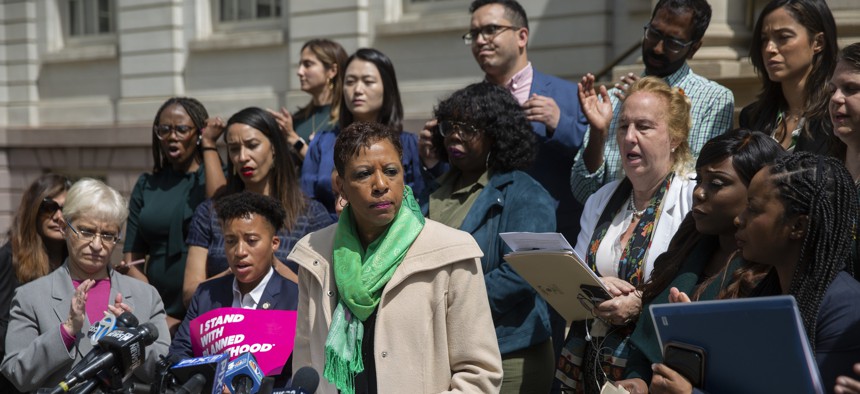 In the days following the U.S. Supreme Court's decision to overturn Roe v. Wade last month, members of the first women-majority New York City Council began crafting their response. They wanted to safeguard abortion access and bolster reproductive health care in the city as protests and legal battles kicked off across the country 
Around three weeks later, that response will largely be voted on Thursday in the Committee on Women and Gender Equity and then the full City Council. On the docket are bills that would take a holistic approach to expanding abortion access, including measures that would require some city health clinics to provide free abortion pills, allow civil lawsuits against operations or individuals that interfere with reproductive or endocrine medical care, and bar city agencies from using city resources to enforce other states' abortion restrictions. 
These are the types of steps that blue cities and states must take to ensure equitable access to abortion and other forms of reproductive care – especially in areas that border states where abortion is now banned,  according to Council Member Carlina Rivera, who is sponsoring several of the measures in the "NYC Abortion Rights Act" legislative package.  
"Women across the United States are desperately searching for abortion care, and tens of millions are living in fear over concerted Republican efforts to further roll back our rights," Rivera said. "We need to fight like hell to secure safe, legal and easily accessible abortion for everyone." 
Rivera's legislation would require all Department of Health and Mental Hygiene clinics to provide medication abortion for free regardless of a person's immigration status or health insurance. While providing this medication is likely to be costly, she said the investment would be worth it. 
"People are going to come to New York City," Rivera said. "We know that people will come here, and the focus is really to serve low-income women and people whose abortions are not covered by their health care." 
Council Member Tiffany Cabán, who is also sponsoring several measures in the package, said it's no coincidence that the City Council is tackling the overturning of Roe v. Wade with such urgency.
With the latest election, the New York City Council is composed of 31 women members, making the majority for the first time in history. And with City Council Speaker Adrienne Adams at the helm, it's also being led by a woman. 
Many of these council members have said they see the new session as an opportunity to ramp up the attention on pay disparities, the maternal mortality crisis and of course abortion and reproductive health care – issues that Cabán said have long been a blind spot for many cisgender men serving in political positions. 
"There's an accounting for and a base of knowledge that is deeply personal, and then there's momentum and power behind it because there's so many folks that are sharing some sort of overlapping experience around that," Cabán said. "We are seeing, I think for the first time in our council, lots more legislation that has to do with child care – legislative interventions and solutions that will make a difference in the day-to-day lives of expectant parents. That is because we have mothers and caretakers in the halls of power."
One of Cabán's measures would require the city Department of Health and Mental Hygiene to issue an annual report on the number of births and abortions that occur in the city for both New York City residents and those who come from out of state. This effort, she said, would help assess the city's capacity to accommodate the increased demands. 
Also up for consideration Thursday is legislation that would empower countersuits in cases where a person who comes to New York to receive an abortion is sued because accessing one is illegal in their home state. 
"This reinstates that in our city and our state these kinds of illegal actions that an abusive ex partner might take is an interference with medical care," Council Member Shahana Hanif said, the bill's sponsor. Having passed out of committee Wednesday, her other bill would require the city to conduct a robust public information campaign to inform New Yorkers about their reproductive rights – especially for those who face additional barriers such as lower income folks, those with limited English proficiency, and women of color.  
Policy leaders at the New York Civil Liberties Union say the City Council's package comes as half the country strives to ban abortion within their own states' borders and even impede access in places where abortion remains legal. They said the council's legislation is a promising first step, but more efforts remain to be taken to expand "meaningful access" to reproductive health care. 
Still, according to NYCLU policy counsel Allie Bohm, Thursday's efforts are at their heart, reminiscent of those taken in 1970 when New York legalized abortion – three years before Roe v. Wade. 
"At that time we put up bilboards on the borders saying that abortion was safe, legal and available here," Bohm said. "We are called upon to do the digital age equivalent of that these days and to really make it accessible and affordable for everybody."