Abortion
New York lawmakers rage in wake of Supreme Court's 'abhorrent' reversal of Roe v. Wade
Officials vowed to uphold New York laws protecting the right to an abortion, saying the state would remain a 'safe haven' for out-of-state abortion seekers.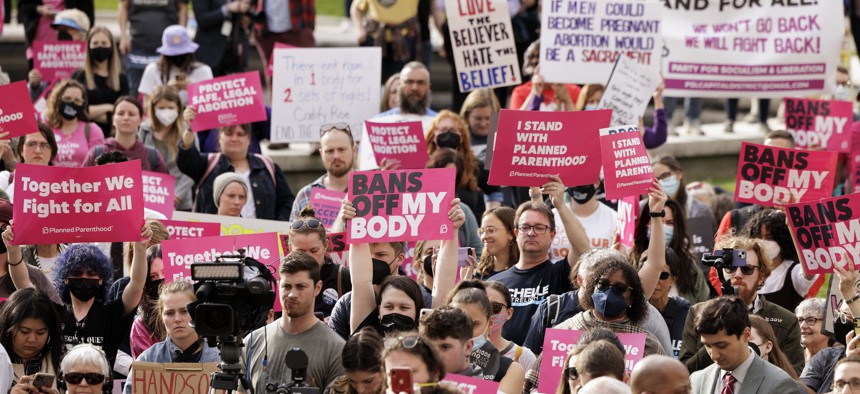 The Supreme Court overturned the 1973 Roe v. Wade decision on Friday in a highly anticipated ruling that eliminates federal protections for abortions and puts the right to terminate a pregnancy in the hands of individual states. 
"The Court finds that the right to an abortion is not deeply rooted in the nation's history and tradition," Justice Samuel Alito wrote on behalf of himself and the four other concurring justices. "The Constitution makes no reference to abortion, and no such right is implicitly protected by any constitutional provision, including the one on which the defenders of Roe and Casey (a 1992 case that upheld the Roe v. Wade ruling) now chiefly rely – the Due Process Clause of the Fourteenth Amendment."
The court's three liberal-leaning justices, Elena Kagan, Sonia Sotomayor and Stephen Breyer, dissented. Chief Justice John Roberts wrote a separate opinion concurring with the majority to uphold a Mississippi ban on abortions past 15 weeks of pregnancy – the subject of the the Dobbs v. Jackson case that led to the landmark ruling – but declined to agree to the sweeping elimination of federal protections.
In their dissent, the three liberal justices highlighted the dangers of allowing states to enact their own abortion rules.
"Some States have enacted laws extending to all forms of abortion procedure . . . They have passed laws without any exceptions for when the woman is the victim of rape or incest," they wrote. "So too, after today's ruling, some states may compel women to carry to term a fetus with severe physical anomalies – for example, one afflicted with Tay-Sachs disease, sure to die within a few years of birth. States may even argue that a prohibition on abortion need make no provision for protecting a woman from risk of death or physical harm."
Friday's ruling comes as New York officials were reeling from an opinion issued by the conservative-majority court a day earlier that overturned the state's restrictions on who can carry a gun outside of their home. 
A draft of the Roe opinion was reported by Politico nearly two months ago, sparking a wave of backlash from Democrats and new legislation in New York to strengthen abortion protections. 
The state officially enshrined Roe v. Wade protections into law in 2019 under the Reproductive Health Act, and Gov. Kathy Hochul has vowed to maintain the right to abortion, despite the federal ruling.
"I want everyone to know that abortion remains safe, accessible, and legal in New York," Hochul said in a statement released following the ruling, calling it a "grave injustice."
"New York has always been a beacon for those yearning to be free," she said. "Our state will always be a safe harbor for those seeking access to abortion care. To anyone who is working to deny abortion access, our message is clear: not here, not now, not ever."
New York City Mayor Eric Adams also said the city welcomes anyone seeking an abortion and that it "will continue to respect, protect, and fulfill the core tenets of our fundamental rights to bodily autonomy and quality, critical, health care for those seeking access to an abortion," he said in a statement in which he reiterated his outrage over Thursday's gun ruling. 
"Two days in a row, politics came before people at the highest court in the land, and, as a result, the health of our nation now hangs in jeopardy," he said. "There is nothing to call this Supreme Court opinion but an affront to basic human rights and one that aims to shackle women and others in reproductive bondage." 
Anticipating the decision, New York lawmakers passed a slate of laws this legislative session to install new protections for abortion providers and people from other states with abortion restrictions who travel to New York seeking services. 
Among the bills, one would prohibit law enforcement from participating in investigations launched in states with abortion prohibitions of abortion providers in New York. Additional legislation prevents medical malpractice lawsuits and disciplinary actions against abortion providers, and enhances confidentiality for patients and health practitioners. 
Hochul in May announced the state would dedicate $35 million to an Abortion Services Provider Fund. The money is expected to help clinics hire new staff and security and cover abortion costs for the uninsured or underinsured. 
Hochul, whose pro-abortion track record has become a central message in her reelection campaign, highlighted the recent moves in her statement following the ruling. 
State Attorney General Letitia James, who recently revealed she had an abortion nearly two decades ago, also condemned the ruling.
"Today's ruling is a vicious, dangerous, and deliberate attack on our most basic freedom as humans," she said in a statement. "But make no mistake: We will not go back to the inhumane and restrictive pre-Roe era. Regardless of the situation at the national level, New York will always be a safe haven for anyone seeking an abortion. I will work tirelessly to ensure that low-income New Yorkers and people from hostile states have access to the care they need and deserve."
State Senate Majority Leader Andrea Stewart-Cousins called the decision "abhorrent" in a tweet following the ruling in which she too vowed that New York would remain a "safe harbor" for abortions. 
"We cannot understate the life-altering effect this will have not only on millions of women today, but on the safety and freedom of those for generations to come," she said. "We are now living in two Americas, where states must decide if they'll serve as bastions of freedom, or not."
State Sen. Alessandra Biaggi, who sponsored a recently passed bill that would protect out-of-state residents seeking abortions in New York under the state's civil rights law, said in a tweet following the decision that she "cannot put into words the grief and devastation that I feel right now."
"It is clear that the Supreme Court does not represent the interests of the American people nor can it be trusted to protect our civil liberties and fundamental rights," she wrote. "I reiterate my calls for Congress to expand and rebalance the Supreme Court."
Assembly Member Deborah Glick, who sponsored the Reproductive Health Act, said she was "outraged."
"Republicans' decades long plan to end a woman's right (to) choose has come to fruition. But however devastating, it is incorrect to say this was unexpected," she tweeted, calling on residents of other "states hostile to abortion" to demand lawmakers strengthen abortion protections there. She also asked people to donate to pro-choice candidates. 
State Sen. Anna Kaplan, who sponsored legislation passed this year to prevent medical misconduct charges against abortion providers, also blamed "radical Republican extremists" for the Friday ruling. 
"The Supreme Court has been on a reckless spree of extreme and dangerous rulings that are wildly out of step with the nation, and brazenly send us back to a time to which none of us wish to return," she said in a statement.