Heard Around Town
Pat Ryan runs an abortion ad, hoping to make reproductive rights a focus in the NY-19 special election
Marc Molinaro, a Republican, faced this before in his 2018 gubernatorial run against Andrew Cuomo.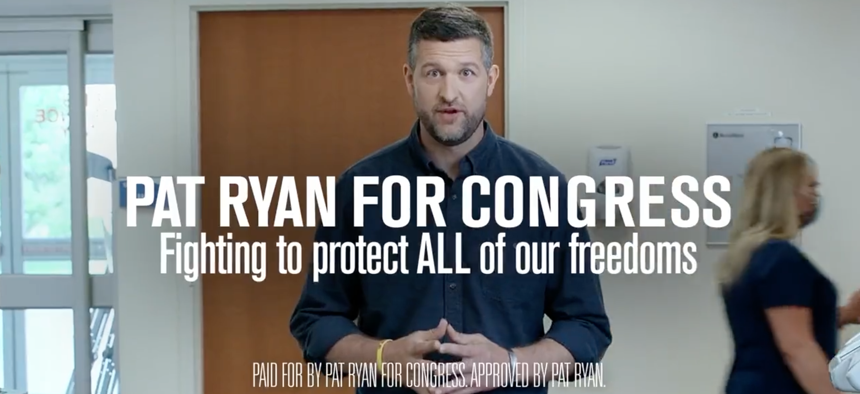 The Aug. 23 special election for the 19th Congressional District in the Hudson Valley may be the first swing seat up for grabs since the Supreme Court's abortion ruling – and Democrat Pat Ryan is hoping to make the race a referendum on reproductive rights. The Ulster County executive is spending six figures running his first 30-second TV ad this week saying he'll fight for the freedom to choose, his campaign exclusively shared with City & State. The ad started playing Wednesday, and the campaign is spending $140,000 this week on cable TV and digital platforms.
"This is a devastating decision that undercuts women's freedom, puts lives at risk, and rolls back decades of hard-won progress,"Ryan said in an emailed statement. "It's clear that now more than ever, we need champions in Congress who'll protect our freedoms and fight back against Washington extremism."
Ryan is taking on Republican Marc Molinaro, who's already been through this in a way – Gov. Andrew Cuomo and the Democrats hit him on the issue in the 2018 gubernatorial race, which Molinaro lost handily. The Dutchess County executive isn't a hardliner, but has said he personally opposes abortion and supports stricter limits. Ryan's getting support from the DCCC, which has already targeted Molinaro on abortion too. And as Politico reported last week, a Ryan campaign poll showed voters prefer a pro-abortion Democrat by 20 percentage points in the race to fill the seat vacated by Antonio Delgado, who left to become lieutenant governor. Molinaro had been running for longer and had a $1 million headstart on fundraising, but Ryan has the money to get on TV after telling Axios the campaign raised more than $1 million in just six weeks. 
Ryan is running in the special election to hold the seat for the remainder of this year, while also running in the Democratic primary for the redrawn 18th Congressional District. Molinaro doesn't have a primary, and is running in this special election as well as the general election for the redrawn 19th district in November. The new 18th district shares some constituents with the current 19th – including both Ryan and Molinaro – but Molinaro's campaign has criticized Ryan for running in two districts with different numbers at the same time.
Asked if abortion is a top issue on voters minds, Molinaro Campaign Manager Will Dawson called Ryan's special election race "fake" and a "shadow campaign" for his run in NY-18, andding that Ryan will "need every cent explaining to voters in both districts why they need another rubber stamp for Joe Biden and Nancy Pelosi's failed policies that have brought us nothing but high gas prices, record inflation, and a national crime wave."