Heard Around Town
Cuomo donated to Inez Dickens' reelection – but until we asked, she didn't report it
The Harlem Assembly Member publicly defended the former governor amid accusations of sexual harassment last year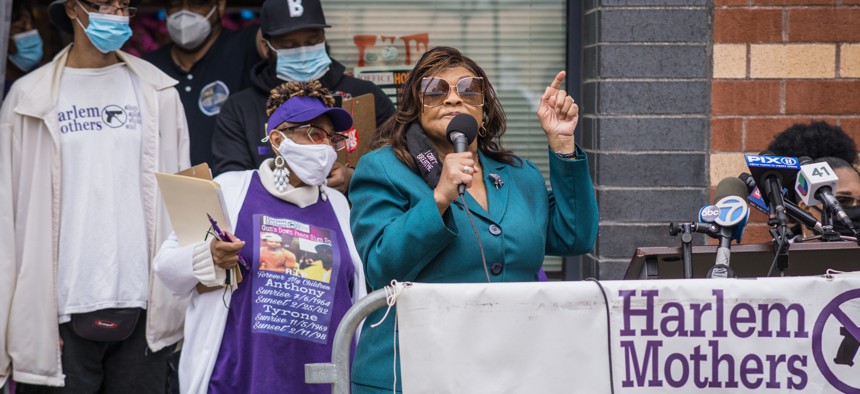 Former Gov. Andrew Cuomo gave a maxed-out $4,700 donation from his massive campaign coffers to Assembly Member Inez Dickens' reelection campaign as she faced a progressive, Working Families Party-backed challenger.
Cuomo's semiannual report filed Friday showed $4,700 donations to two candidates: Dickens and Assembly Member Vivian Cook. Both veteran pols fended off tough challenges in the June 23 primary from candidates backed by the WFP, a longtime political foe of Cuomo's. The New York Post already reported Cuomo's support for Cook, but the money to Dickens flew under the radar, since she failed to file it among her required 24-hour notices of donations of more than $1,000. The donation also wasn't included in her regular post-primary filing – but was added to an amended filing Wednesday afternoon, following questions from City & State. Campaign consultant Tyquana Henderson-Rivers said Dickens' team wasn't trying to hide anything, and it was simply a reporting error. 
Cuomo's donation came amid a last minute flurry of donations to Dickens' campaign, as her primary against housing activist Delsenia Glover neared. Other major donors in the final days included charter school advocate Daniel Loeb and his wife Margeret Munzer Loeb, 1199 SEIU and Rep. Adriano Espaillat.
Dickens may have earned the donation from the scandal-scarred ex-pol by publicly questioning the motives of those who accused him of sexual harassment last year. "She's a longtime fighter for her district who also has a record of delivering on issues for her constituents," said Cuomo spokesperson Rich Azzopardi. Asked if Dickens' public defense of Cuomo played a role, "It is what it is. There's no vis-à-vis causation. She needed help on her primary. We're happy to help her."
Cuomo's campaign finance report also suggested that he was taking a rumored comeback attempt quite seriously. The Post reported that he paid polling firm Expedition Strategies $93,000 in May. It also reflected just over $2 million spent – at least – on running television ads that were meant to help restore his reputation, following his 2021 resignation under pressure.