News & Politics
New York state Senate staffers announce unionization effort
About 10% of the 700-some Senate staffers have officially joined the organizing efforts for the New York State Legislative Workers Union.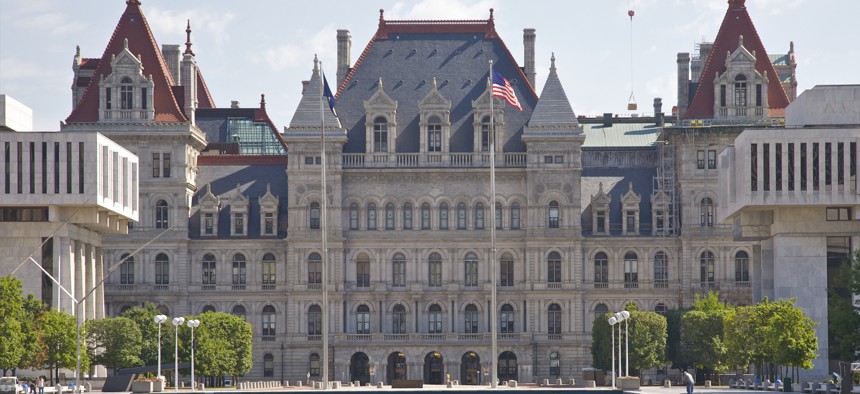 New York state Senate staffers are in the early stages of unionizing, the 79 card-holding members of the New York State Legislative Workers Union announced Friday via a social media campaign and public letter to Senate Majority Leader Andrea Stewart-Cousins.
While organizers have yet to publicize their list of demands, they said they hope to establish uniform standards for state Senate central office employees and staffers of the 63 Senators – offices described by one union member as fractured "fiefdoms," some with significant pay disparities. The Senate overtime policy is of particular concern. Overtime hours are banked as comp time, but there is no option for payout of unused comp time, which happens frequently in a job where staffers work weekends, late nights and at unexpected hours. In addition, members said they hope to speed up the onboarding process for new staffers, who often have to wait up to 30 days to receive their first paycheck. 
"People come into this work really intending to do public service in a real way – write bills, serve constituents, get people resources, put money in their neighbors' pockets," said Astrid Aune, communications director for state Sen. Jessica Ramos and the co-chair of the union communications committee. "That drive is very easily taken advantage of. So what we are looking for is some sort of uniformity and structure and really the same rights that we fight for for our constituents and every other public sector employee to be applied to us." 
Becky White, policy director for state Sen. Andrew Gounardes and the co-chair of the union legal committee, said the effort is "a natural extension" of the public sector workforce that is already unionized, such as correction officers, transit workers and teachers.
"We hope to be folded into that larger movement very naturally and organically," she said, pointing to her time working under Gounardes while he chaired the Civil Service and Pensions Committee. "You are showing up every day to fight for and champion public sector workers . . . the fact that somehow doesn't extend to legislative employees – there was a cognitive dissonance there that I couldn't quite resolve."
Members said talks among staffers began before the pandemic, and the first official meeting was held in January. Union organizers said they hope to enlist a majority of the 700-some staffers before seeking official recognition from the Senate Majority Leader. If the leader recognizes the union, bargaining would begin. If the leader rejects the union, it could file for an election with the Public Employee Relations Board, which requires the support of 30% of all state Senate staffers. A bargaining contract would likely be approved as part of the state budget process, members said.
Currently, staffers from 18 Senators' offices are among the 79 card-holding members. State Assembly staffers are also taking steps to unionize and could join the New York State Legislative Workers Union, members said.
In the letter to Stewart-Cousins, the union said it has retained counsel and addressed what it called a "false understanding that we do not have the right under state law to unionize" without legislation.
"After careful consultation with a range of legal experts we have learned that we do not need a bill in order to form a union as we are already included within the definition of 'public employer' under the Taylor Law," the letter states, referring to the labor relations statute passed in 1967 known as the Public Employees' Fair Employment Act.
"At this stage, our intention is merely to make ourselves known, so that we can continue to organize in public without fear of retaliation," the letter continues.
A Senate spokesperson said in a statement: "We have received the letter and will review any additional information forthcoming."
Since announcing the effort, a bipartisan coalition of legislators has expressed support for the union. 
Republican State Sen. Mike Martucci said he is "proud of this new effort (and hopes his) staff signs on," he Tweeted.
State Sen. Jabari Brisport, a Democrat, urged his colleagues to join him in backing the union. 
"The inherent imbalance of power between individual workers and their bosses is a recipe for unjust treatment; when that boss is a lawmaker, the imbalance of power is even greater and more dangerous," he said in a statement. 
Members said they are hopeful the Legislature's support of other labor-related measures, such as securing prevailing wages on state-sponsored projects and limiting mandatory overtime for nurses, means they'll be receptive to the union.
In June last year, state legislative employees in Oregon became the first in the country to unionize when they voted to join the International Brotherhood of Electrical Workers Local 89. 
In August, more than 350 New York City Council aides formed the Association of Legislative Employees, becoming the country's largest legislative staff union. Organizing members of the state Senate staffers' union said they have taken guidance from the council union. 
Similar unionization efforts are underway among legislative staffers in California, Massachusetts and Washington, D.C. 
With reporting by Rebecca C. Lewis