New York State
New York's new ethics agency is still taking shape
The Commission on Ethics and Lobbying in Government will be tasked with policing public officials. But lawmakers are still the ones appointing them.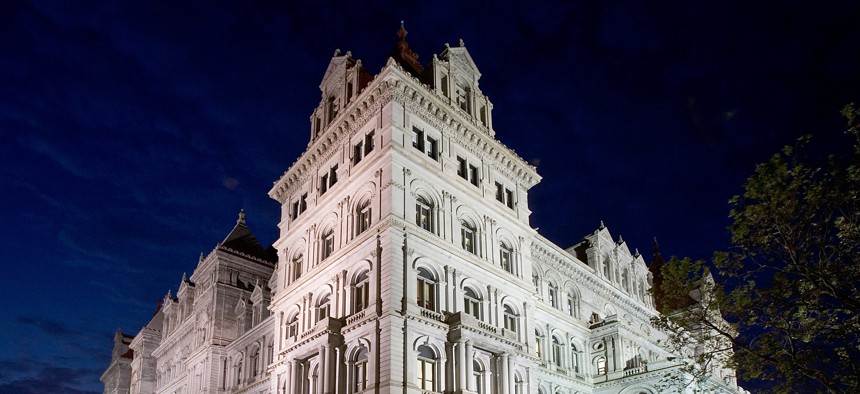 The Joint Commission on Public Ethics has officially entered the graveyard of failed New York state ethics agencies. In its wake, the Commission on Ethics and Lobbying in Government has started its operations as the new arbiter of all things ethics. But it'll take some time for the new commission to get fully up and running as state officials begin making their nominations for commissioners. 
Like its predecessor, the Commission on Ethics and Lobbying in Government oversees the lobbying industry in New York, with those engaged in the practice required to file with the agency. That information is publicly available and regularly updated, constituting the bulk of the commission's daily work. It also ensures compliance among state elected officials and staff with ethics laws. The commission has the authority to investigate potential ethical breaches relating to officials, state workers and lobbyists, as well as impose penalties.
The commissioners themselves meet at least once every quarter, unless they call a special meeting. There, they can vote on more publicly significant matters like whether to revoke the permission for a governor's book deal, as JCOPE did with former Gov. Andrew Cuomo.
So far, the Commission on Ethics and Lobbying in Government only has an executive director. Sanford Berland served as the final executive director of JCOPE, appointed in 2021. As is likely with much of the staff in order to keep the day-to-day operations of the agency running, Berland carried over his role to the new commission. Staff has already set up a new website with information about the new commission, as well as reports and data from JCOPE that is still relevant. And the commission continues to accept new lobbying and financial disclosures. But that carryover doesn't apply to the commissioners themselves. 
The structure of the new commission is similar to that of JCOPE, with 11 (rather than 14) commissioners appointed by various state officials. For the Commission on Ethics and Lobbying in Government, the governor gets three, the state Senate majority leader and Assembly speaker each get two, the minority leaders in both chambers get one, as do the state attorney general and comptroller. Unlike in the recent past, the officials first nominate their picks, who then get vetted by the Independent Review Committee, made up of 15 law school deans.
So far, officials have only nominated four commissioners. Gov. Kathy Hochul made two of her three picks with Michael Cardozo and Frederick Davie. Cardozo, a partner at Proskauer, served as New York City's corporation counsel under former Mayor Michael Bloomberg, and more recently led the commission that recommended judicial, legislative and executive pay raises. Davie, an adviser to the president of Union Theological Seminary, currently serves on the New York City Civilian Complaint Review Board, which offers independent oversight of the police department, and served on former Mayor Bill de Blasio's Racial Justice/Charter Reform Commission in 2021.
Assembly Minority Leader Will Barclay tapped Edward Carni, a former judge, while state Senate Minority Leader Robert Ortt picked Gary Lavine, who had been a vocal Republican voice on the in the now-defunct JCOPE. So far, that makes Lavine the only holdover from the old commission. That leaves state Senate Majority Leader Andrea Stewart Cousins' and Assembly Speaker Carl Heastie's two nominees each, and one each for Hochul, Attorney General Letitia James and Comptroller Tom DiNapoli.
From the day of their nominations, the public has seven days to offer comment on the candidates to members of the Independent Review Committee by emailing info@irc.ny.gov. In addition to that, nominees have 10 days to complete their background check paperwork. State police then have 21 days to perform the background investigation. And the law school deans who make up the Independent Review Committee have 30 days to make their recommendations after receiving a formal nomination. 
In the end, that committee does not have final say in who does and does not make it onto the Commission on Ethics and Lobbying in Government, not really. If it rejects a nominee, the official who put them forward would have to choose someone new. But the commission will ultimately still be composed of political appointees, just having gone through extra vetting. After all, nominees can be supremely qualified, but still loyal to the person or party that nominated them. That's what led to JCOPE's demise, as commissioners beholden to their political appointers failed to take action against powerful state officials, led to leaks of confidential information and general ineffectiveness in matters of great significance. The fact that its replacement still is not independent of the politicians it oversees has left good government advocates concerned that the Commission on Ethics and Lobbying in Government may fall victim to the same political follies that declawed JCOPE.
Correction: This story previously misstated the meeting schedule for members of the Commission on Ethics and Lobbying in Government.
Powered By
NEXT STORY: NYC sues illegal Airbnb operator, in first case arising from 2018 data sharing law