Nonprofits
NYC public-private partnership to deliver $8 million aimed at alleviating homelessness
The Homeless Assistance Fund will be used by nonprofit Breaking Ground to connect homeless New Yorkers with housing and treatment programs.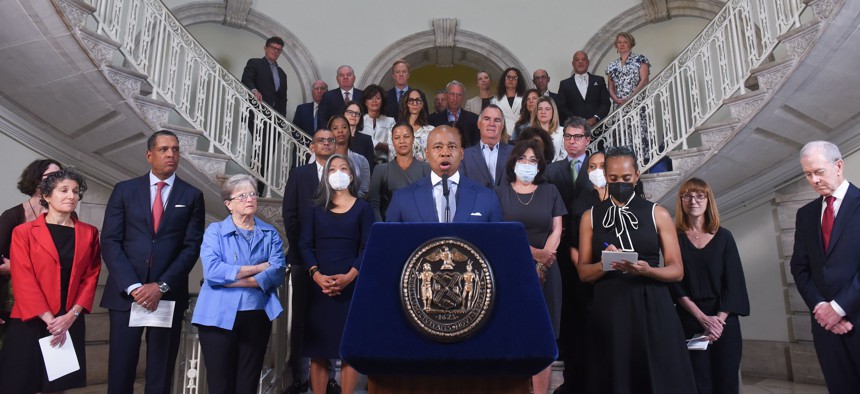 As New Yorkers contend with spiking rents and a high cost of living, more than 60 businesses have forged a partnership with New York City leaders to deliver more than $8 million in services aimed at alleviating homelessness.
Many of these business leaders spilled out onto the steps of City Hall's rotunda Tuesday morning as New York City Mayor Eric Adams unveiled the public-private partnership, which, he said, reflected his administration's unwillness to "walk past our brothers and sisters who have fallen on hard times."
The initiative – officially titled the Homeless Assistance Fund – will pave the way for nonprofit homeless services provider Breaking Ground to dispatch more teams to speak with unhoused New Yorkers living in the streets, businesses and subway stations, helping to connect them with housing and treatment programs. And given the involvement of businesses like Capital One, Bank of America and Wells Fargo, it'll allow these outreach teams to enter areas not covered by city contracts, such as retail spaces or ATM vestibules.
"This is our city. This is your city. What happens in this city is going to happen to all of us," Adams said. "There is no war between this administration and the business community. We're in this together."
The money will also go toward existing homeless outreach initiatives, including the city's push to increase the number of subway police patrols with outreach workers present.
New York City's homelessness crisis has long been regarded as the culmination of years of rising housing prices and unaddressed mental health and addiction issues. The COVID-19 pandemic's crushing economic and health consequences only increased the velocity of a long-standing problem.Thousands of homeless people sleep in public spaces every night, according to the Coalition for the Homeless.
"You know and I know, the approaches we have carried out in the past, they have been failing," Adams said at the Tuesday press conference. "If you continue to do the same things the same way, you're going to get the same result. This generational crisis has been ignored for too long."
Some homeless advocacy organizations praised the initiative, saying it was a step in the right direction and certainly an improvement from some of Adams' previous rhetoric on the issue.
Shelly Nortz, deputy executive director for policy at the Coalition for the Homeless, said the coalition had been disappointed by many of the mayor's announcements about homelessness, starting with the time when he likened homeless people in the subway to a cancer. Still, she said, private donations from donors like the 61 businesses was an essential part of tackling the issue, in addition to the city investing in housing and other resources.
"We welcome the addition of more corporate support to underwrite expanded Breaking Ground outreach services, and we urge Mayor Adams to substantially increase city investments in permanent affordable and supportive housing so desperately needed by all homeless New Yorkers," she said.
While advocates lauded the initiative's focus on getting homeless New Yorkers connected with mental health care, they said that families experiencing homelessness – the vast majority of whom live in shelters – should not be forgotten in funding and conversations about the issue.
Adams said the new outreach teams will likely be up and running by the early fall.
"We've ignored the problem as New Yorkers," he said. "Everyone wants to point to one administration, but as New Yorkers we've normalized our fellow brothers and sisters sleeping on the street and I'm not going to normalize that."