Campaigns & Elections
Rep. Jamaal Bowman can't please everyone in Congress, and moderate challengers see an opening
In New York's newly redrawn 16th Congressional District, the high-profile incumbent needs to convince a whiter, wealthier electorate to stick with a leftist.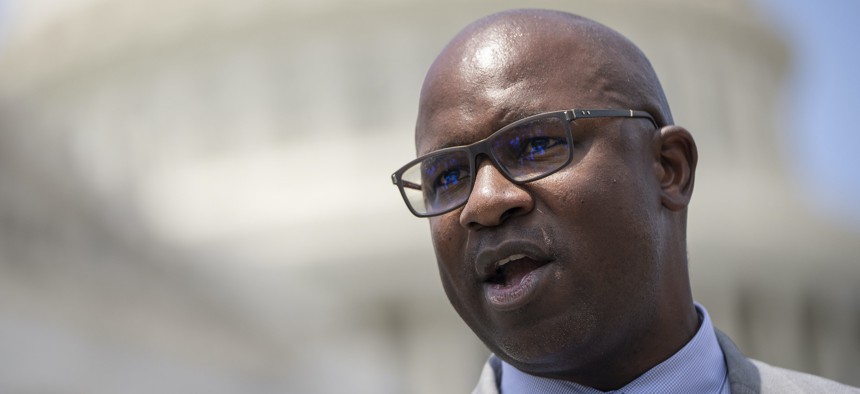 Two years after the former middle school principal knocked a political veteran out of Congress, Rep. Jamaal Bowman is no longer an underdog going into the Aug. 23 primary. 
While the first-term representative has raked in fairly widespread attention and pitched his support behind a slate of progressive policies since taking office, he's facing challenges from three moderate Democrats who feel they are better suited to represent the newly redrawn 16th Congressional District. Westchester County legislators Vedat Gashi and Catherine Parker have touted what they say is their ability to bridge differences within the Democratic party and criticized Bowman for taking polarizing stances on some issues. Also running is Greater New York Chamber of Commerce CEO and "common sense" candidate Mark Jaffe.
Much of Bowman's tenure has been defined by his struggle to reconcile the leftist ideals of the "Squad" and the Democratic Socialists of America with the more mainstream leanings of many of his suburban constituents. Initially a DSA success story when he ousted then-Rep. Eliot Engel in 2020, his on-again-off-again support for Israel led to calls for his expulsion from the socialist organization. On his right, meanwhile, are his moderate opponents, who say his stances on policing are too extreme, and he lacks the ability to reach across the aisle – or even the Democratic Party.
With the Democratic primary just a month away, perhaps the biggest question in the race for the 16th Congressional District is whether the new district boundaries make Bowman more vulnerable. The race comes on the heels of a redistricting process that shuffled voter demographics.The new 16th District – which spans part of the northern Bronx and the southern half of Westchester County – remains deep blue with over 70% voting for President Joe Biden in the 2020 presidential election. But the new district has lost a significant portion of Black residents compared to the previous one. According to data from the Center for Urban Research at the CUNY Graduate Center, the new district is 20.5% Black – a 9 percentage point decrease from the previous district. White residents make up 40% of the new district, up from 33%, and Hispanics make up 29% and Asians 7%. Bowman, a Black socialist lawmaker, has condemned the redistricting process, criticizing the new maps for separating and diluting the voting power of low-income and Black communities. 
NY-16 by City & State NY on Scribd
The Congress member has had to walk an interesting line over the past couple of months as he's criticized the redistricting process for its voter impact while still working to connect with his new constituents. His challengers feel there is now an opportunity for a new perspective to take the helm, but Bowman attests that his message and vision for the district has resonated with both current and future constituents as he's toured towns and met with voters. Bowman has once again scored many high-profile endorsements from Rep. Alexandria Ocasio-Cortez, the Sunrise Movement, Citizen Action of New York, the liberal Jewish organization J Street and District Council 37. "One thing that will never change, no matter where the lines are drawn, is my commitment to fighting for the people of NY-16," Bowman said in an email.
He has retained a fundraising lead, with a nearly $1.37 million haul compared to Gashi's $780,000, but as of June 30, Gashi had about $100,000 more on hand than the incumbent. Parker has raised $298,000 and has a remaining $264,000 on hand. Jaffe has loaned his own campaign $100,000. 
Bowman's challengers told City & State that they've been disappointed by some of Bowman's decisions that they feel doesn't line up with what the community wants such as the representative's opposition to the infrastructure bill that passed last year and his support of defunding the police. Bowman joined the rest of the Squad in voting against the infrastructure bill because it was decoupled from a much larger social spending package called the Build Back Better bill that Democrats initially committed to passing as well. Gashi, who of Bowman's challengers has raked in the most endorsements and funds, said crime is the biggest issue for many members of the district, and they just want policing to be done equitably. Bowman has previously said that his stance on policing is centered on reducing the number of police in poor communities, diverting funds toward much-needed resources like education, housing and food security instead – not abolishing the police. Another prominent cause for criticism has been Bowman's decision to withdraw his support of the Israel Relations Normalization Act establishing trade relationships with four countries in the region. Bowman did so out of support for Palestine.
Gashi, a real estate attorney whose parents came to the U.S. from Kosovo as refugees, decided to run for Congress after the new boundaries placed him in the same district as Bowman. Gashi describes himself as a bridge builder who has had to fight for everything he's achieved and as a Democrat – "not a Democratic socialist." 
"I think there's a place for democratic socialism and Justice Democrats in our political discourse, but it felt like they were more comfortable attacking Democrats than working with Democrats to actually get results," he said.
Gashi recently scooped up endorsements from a group of women who are current and former lawmakers representing parts of the district, including Democratic Assembly Members Sandy Galef and Amy Paulin. He's also been backed by a number of more conservative unions including Iron Workers Local 40, Teamsters Local 813, the Westchester Putnam Building and Construction Trades Council and the Westchester County Correction Superior Officers Association. 
Parker, a business owner and member of the Westchester County Legislature for nearly a decade, says internal polling shows that she is Bowman's most viable challenger heading into the primary given her breadth of political experience. 
"I have seven times the elected experience as the next person in this race, including the incumbent … I have a long list of accomplishments of progressive legislation and pragmatic results that makes a difference to the lives of people," Parker said in a statement. "I have always delivered results whether in the majority or minority of the legislative body. I am the only one who can check that box as we face the midterms."
In 2020, Parker ran for Congressional District 17, ultimately deciding to end her bid after a six-month campaign to focus on aiding county residents through the COVID-19 pandemic, according to The Journal News. She entered the District 16 race this spring – later than the other candidates – and says she intends to fund the district's infrastructure needs and support U.S. allies like Israel and Ukraine. 
A lot may have changed since a middle school principal from the Bronx pulled off one of the biggest political upsets in the state since AOC was elected. While the progressive movement has transformed New York's political landscape over the past few years, last month's primary proved a tough night for the majority of progressive candidates. But Bowman has the advantage of incumbency, and he said he resonates with voters in part because of their shared values and his ability to listen even if they have some differences in policy. This, he says, remains the same even if the boundaries of District 16 have shifted.  
"I truly believe in joy, collaboration, listening and learning from everyone I meet. One of the best parts of this job is the conversations I get to have with people across the district," Bowman said. "When it comes down to it, we all care about similar things: making sure the people we love are safe and healthy, setting our children up for success, and putting food on the table. Wherever I go in the district, these are the conversations that I'm having."