Heard Around Town
Rep. Sean Patrick Maloney raises $850,000 in three months in race for NY-17
Progressive challenger state Sen. Alessandra Biaggi will be at a huge financial disadvantage but has proven before she can beat a moneyed incumbent.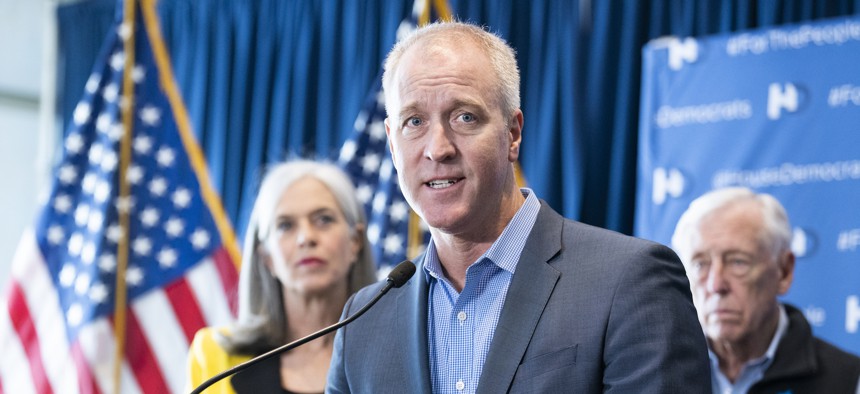 Rep. Sean Patrick Maloney has raised $850,000 in the last three months in the Democratic primary for the 17th Congressional district, his campaign exclusively told City & State ahead of the July 15 filing deadline. 
Maloney will report just over $2.5 million cash on hand this week, and his campaign says none of that has come from the Democratic Congressional Campaign Committee, which he chairs. Progressive challenger state Sen. Alessandra Biaggi, meanwhile, closed out the first quarter on March 31 with $326,000 on hand. Her campaign declined to share fundraising totals ahead of filing, but provided a statement from campaign manager Ana Hall criticizing Maloney for taking money from Wall Street, Big Pharma and the fossil fuel industry. 
Maloney, who currently represents about 25% of the population in the newly drawn Lower Hudson Valley seat, is expected to have a huge financial advantage over Biaggi, who doesn't represent any of it. Biaggi has beaten the odds before though – she unseated former state Sen. Jeff Klein in 2018, despite him reportedly outspending her 10-to-1.
Maloney held a campaign kickoff rally Saturday ahead of the August 23 primary, and has been endorsed by the Westchester, Rockland and Putnam Democratic county committee chairs. "Every single day, I work to earn my seat," Maloney said in a statement provided to City & State. "This summer and fall, our campaign will share with voters what I've done on their behalf, from banning oil barge anchorages on the Hudson to delivering billions for road and bridge repairs. Thanks to the strong financial support we've received this quarter and throughout the year, we have the resources needed to make that case to voters once again and hold this seat in November." 
Voters in the new 17th district favored President Joe Biden over Donald Trump 55%-45% in 2020, according to the City University of New York's Redistricting & You site, but Republicans could have a shot in a wave year. Five candidates are facing off in the GOP primary, including the party's pick, Assembly Member Mike Lawler.
Maloney faced criticism for  his decision to run in the 17th, where he lives, rather than the 18th, a swing seat which contains the majority of the constituents he has represented since getting elected in 2012. That choice pressured Rep. Mondaire Jones, who currently represents the 17th district, to not run and to seek an open seat in Manhattan and Brooklyn instead. Progressives like Biaggi accused Maloney of putting his own interests above the party's. That, in part, inspired her to challenge Maloney from the left in a district that she lives some ten miles away from. While the incumbent maintained support during the upheaval from party leadership, including House Speaker Nancy Pelosi, others, such as Rep. Alexandria Ocasio-Cortez and the Working Families Party, sided with Biaggi.