New York State
2022 New York congressional primary election results
Dan Goldman wins close Democratic primary in the 10th District and Democrat Pat Ryan triumphs in closely watched Hudson Valley special election.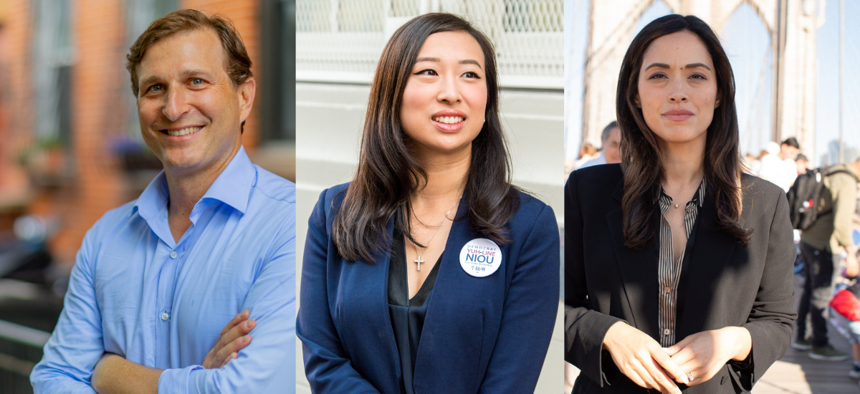 As of early Wednesday morning, The New York Times editorial board had a perfect record in New York's congressional primaries. Rep. Jerry Nadler, Rep. Sean Patrick Maloney and candidate Dan Goldman – all endorsed by the Times – were declared winners in their hotly contested Democratic primaries.
Nadler's victory over Rep. Carolyn Maloney in the newly drawn 12th Congressional District put an end to Maloney's decadeslong career in Congress – and an end to one of the more acrimonious primary contests this year.
State Sen. Alessandra Biaggi suffered a big defeat in the Democratic primary for the new 17th Congressional District to Rep. Sean Patrick Maloney.
Early Wednesday morning, The Associated Press called former House impeachment counsel Dan Goldman as the winner of the intensely competitive Democratic primary in the 10th Congressional District spanning parts of Brooklyn and lower Manhattan. Assembly Member Yuh-Line Niou – running to Goldman's left with the support of the Working Families Party – trailed by a little over 1,000 votes.
While Tuesday night was largely about primary races, two special elections were also on the ballot – including the race to replace current Lt. Gov. Antonio Delgado in the Hudson Valley's purple 19th District. Shortly after midnight, Democrat Pat Ryan was declared the winner in that race over Republican Marc Molinaro. The district has been watched as a bellwether for how other battleground districts might turn this November as Democrats across the country fight to hang on to their razor-thin majority in Congress.
In the special election to replace former Rep. Tom Reed in the 23rd Congressional District, Southern Tier voters predictably opted to send Republican Joe Sempolinski to Congress for the next four months over Democrat Max Della Pia.
In the Republican primary for the new 23rd Congressional District, state Republican Party Chair Nick Langworthy bested former gubernatorial candidate Carl Paladino by just a few thousand votes. 
Early results Tuesday night saw other Democratic incumbents, including Rep. Jamaal Bowman winning as well as former Rep. Max Rose securing a second shot at Congress as the Democratic nominee in the 11th District.
Although a handful of incumbents find themselves battling to extend their congressional careers in this year's primaries, other incumbents across the state – including Reps. Andrew Garbarino, Gregory Meeks, Grace Meng, Nydia Velázquez, Hakeem Jeffries, Yvette Clarke, Nicole Malliotakis, Adriano Espaillat, Alexandria Ocasio-Cortez, Ritchie Torres, Paul Tonko, Elise Stefanik, Claudia Tenney, Joseph Morelle and Brian Higgins – have either no challengers or uncompetitive primaries. Some of those representatives, however, will face more competitive races in November's general election.
Click here to view the state Senate primary election results. Numbers come from the state Board of Elections.
1st District, Republican Primary
Suffolk County
Anthony Figliola: 25.21%
Nick LaLota: 47.36%
Michelle Bond: 26.97%
With 566 of 566 election districts reporting
3rd District, Democratic Primary
Nassau County and Queens
Robert Zimmerman: 35.20%
Melanie D'Arrigo: 15.58%
Josh Lafazan: 19.66%
Jon Kaiman: 25.55%
Reema Rasool: 2.45%
With 604  of 604 election districts reporting
4th District, Democratic Primary
Nassau County
Keith Corbett: 10.82%
Laura Gillen: 62.02%
Carrié Solages: 24%
Muzibul Huq: 1.48%
With 601 of 601 election districts reporting
10th District, Democratic Primary
Manhattan and Brooklyn
Dan Goldman: 25.63%
Yuh-Line Niou: 23.62%
Carlina Rivera: 16.87%
Mondaire Jones: 18.09%
Jo Anne Simon: 6.13%
Elizabeth Holtzman: 4.37%
With 431 of 431 election districts reporting
11th District, Democratic Primary
Staten Island and Brooklyn
Max Rose: 73.63%
Brittany Ramos DeBarros: 20.41%
Komi Agoda-Koussema: 4.17%
With 374 of 374 election districts reporting
12th District, Democratic Primary
Manhattan
Jerry Nadler: 55.22%
Carolyn Maloney: 24.29%
Suraj Patel: 19.09%
With 400 of 400 election districts reporting
Rep. Jerry Nadler ran away with the Democratic primary that pitted colleague against colleague – against perennial challenger Suraj Patel. The bitter contest between Nadler and Rep. Carolyn Maloney ended soon after polls closed on Tuesday night with Nadler – who has long represented the West Side of Manhattan – leading Maloney, a veteran member of Congress, with over 50% of the vote. "Well New York…we did it!" Nadler tweeted on Tuesday. "I'm so deeply grateful for your continued support and trust – I promise to keep on fighting for New Yorkers in Congress. Onwards!"
16th District, Democratic Primary
Bronx and Westchester County
Jamaal Bowman: 55.50%
Vedat Gashi: 23.06%
Catherine Parker: 19.08%
With 442 of 703 election districts reporting
17th District, Democratic Primary
Rockland County, Westchester County, Putnam County and Dutchess County
Sean Patrick Maloney: 66.21%
Alessandra Biaggi: 32.71%
With 538 of 620 election districts reporting
Rep. Sean Patrick Maloney and state Sen. Alessandra Biaggi both courted controversy in their fierce Democratic primary battle, but Maloney walked away with a large winning margin over his progressive challenger soon after polls closed. Biaggi sought the newly drawn 17th Congressional District seat rather than pursuing reelection to the state Senate this year, which now leaves her out of elected office at the end of the year.
19th District, Democratic Primary
Southern Tier, Catskills and Hudson Valley
Josh Riley: 61.52%
Jamie Cheney: 35.29%
With 850 of 850 election districts reporting
19th District, Special Election
Mid-Hudson Valley
Pat Ryan: 51.07%
Marc Molinaro: 48.75%
With 622 of 622 election districts reporting
22nd District, Democratic Primary
Syracuse, Utica and surrounding areas
Francis Conole: 39.25%
Chol Majok: 11.65%
Sam Roberts: 13.14%
Sarah Klee Hood: 35.56%
With 627 of 627 election districts reporting
23rd District, Republican Primary
Southern Tier and Erie County
Nick Langworthy: 51.13%
Carl Paladino: 46.93%
With 423 of 424 election districts reporting
23rd District, Special Election
Southern Tier
Joe Sempolinski: 52.84%
Max Della Pia: 46.37%
With 430 of 430 election districts reporting