Politics
Elected officials past 'child-bearing age' bristle at Alessandra Biaggi tweet
A recent tweet from the state senator suggested older officials won't fight as hard for reproductive rights. It reignited a longtime debate over what ageism looks like for people who hold political office.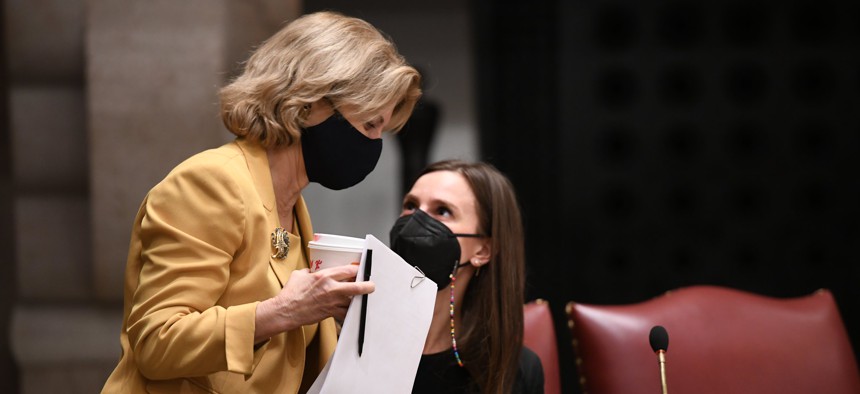 Where's the line between ageism and saying that having more younger elected officials would be a good thing? Impassioned conversation about the topic was reignited this week after state Sen. Alessandra Biaggi doubled down on comments she made last month that members of Congress who are "past child-bearing age" are more likely to be disconnected from the issues they claim to fight for and less likely to fight fiercely.
Her Twitter thread from July 5 – which Biaggi shared in response to another tweet about how Democratic leaders' lack of fight could lose midterms for the party – spurred some initial backlash. But the real public response came this week after Biaggi embraced an attack mailer toward her campaign for the 17th Congressional District that featured a blown up image of the tweet with the words "All of us who are 'past child-bearing age' have one word for Alessandra Biaggi: goodbye."
Biaggi, who is 36 years old, shared a photo of the mailer on Twitter Monday evening, writing "Hudson PAC thanks for sharing one of my finest tweets w/voters in NY-17 who believe that age diversity in our leaders is quite important for results ;) <3." The well-known progressive senator is currently vying to oust five-term Rep. Sean Patrick Maloney, who is 56 years old. Our Hudson PAC is funded by the National Association of Realtors and Sucro Sourcing, a multinational sugar trading company. As a super PAC, it's formally unaffiliated with Maloney's campaign, but is supporting the incumbent's reelection.
The attack mailer hones in on perhaps the most inflammatory part of the senator's original remarks and leaves the rest out, including a clarification that her point isn't that elders shouldn't hold political office – rather, that they are already well represented and must make space for younger leaders. 
"I talk a lot about the failures of the Democratic establishment, mostly bc I want them to be better at their jobs, but also to highlight that their fatal flaw is losing touch w/the people they are elected to represent & serve," Biaggi wrote. "When politicians are disconnected from the people they are disconnected from the issues they claim to fight for, and largely unaffected by the rights taken away from so many of us – namely the right to reproductive freedom. At the risk of sounding ageist, it's still important to ask: when a majority of Congress is past child-bearing age, how fierce can we expect their fight to be?"
Still, many were offended by the portion of Biaggi's remarks that specifically pointed to officials past "child-bearing age" – presumably referring to cis woman over the age of 40 or so – and how she connected that to their ability to fight. Several elected officials who fall within that category said the words were inappropriate and they were disheartened by Biaggi's decision to double down on them this week. 
Assembly Member Sandy Galef, who is 82 years old and has endorsed Maloney, said she felt hurt after reading the flier. Having been elected to the Assembly at age 52, she pointed to her own legislative record of decisive political moves like her participation in an attempted coup to get rid of then-Assembly Speaker Sheldon Silver in 2000. The Westchester County and Putnam County lawmaker plans to retire at the conclusion of her current term. 
"I was a strong voice for change, and she's suggesting here that if you're older, you can't fight," Galef said. "All legislative bodies benefit from having people of all ages, all backgrounds, all professions. That's what it's all about, it's not just about having young people in there … I just don't think people should feel that way. I think they should respect the talents of every candidate that's running no matter what their age is."
Galef also pushed back on the idea that fighting is the end all be all of lawmaking.
"Do we always have to fight? Or could we try to work together and compromise? Is everything a battle?" she said. "Maybe that's where some people think that they are going – I just don't think that that's what Americans really want right now in Washington particularly."
Westchester County Democratic Committee Chair Suzanne Berger, who is 65 and has also personally endorsed Maloney, said that while she's always had some admiration for the senator's hard work, she was surprised that Biaggi doubled down on remarks that disparage such a large swath of potential voters. But beyond labeling it as an unwise political remark, Berger said she and her many colleagues who have been in the trenches for decades are a living testament to older women's ability to fight with passion. 
The notion that elected officials who are past their child bearing years are less capable of connecting to issues like reproductive freedom is also completely unfounded, according to Berger. 
"Most of the women involved in politics are a bit older – which is not to say younger women don't vote and do their own thing," she said, adding that the bulk of child care responsibilities are more likely to fall on women with younger families, which has likely contributed to why this has historically been the case. "You know we women can have it all, but not all at the same time." 
There's a lot of nuance to how age factors into the need for diversity within elected bodies – far more than what could fit into a single tweet. It's a complex subject with a host of opinions, such as whether older women are held to a higher standard than older men. The topic of age is perhaps especially timely given how President Joe Biden's 79 years – the most of any president in American history – have become a point of debate within the Democratic party on whether he should run for a second term. In today's Congress, the average age of senators and representatives are 64 and 58 respectively. 
Though a recent poll from YouGovAmerica found that more than half of Americans support a maximum age limit for elected officials – and that held true across all age groups polled. Biaggi told The New York Times that she also agreed there should be an age limit for members of Congress, as well as a term limit. 
So Biaggi isn't alone in her thinking. A Westchester County woman in her 60s expressed her frustration Wednesday during a The Brian Lehrer Show segment centered on generational politics. 
"Even though I'm 66, I'm very annoyed," she said. "Some of those people were in office before me, and they're still there. So I do feel – I don't think it's ageism, because you can have young ideas, but I think many of them are more concerned about staying in office than getting things done."
Rep. Hakeem Jeffries, who is 52, addressed Biaggi's comments on Wednesday during a roundtable with reporters, saying that often when candidates make arguments about generational change, it's really about making the point of getting things done and proving they are best equipped to do it. 
"But if you simply lead with that argument (for youth), as opposed to placing the emphasis on the issues that voters care about, any argument about generational change is going to be falling on deaf ears, because it's made in a vacuum, divorced of things that voters actually care about you getting done," Jeffries said. "At some point, people miss the mark, by deemphasizing issues, and over emphasizing esoteric points about change."
Over the past couple of days as comments and quote tweets have racked up, Biaggi has responded to a handful of impassioned replies with explanations for why she feels asking for new diverse leadership is merited, requests for greater reflection, and acknowledgment that her generation can benefit from those who come before, but only if members of those generations care enough to mentor.
"When a generation of elected leaders fail to protect our rights, and respond by sending fundraising emails, it merits asking whether we need new diverse leaders," Biaggi wrote Tuesday afternoon. "Having a blind spot to such a pervasive frustration is not workable." As of 3 p.m. Wednesday, the senator has not apologized publicly or clarified why she initially pointed to people past "child-bearing age" instead of elderly officials in general. 
"Alessandra Biaggi believes our government should be as diverse as our country – including racial, economic, gender and age diversity – which is why we need more young people in Congress, just as we need more women, working people and people of color," Monica Klein, spokesperson for Biaggi's campaign, said in a statement.