Ethics complaint filed against Sean Patrick Maloney over allegations of staff misuse
The complaint asks the Office of Congressional Ethics to probe claims that Maloney had a staffer perform personal services for him and his family.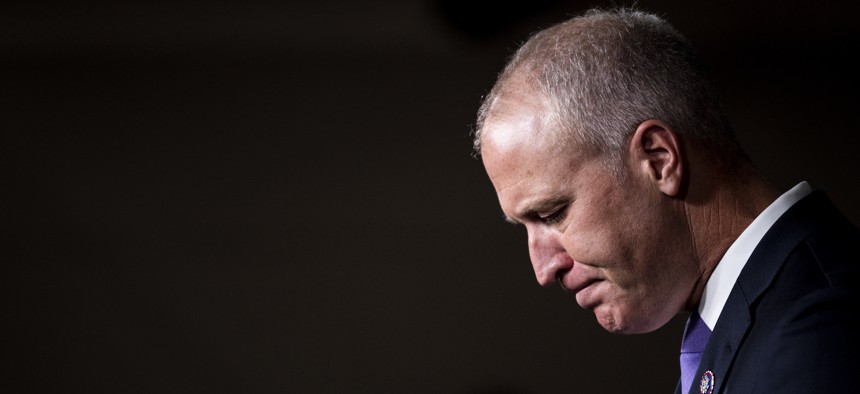 Rep. Sean Patrick Maloney could face an ethics investigation into allegations that he paid a staffer using campaign and House funds to perform personal services for him, City & State has learned. Elisa Sumner, the former Dutchess County Democratic Committee chair, filed a complaint against Maloney with the Office of Congressional Ethics on Wednesday, following a New York Post story that detailed the close relationship Maloney's former "body man," Harold Leath, had with Maloney and his family. The complaint comes less than a month before the Democratic primary election in which the five-term member of Congress is in a competitive race against state Sen. Alessandra Biaggi to retain his seat.
The Post story detailed how Maloney's campaign paid for Leath's moving expenses from Miami to New York in 2014 to work as his "executive assistant." The tabloid published a trove of photos showing Leath with Maloney's children at a baseball game, swimming in his pool and at a gathering with Maloney, his husband and their kids. Leath also reportedly registered to vote from Maloney's Putnam County address and lived in a cottage that shares a backyard with Maloney's home. Leath denied that he ever lived with Maloney and said he registered to vote from his home when he had just moved to New York and had yet to establish a permanent residence, the Post reported.
But he clearly stated that he worked for both Maloney and his family in an amorphous capacity.
"When I first started, my main responsibility was to make sure the congressman and his family never needed anything," Leath told The Post. "I was to be there."
That's what could get Maloney in trouble with the ethics watchdog, one ethics expert said – if the agency finds that Leath did perform personal services for Maloney or his family members outside of the scope of his professional duties.
"The legal question is whether the congressman misused campaign funds and taxpayer funds. And the answer to that question is going to come down to what were the responsibilities and the actual duties performed by this staffer?" said Kedric Payne, vice president of the Campaign Legal Center and former deputy chief counsel for the Office of Congressional Ethics. "Without having any evidence from the member to resolve the matter, it looks like there's enough of a question that the OCE should look into it."
Maloney's team denied that Leath did any work for the member of Congress or his family in a personal capacity, and they described his job duties as providing "transportation and logistical support as the congressman's driver and body person," a spokesperson for his congressional reelection campaign, Mia Ehrenberg, told the Post.
She accused Sumner of wanting revenge on Maloney.
"Elisa Sumner is a vocal Biaggi supporter who has a long-standing, personal vendetta against Congressman Maloney and does not even live in our district, or New York state for that matter. Before her exodus to Florida, Sumner's time as Dutchess chairwoman was marked with near constant failure, regular in-fighting, and personal score-settling," Ehrenberg told City & State, adding that "there is absolutely no basis to these slanderous accusations."
Sumner publicly supports Biaggi's campaign in the 17th Congressional District Democratic primary against Maloney, and she has a history of publicly criticizing the representative. She did not deny she had butted heads with Maloney, but she blamed him for the friction. "As chair of the Dutchess County Democratic Party, I always supported Mr. Maloney. It is Mr. Maloney who went against Democrats to endorse local Republicans multiple times, and who tried to bully me when I supported Zephyr Teachout for attorney general," she said. "His hubris, vengefulness and unethical conduct are legendary, and I can no longer ignore his unethical conduct."
The complaint, a copy of which was obtained by City & State, rehashed the details laid out in the Post article, including that Maloney's spokesperson did not dispute that Leath was often with the family outside of work.
"The government staffer outright admitted that they performed nongovernmental, noncampaign work for Maloney, and also provided services for Maloney's family – which by definition was not related to his government responsibilities," Sumner wrote to the Office of Congressional Ethics.
She also detailed how Leath appeared to retract some of what he initially told the Post in a second interview, where he reportedly stated he did not do anything "personal" for Maloney and "everything was related to work."
"This suggests Congressman Maloney, or someone aligned with him, coerced the former staffer into doing so in an attempt to cover up his behavior," Sumner wrote. "It is not difficult to imagine the significant leverage that Congressman Maloney would have over a former longtime staffer – at a minimum, he would be a key reference for the staffer for any future employers, and his refusal to provide a positive reference for the staffer would jeopardize their career."
The complaint also alleged that the close proximity of Leath's home to Maloney's was "inappropriate." 
"Your watchdog office has previously done admirable work investigating comparable abuses committed by other Democrats and Republicans alike," Sumner wrote. "But a live-in government staffer who admitted his job consisted of serving the entire Maloney family may be the most egregious example of this behavior yet."
Leath told the Post he didn't actually live with Maloney, except for a few days in a guest room after he first moved to New York. He then moved to a home next door. Leath occasionally socialized with his family because he did not know anyone after moving from Florida, according to Maloney's team. His campaign also said it was common for other staffers to spend time with Maloney and his family in social settings.
The Office of Congressional Ethics declined to comment on the complaint. If it does take up the investigation, it would only become public if the probe makes it to the final investigatory stage and after it has ended.
According to the office's investigatory process, two board members must request a preliminary review of the complaint, which lasts 30 days. Following the initial review, the six-member board must vote to take the complaint to a second, 45-day review period, then vote again to refer the probe to the House Committee on Ethics for a final determination. 
Payne said ethics violations related to staffers performing personal duties for elected officials are commonplace.
In December, the Office of Congressional Ethics asked the House Committee on Ethics to investigate Rep. Alex Mooney of West Virginia over allegations he "may have used official resources, including staff time, for campaign work and personal errands," among other alleged improprieties.