New York City
Bay Ridge isn't as conservative as you might think
Democrats have had success recently in the Brooklyn neighborhood – and will play a key role in NY-11.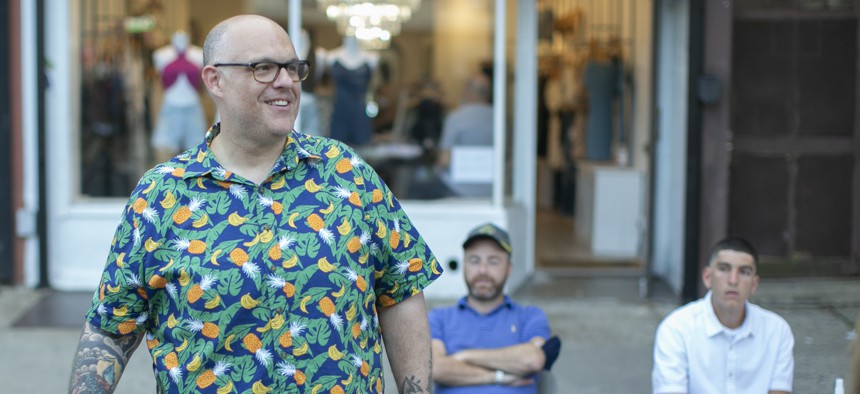 In much of New York City, general elections serve as formalities after the real fight occurred in the Democratic primary. But even the deep-blue city has bastions of conservative power. Staten Island may come to mind first, but southern Brooklyn has held that distinction for some time as well. In particular, Bay Ridge, just across the Verrazzano-Narrows Bridge from Staten Island, is one of those few Republican strongholds left in the city.
But Democrats from the neighborhood have fought hard in recent years not just to win seats, but to empower the liberals in the neighborhood that they said have been overshadowed by right-wing residents. While southern Brooklyn remains a partisan battleground in ways that differ from other parts of the city, staunch advocates for the neighborhood continue to try to dispel what they consider to be misconceptions about the small town in the big city. 
One of the area's biggest cheerleaders is New York City Council Member Justin Brannan, who first won his seat in 2017 and had a hard-fought reelection in November. "The truth is that Bay Ridge has always been more diverse in every way than people, I think, give it credit for and truly understand," Brannan told City & State. According to the NYU Furman Center, the demographics of Bay Ridge and nearby Dyker Heights have changed significantly over the past two decades. The white population decreased from nearly 70% to about 54% between 2000 and 2019, while the Asian population increased from 14% to 24% and the Hispanic population grew from 11% to 18%.
Brannan said that because of the way the district lines have traditionally been drawn, the perception that Bay Ridge elects conservative Republicans has persisted. But looking at previous elections, like the 2020 congressional race for the 11th District and the presidential election that year, the neighborhood voted blue. The split of Bay Ridge among three Assembly districts has similarly led to conservatives representing parts of the community.
So Brannan and others, including now state Sen. Andrew Gounardes, started the Bay Ridge Democrats about 15 years ago in an attempt to empower the liberal voters they believed had been there all along. "People literally said that the term 'Bay Ridge Democrat' was an oxymoron, like, it doesn't exist," Brannan said. The club began running candidates against former state Sen. Marty Golden, a powerful Republican who long represented Bay Ridge, with Gounardes succeeding in 2018. He first ran against Golden in 2012, but despite the failure, the early attempt set Democrats in Bay Ridge up for future success. "That really showed Democrats in this community that we had fight in us and that we could actually organize ourselves and run for office and try to change the conversations that have been happening here for too long about us," Gounardes told City & State.
Today, the Bay Ridge Democrats is led by Reem Jaafar, an immigrant from Lebanon who has lived in Bay Ridge for nearly 20 years. "It has a very welcoming vibe for immigrants like me," Jaafar told City & State. She started getting involved in local politics about a decade ago, beginning first to dispel some of her own misconceptions about the community, like the belief that Bay Ridge residents as a whole liked Golden as a representative. But like so many Democrats, the 2016 election of Donald Trump motivated her to get more engaged, saying that his election caused Bay Ridge's conservatives to become far more vocal. "If folks like us don't speak up, don't get involved in a heavy way, we're basically leaving it for the loud minorities in this neighborhood to basically control the rhetoric," Jaafar said.
Despite the progress made by Democrats in Bay Ridge over the past several years to elect left-wing candidates and change the conception of Bay Ridge in the minds of other New Yorkers, none consider the neighborhood a safely blue area like most of the rest of the city, or even Brooklyn. "Make no mistake, the state Conservative Party headquarters is two blocks away from my district office, the state Conservative Party chair lives in Dyker Heights," Gounardes said. "This is sort of the battleground for the conservative movement statewide." In his reelection last year, Brannan defeated Republican Brian Fox by a slim 2.4 percentage point margin, amounting to a few hundred votes. The winner of the state Senate Democratic primary for the newly drawn district encompassing Bay Ridge will face Fox in November, an election expected to favor Republicans nationwide. "We can't take anything for granted," Jaafar said, adding that door-knocking and get-out-the-vote efforts will continue through the general election. "It's not going to end with the primaries."
Before then, Gounardes faces a primary challenge from David Yassky, who lives in the Brooklyn Heights section of the district. Former Rep. Max Rose also will compete against progressive congressional candidate Brittany Ramos DeBarros to see who will likely take on Republican Rep. Nicole Malliotakis in November. But Brannan, who supports Rose and Gounardes, said that these primary races just speak to the health of the Democratic community in Bay Ridge. "I think having primaries shows the vibrancy of the party out here, the vibrancy of the growth of our community as being activated, being involved," Brannan said. But once the primary is over, Brannan – like other Democrats in Bay Ridge – will coalesce to get Democratic representation for a neighborhood that he considers to be unique among the five boroughs. And that will be especially true for its congressional seat, which has flipped back and forth between the parties. "We know the deck is stacked against us in NY-11 because of the way the district was drawn," Brannan said. "But we're going to fight like hell to win back that seat."
Correction: An earlier version of this story incorrectly stated the neighborhood where candidate David Yassky lives.
Powered By
NEXT STORY: Zeldin attack backlash and MTA woes