A cryptocurrency billionaire is spending big in New York congressional primaries
Josh Lafazan and Francis Conole have been supported by the Protect Our Future super PAC, and Carlina Rivera could be next.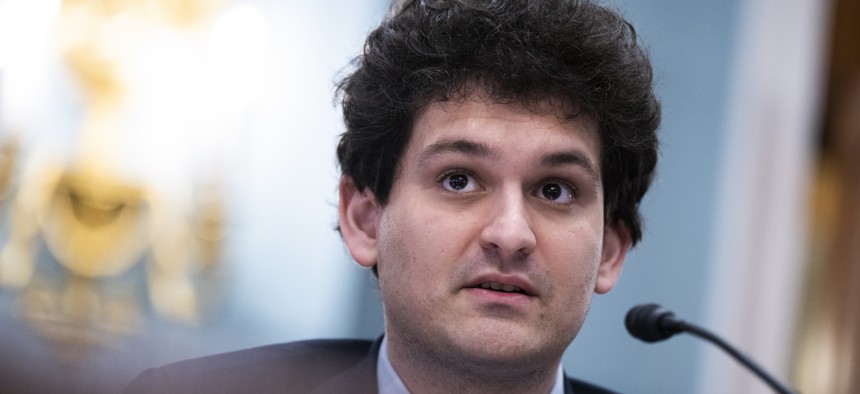 A cryptocurrency billionaire has already spent nearly half a million dollars each in two Congressional primaries – and he could get involved in the high profile 10th Congressional district next.
Protect Our Future PAC, which is almost entirely funded by FTX cryptocurrency exchange founder Sam Bankman-Fried, has reported spending $498,000 so far on TV and digital ads supporting Josh Lafazan, who is running for the 3rd Congressional District on the North Shore of Long Island and in Northeast Queens. The PAC also spent $396,000 so far on a TV ad and mailers supporting Francis Conole, who is running in the 22nd Congressional District in Central New York.
More spending could be coming in those races. Bankman-Fried, who is reportedly worth more than $20 billion, has quickly become one of the biggest political spenders in the country. His focus is on electing candidates who will take the threat of pandemics seriously, though critics see it as another way for the cryptocurrency industry to open doors in Washington. The PAC spent more than $11 million supporting a Congressional candidate in Oregon (who ended up losing), and has spent about $1 million or more in eight other Democratic primaries across the country. 
And observers are keeping a close eye on whether Bankman-Fried will spend money to help New York City Council Member Carlina Rivera, who is running in for the open 10th District in Lower Manhattan and western Brooklyn. Protect our Future is closely affiliated with Guarding Against Pandemics, a political action committee with a lobbying presence in Washington. That group has endorsed Rivera – along with Conole and Lafazan, as well as Laura Gillen in the 4th Congressional District on the South Shore of Long Island, Max Rose, in the 11th Congressional District on Staten Island and in southern Brooklyn, and Rep. Ritchie Torres, who is uncontested in his reelection bid in the 15th Congressional District in the Bronx. Protect Our Future also makes its own endorsements, and has formally backed Conole, Gillen, Rose and Torres in New York – as well Lt. Gov. Antonio Delgado, who the super PAC spent more than $100,000 supporting in his June primary. 
Not every candidate endorsed by the groups gets financial support from Protect Our Future, but the super PAC "takes endorsements from Guarding Against Pandemics into account when making endorsement and spending decisions," said Mike Levine of TSD Communications, a spokesperson for Protect Our Future. The two organizations share a mission, funders and personnel in common (Guarding Against Pandemics is officially run by Gabe Bankman-Fried, Sam's brother), but one is a super PAC that cannot coordinate with campaigns and candidates, while Guarding Against Pandemics is a 501(c)(4) nonprofit organization with an attached traditional PAC. Levine declined to share any information about further plans to spend in New York races. 
The Bankman-Frieds have insisted the organizations are focused on pandemic preparedness and aren't about influencing cryptocurrency policy. But endorsed candidates are sometimes major supporters of the crypto sector. Lafazan, for example, said back in June he would take campaign donations in cryptocurrency and said he would file a bill in the Nassau County Legislature to create a cryptocurrency task force. Torres, too, who won support from Guarding Against Pandemics, has also publicly boosted the industry. Critics deride cryptocurrency as a predatory scheme on unknowing investors that has also become a massive user of electricity. Proponents say it's the future of investing and a more equitable, less centralized system.
Lafazan's campaign declined to comment on the super PAC spending on his behalf, but directed City & State to his previous comments on cryptocurrency, as well his July press release touting Guarding Against Pandemics' endorsement. 
Some of Lafazan's opponents took issue with the influx of new spending. That half a million dollars is more than any candidate in the primary other than Lafazan had reported spending themselves through the end of June.
"Until recently, Josh Lafazan ran as a Conservative Party candidate, and now he's using their tactics in a Democratic primary," said Evan Chernack, campaign manager for Robert Zimmerman. "Make no mistake: Lafazan invited a billionaire-funded super PAC to help his campaign mislead voters."
Camille Rivera, a spokesperson for Melanie D'Arrigo, also criticized Lafazan, saying "if we continue to support candidates like Lafazan, we'll continue to have situations where people run as Democrats when they are in fact Republicans, and we'll never change policies in this country."
The Conole campaign didn't respond to a request for comment on the huge outside spending on his behalf, but his campaign told the Auburn Citizen that he was focused on preparing for the next pandemic and was "glad to see others focused on this effort, as well." One opponent, Sarah Klee Hood, fired back to the Citizen, saying Conole should ""tell crypto-billionaires to let the voters decide these elections."
Rivera's campaign said it rejected any potential super PAC spending on its behalf – while seeming to point out that Protect Our Future has the right to do so, without the campaign's permission. 
"Councilwoman Rivera rejects dark spending in our politics, including on her behalf," said campaign spokesperson Sara Rodriguez. "Under the current rules, groups make independent expenditures on behalf of Democratic candidates all the time, so if someone is looking to diversify congress and elect more Latinas, they have every right to do so."
Rivera's campaign website has made it easy for any independent groups that may want to support her. Like many candidates – such as Rep. Jerry Nadler – Rivera has a "red box" with language, photos and video b-roll that outside groups can legally take and use.
"The rules need to change," Rodriguez added. "Unfortunately until they do, we have no control over, or coordination with outside spenders."