Heard Around Town
Dan Goldman leads internal poll for 10th Congressional District, with Yuh-Line Niou and Carlina Rivera close behind
Another survey shows a tight race for the open seat in lower Manhattan and Brooklyn.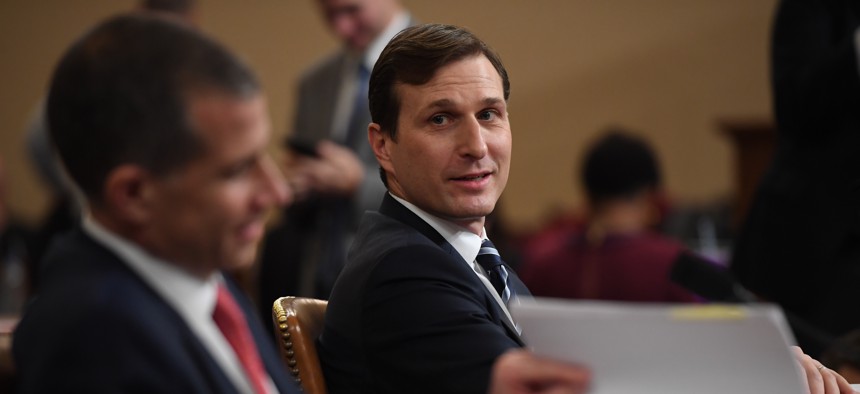 An internal poll from Dan Goldman's campaign showed a tight matchup at the top of the 10th Congressional District, with the former House impeachment counsel getting 18% of likely Democratic primary voters' support, Assembly Member Yuh-Line Niou with 16% and New York City Council Member Carlina Rivera with 14%. Following them was Rep. Mondaire Jones at 10%, former Rep. Elizabeth Holtzman at 9% and Assembly Member Jo Anne Simon at 7%. The race is still wide open though, as another 18% of voters remained undecided ahead of the Aug. 23 primary.
The poll was conducted in part by calls to cellphones and landlines and in part by online respondents reached via text message, and it included 500 likely voters between July 22 and 26. Pollster Jeff Liszt of Impact Research conducted the survey in English, which had a margin of error of 4.4%.
All polls should be taken with a grain of salt, especially an internal poll like this one, where results can be weighted to subtly favor a certain outcome. But these results didn't differ too significantly from other recent polls like a Holtzman internal poll that showed Goldman with a slight lead in the crowded race for the open seat in a district spanning lower Manhattan and northwestern Brooklyn. An early July poll from Niou's campaign had Rivera and Niou at the top, with Goldman and Jones behind, and an early July Data for Progress poll had Rivera, Niou and Goldman running close in the top three spots.
Goldman – the only candidate in the top tier who has never held elected office – has been spending millions of dollars raising his name recognition. A report tracking TV ad spending provided by Rivera's campaign found Goldman had bought $2.2 million worth of ad time on broadcast and cable TV between July 1 and Aug. 9. Jones spent just over $680,000 on TV ads between June 15 and Aug. 8.
"Pretty remarkable that Goldman has spent a trillion dollars already and still can't get his own pollster to show anything better than a statistical tie," Rivera campaign spokesperson Alyssa Cass told City & State.
Goldman campaign spokesperson Simone Kanter fired back: "Unlike other elected officials in the field who are relying on support from special interests and the political class, Dan started this race with the lowest name ID and in a few short weeks has become the voters' top choice. Voters are clearly tired of typical politicians with empty promises and recognize that Dan's vision and experience is what we need in Congress."
Jones had a significant fundraising advantage over the field as of the latest public filing on June 30, with Goldman in second place. Since then, Goldman – a Levi Strauss & Co. heir who has a personal fortune of at least $64 million – told NY1 he would contribute some of his own money to his campaign. Goldman's campaign declined to say how much he was self-funding. The next campaign finance filings are due Aug. 11.
Polling memo, from the Dan Goldman campaign for NY-10. pic.twitter.com/diXuzAT7r5

— Jeff Coltin (@JCColtin) August 4, 2022