New York State
Lee Zeldin has shied away from his anti-abortion stance – but will it sway voters?
According to a new poll released Tuesday, 68% of likely New York voters said they oppose the Supreme Court's overturning of Roe v. Wade.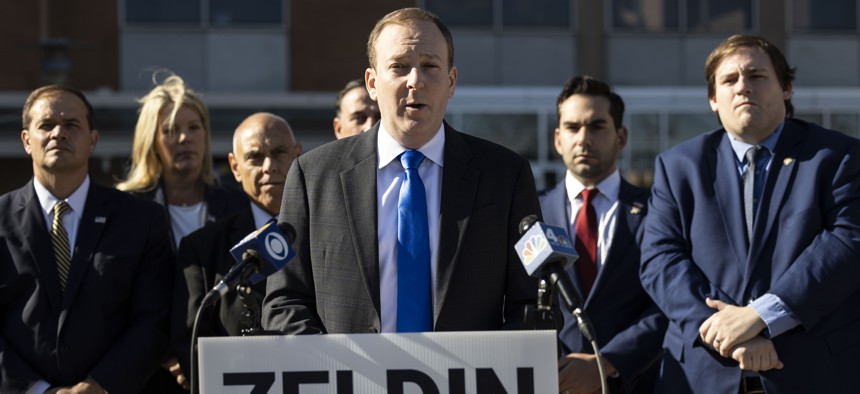 Rep. Lee Zeldin's primary win came days after the Supreme Court overturned Roe v. Wade and eliminated federal abortion rights. But when he declared victory at an election night party on Long Island, the decision was notably absent from his speech. Meanwhile, his opponent Gov. Kathy Hochul made clear that abortion rights would be a hallmark of her campaign while addressing supporters after securing the Democratic nomination, and since then, she's repeatedly hammered Zeldin for his anti-abortion record.
Even before the decision was handed down, Zeldin, who previously voiced support for Roe v. Wade's reversal, began shying away from his anti-abortion stance as he ramped up his campaign for governor. At a campaign stop in Queens in May, after the draft Supreme Court decision was aired, Zeldin emphasized that abortion would remain legal in New York regardless of changes at the federal level. "The reality is the law right now in New York is the law in New York," Zeldin said, according to NY1. "So, the day before the Supreme Court issues its decision, the morning that we all wake up and they deliver their decision, and the morning after they issue their decision … did you know that the law in New York doesn't change at all?"
The state Democratic party was quick to point out the apparent attempt to water down his rhetoric. "(Zeldin) is trying to cover up his anti-abortion record conveniently following the widespread blowback against the Supreme Court's leaked decision to overturn Roe v. Wade. But New Yorkers know the truth," the party tweeted, alongside a graphic that detailed Zeldin's record of anti-abortion votes and statements. 
According to a new poll released Tuesday, Zeldin's support for Roe v. Wade's reversal is in contrast to the views of the majority of New Yorkers. Sixty-eight percent are opposed to the decision, according to a Siena College survey released Tuesday of 806 likely voters conducted between July 24 and July 28. Notably, half of Republican voters, along with 88% of Democrats and 75% of Independents, also said that abortion should be always or mostly legal. The view is shared by "at least two-thirds of voters from every region, age group, gender, race and religion," Siena College pollster Steven Greenberg said in a press release.
The results are not surprising – a Siena poll conducted before the Supreme Court decision in June found 65% of New York voters were in favor of upholding Roe v. Wade – but they underscore the challenge Zeldin faces in gaining any ground on Hochul by November. 
"In the past, pro-life candidates seeking statewide office in New York have usually called Roe v. Wade settled law that would not have a role in state government," Republican strategist Susan Del Percio said. "That is no longer the case. With the exception of some unforeseen mega event, there is no longer a path for a pro-life candidate to win statewide office in New York."
Basil Smikle, a political strategist and former executive director of the New York State Democratic Party, said Zeldin's attempt to "come back to the center during the general election" could actually hurt him with voters. "Zeldin won his primary by wholeheartedly embracing Trump, and voters will not respond to a haphazard attempt at moving to the center during a general election. It wouldn't seem authentic, and it certainly isn't in line with anything he's campaigned on previously."
Overall, Zeldin is trailing Hochul by 14 points, a slimmer margin than the last four Republican gubernatorial candidates who were defeated by a Democrat, Greenberg said, noting that "when Andrew Cuomo defeated Rob Astorino 54-40% in 2014. In August 2014, Cuomo led Astorino by 32 points, 58-26%."
Among women, Zeldin is trailing Hochul by 26 points. Both candidates have 46% of support among likely male voters.
Christina Greer, associate professor of political science at Fordham University, said Zeldin's stance on abortion, coupled with his "race-baiting rhetoric" will hurt him among some voters. "There's no such thing as pro-life. He's anti-choice. The framing matters especially for Democrats and Independent voters. He believes women can't and shouldn't choose," she said. 
While Zeldin has attempted to water down his anti-abortion stance in some respects, on the day of Roe v. Wade's reversal, he cheered the decision in a statement that said "Today is a victory for life, for family, for the constitution, and for federalism."
GOP consultant Tom Doherty said the statement "slammed shut" the opening the GOP had at regaining control of the governorship in a year when inflation and rising crime rates weigh heavily on voters' minds. "It started last year – I thought that the door to the governor's mansion for Republicans kept creeping open a little bit," Doherty said. "He didn't pick up any votes with his statement. He lost votes with his statement. And it goes back to the old saying – you can't be a national Republican in New York. You have to be a New York Republican."
Zeldin's campaign did not respond to a request for comment.
Hochul's spokesperson Jen Goodman said in a statement issued after publication: "Lee Zeldin can't hide the facts about his extreme record on abortion rights. He has made it clear that if elected, he would implement a far-right, anti-abortion agenda that would severely restrict New Yorkers' right to choose. With Roe overturned, governors are the last line of defense and this is a wake-up call to what's at stake in New York if Zeldin gets elected."