New poll shows statistical tie between Pat Ryan and Marc Molinaro in NY-19 special election
As Ryan crosses $2 million in fundraising for the special election, he trails slightly behind Molinaro by about 3 percentage points in a new survey.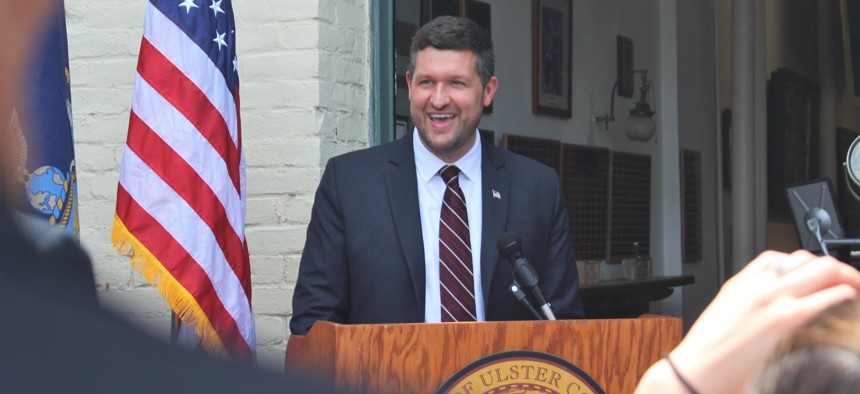 With four days left before Election Day for the special election in a Hudson Valley congressional swing district, Democrat Pat Ryan has a fresh gust of wind in his sails. Whether it's a strong enough wind to blow out his opposition in the hotly contested race remains to be seen.
On Wednesday, Ryan, the current Ulster County executive, reported crossing $2 million in fundraising since declaring his candidacy in the special election three months ago. Ryan is running against Republican Marc Molinaro, the current Dutchess County executive, for the 19th Congressional District seat, which was vacated earlier this year by now-Lt. Gov. Antonio Delgado. The winner of the Aug. 23 special election will serve in Congress only through the end of the year, as primary elections for New York's redistricted congressional seats take place simultaneously. (Ryan is also running in the Aug. 23 Democratic primary for the new 18th Congressional District, while Molinaro will be the Republican nominee for the new 19th Congressional District and face a general election in November.)
Ryan's fundraising announcement followed a new poll from the Democratic Congressional Campaign Committee which showed Ryan and Molinaro in a statistical tie. With 480 likely special election voters surveyed and a 4.5% margin of error, the poll showed Molinaro leading with 46%, while Ryan trails slightly with 43%. A spokesperson for the DCCC declined to provide more information about the people surveyed. "Our message is resonating with voters across the district," said Ryan's campaign manager Chris Walsh.
A poll released earlier this month by Freedom Council – a group that has endorsed Molinaro – showed the Republican with a 10-point lead over Ryan. And with roughly twice as much cash on hand in the last few weeks of campaigning as his opponent, Molinaro has his own advantages. "It's no surprise that Marc Molinaro has the momentum, as he consistently promised to stand up to President Joe Biden and Speaker Nancy Pelosi, whose policies have created an inflation crisis and record high gas prices," Molinaro's campaign manager Will Dawson said in a statement.
Outside spending has also proliferated in the final weeks of campaigning, with the majority aiming to help Molinaro. The National Republican Congressional Committee reported spending over $1.2 million so far. Some of that went into ads hoping to tap into voters' fears of crime and disorder, and highlighted Ryan's attendance at a Black Lives Matter march in 2020. Left unsaid was that Molinaro, a relatively moderate Republican, was at the same event, standing arm-in-arm with the same activists as Ryan. Two more super PACs working to elect Republicans, the Governing Majority Action Fund and the Congressional Leadership Fund, have thrown in another $279,000 to back Molinaro. While VoteVets, which supports military veterans, has reported spending about $510,000 so far to back Ryan.
Molinaro is hoping that voters do in fact turn out to vote on issues like inflation and gas prices – rather than on the issue of abortion access, which has taken center stage in the special election as Ryan casts the race as a referendum on reproductive rights following the U.S. Supreme Court's overturn of Roe v. Wade.
After focusing his first television ad on his pro-choice position on abortion, Ryan has consistently campaigned in the Hudson Valley district on the importance of electing Democrats to Congress to codify abortion rights as well as pass gun control legislation. "We must rally what is the widely popularly held view by Americans, that the government should not have a say in individual health care decisions," Ryan told City & State last month. "I am confident that if we really fight that way, we can codify Roe and the principles of Roe, we can put in place things like an assault weapons ban." Asked whether he would support expanding the U.S. Supreme Court – a measure some Democrats have proposed to counterbalance the court's current conservative majority – Ryan did not give a straight answer but said that "every option" should be on the table.
Polling after the Roe v. Wade decision showed that the majority of Americans think that abortion should be legal in all or most cases. But Molinaro, who has said he is personally pro-life and agrees with the decision putting abortion rights in state governments' hands, told City & State last month that voters in the 19th Congressional District will go to the polls with their minds on economic and public safety issues. 
Rep. Hakeem Jeffries, chair of the House Democratic Caucus, said that Ryan's strategy of focusing on reproductive rights is a smart one, but suggested that it might not be the litmus test for the November general elections that it's being hyped up to be. "It's good messaging, and it's accurate messaging," Jeffries said in an interview on Wednesday. "But it's hard to draw a conclusion based on what may happen in a special election in the middle of August, during a redistricting year when voters are massively confused."
Whether or not Ryan's strategy helps him pull off a win in the special election, the Democratic county executive will likely have another shot at New York's new 18th Congressional District (which includes parts of the current 19th District) in November. Ryan is facing a primary in that race on Aug. 23 too, but has far outraised his opponents there. Given Molinaro's apparent strength, Jeffries is tempering his expectations for Ryan in August – but projecting confidence that Ryan, and Democrats like him, will win in the general election. "It's my expectation that Pat Ryan will do well in the special election, but it's going to be closely contested," he said. "And will be on his way to Congress in November, when he wins the seat in New York 18."
– with reporting by Jeff Coltin