News & Politics
Robert Jackson took police union donations in state Senate race, after swearing them off
Rep. Adriano Espaillat, a supporter of his opponent Angel Vasquez, allegedly compared police union endorsements to KKK support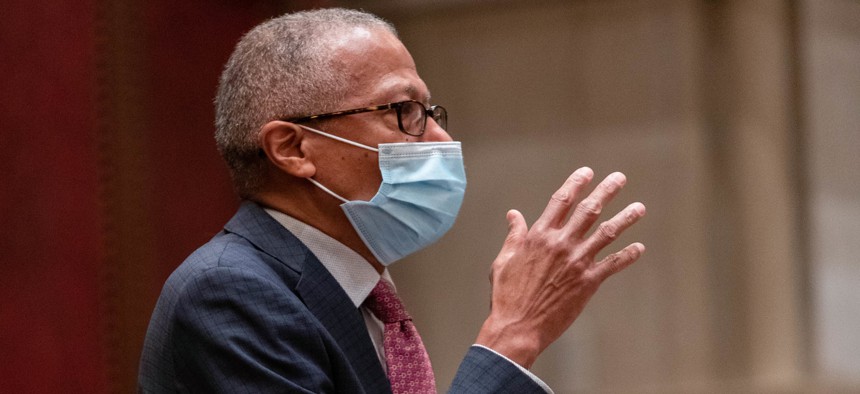 State Sen. Robert Jackson has gone back on his pledge not to take police union donations, and racked in $5,000 so far this cycle. And Rep. Adriano Espaillat – who's trying to unseat Jackson by supporting his opponent Angel Vasquez – has allegedly equated Jackson's support from police unions with the KKK. 
Jackson said he wouldn't take law enforcement union or association money on a Jim Owles Liberal Democratic Club's questionnaire in March. But in May and June, he received donations from six such groups, including the Police Conference of New York – an umbrella organization for law enforcement unions. Police unions are normally conservative, and out of step with progressive Democrats like Jackson. The Nassau County PBA, which gave $500 to Jackson, endorsed Donald Trump for president in 2020. And that union, along with the county's Superior Officers Association, which also gave $500 to Jackson, have endorsed a slate of Republicans for state Senate in November.
Jackson is holding onto the money. "Robert Jackson has been a strong, consistent, and outspoken advocate for police accountability, including leading the fight to repeal 50-A, and now as lead State Senate sponsor of ending qualified immunity," said campaign spokesperson Richard Fife. "At the same time, Robert recognizes that fighting the rise in crime and gun violence will take all of us working together, so he is working, as he always has, to unite us by listening and engaging with all."
A Jackson supporter, Laura Daigen-Ayala, says Espaillat weaponized those donations on the campaign trail. The retired teacher and Inwood Indivisible volunteer recounted on Twitter that she saw Vasquez and Espaillat on the campaign trail, and questioned the candidate's history as a teacher. Espaillat fired back for his political mentee, claiming that Jackson "was endorsed by the KKK" – equating the notorious racist hate group with police unions such as the Police Benevolent Association of New York State, which gave Jackson $1,500 and also formally endorsed him. Espaillat is a Dominican immigrant, and Afro-Latino. Jackson is Black and Muslim – needless to say, the KKK would not be a fan. Jackson supporters on Twitter decried the story about Espaillat's comments as race baiting.
The Vasquez campaign denied the interaction took place. "Our opponent's allegation against the Congressman only builds on the lies he's been running on throughout the campaign," said Yeison Lopez, Vasquez's campaign manager and treasurer. 
An Espaillat campaign spokesperson deflected:"The Jackson campaign must be very desperate as New Yorkers have already started voting and they're now pitching stories to muddy the waters and confuse the electorate. Let's be clear – uptown and the Bronx want new leadership in Albany – leadership that keeps promises and works tirelessly to protect our rights. This is why we're looking forward to working with Angel Vasquez as the next State Senator in District 31."
Espaillat has largely avoided police union donations, though accepted two contributions from the state troopers union more than a decade ago. Vasquez himself received a $1,000 donation from the New York City Correction Officers' Benevolent Association in May – but Vasquez never swore off such funding. 
Vasquez has been the recipient of super PAC spending – $125,000 worth reported so far on digital ads – from New Yorkers for a Balanced Albany, a group working to elect candidates who support charter schools and other educational reforms. One of the super PAC's biggest donors is Daniel Loeb, a hedge fund manager who was roundly criticized in 2017 for saying that state Sen. Andrea Stewart-Cousins, a Black woman, had done "more damage to people of color than anyone who has ever donned a hood" – an apparent reference to the KKK. 
Jackson and Vasquez are facing off in state Senate District 31 in Upper Manhattan and the Bronx. Early voting has already begun, and election day is Aug. 23.