Heard Around Town
Tiffany Cabán, Shahana Hanif endorse Yuh-Line Niou for Congress
The New York City Council members are breaking with some of their close colleagues.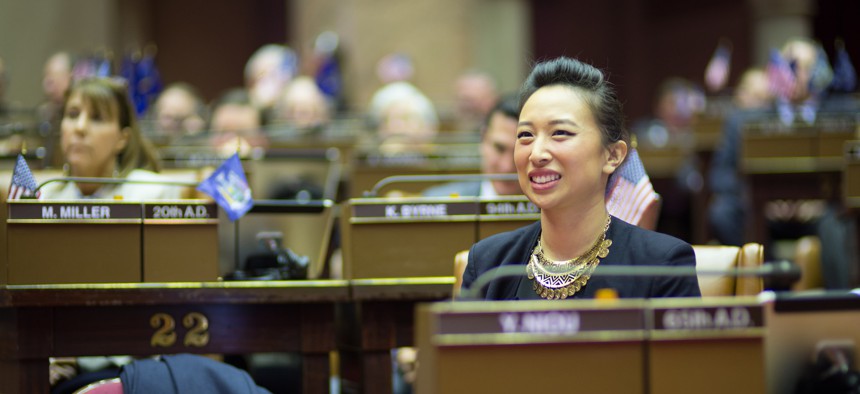 New York City Council Members Tiffany Cabán and Shahana Hanif are endorsing Assembly Member Yuh-Line Niou for Congress amid progressive calls to keep Dan Goldman, the relatively moderate Democrat who has largely self-funded his own campaign, from winning in the 10th Congressional District.
The progressive movement has been split in its support for the open seat. Rep. Mondaire Jones has been backed by national groups and progressive elected officials outside the state, while Niou and New York City Council Member Carlina Rivera have each been endorsed by progressive elected officials and organizations.
In backing Niou, Cabán and Hanif are endorsing against a council colleague and are also splitting with close allies in the council, such as Alexa Avilés and Sandy Nurse. But Hanif and Cabán are both closely allied with the Working Families Party, which has endorsed Niou. Cabán even got a job with the WFP after losing her 2019 bid for Queens district attorney. With a recent Emerson College poll – released ahead of a televised PIX11 debate Wednesday night – showing Goldman with a slight lead, Niou in second and Rivera and Jones close behind, some Niou supporters have been calling for other candidates to drop out and get behind Niou – including Hanif. 
"I would love to see a consolidation. I think it's critical for progressives to unite on this front," said the council member, whose district lies almost entirely within the congressional boundaries, exclusively told City & State. "But I get it, it's hard to tell a candidate to step aside. I get that."
Jones, Rivera or anybody else dropping out seems highly unlikely. Both seem to be campaigning full steam ahead. But the three leading progressives have been united in their criticisms of Goldman, who has somewhat more moderate positions on issues like universal health care and expanding the U.S. Supreme Court, and he has contributed nearly $4 million of his personal fortune to his campaign.
"Let's not let a wealthy heir – with investments in weapons development, fossil fuels and Fox News – buy a seat in Congress," said Cabán, who represents part of western Queens. "Yuh-Line has stood up for all of us, no matter our ethnicity, gender, sexuality, country of origin, documentation status, or ability. Now it's time for us to come together and stand up for her."
Hanif said The New York Times' endorsement of Goldman was "the final push" to endorse in the Aug. 23 primary, even after early voting already started. "I've got to step up. I can't stay on the sidelines here."