Heard Around Town
Hochul up 17 points on Zeldin in latest Siena poll
The governor holds a slim lead in the suburbs and a significant advantage among women.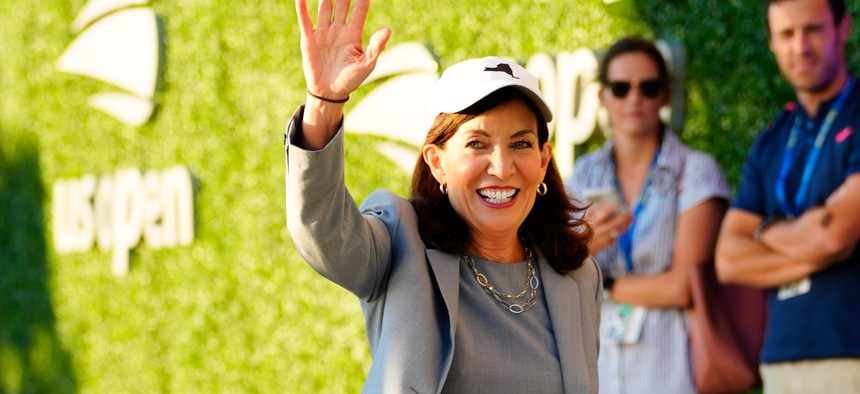 Gov. Kathy Hochul doesn't have much to worry about in her bid for a full term as governor, according to a new Siena College poll. It has her leading Republican opponent Rep. Lee Zeldin by 17 percentage points – 54% to 37% – which was an even larger gap than when Siena polled in early August. Although Zeldin maintained a narrow lead with independent voters, his support among his GOP base dropped from 84% to 77%. "To close or even narrow a 17-point gap, he would need to win a far greater share of independents, solidify Republican support, as well as pick off some more Democrats," Siena pollster Steve Greenberg said in a statement. Hochul notably leads Zeldin among key suburban voters 50-45%, and holds a significant 61-29% lead among women.
And in more good news for Democrats, a majority of New Yorkers plan to vote "yes" on the Environmental Bond Act, which would give the state approval to sell up to $4.2 billion in bonds for climate and environmental projects. More than half of voters support it, while only 26% of those polled oppose it. Environmental advocates have spent big on television ads promoting the initiative in recent weeks, while labor unions have also added their weight to the effort.
The poll also once again found that the majority of New Yorkers – 58% of them – "strongly oppose" the U.S. Supreme Court's decision overturning Roe v. Wade, with 72% of those polled believing abortion should remain completely or mostly legal. Those numbers held true even among independents, 57% of whom "strongly oppose" the Dobbs decision and 69% who believe abortion should remain completely or mostly legal.
However, abortion doesn't seem to be the issue driving voters to the polls, with only 15% of those surveyed naming it as a top issue. The economy and inflation was still the top issue for 30% of people polled. Second behind it was "threats to our democracy," which 22% of voters listed as their most important issue this election. Hochul has targeted Zeldin for his vote to overturn the 2020 presidential election result in recent television ads and more broadly on the campaign trail.